Customer notifications
Customer notifications are email messages that customers automatically receive from your store after they have successfully placed an order, you have changed their order status, the digital files they bought are ready to be downloaded, etc.
You can manage customer email notifications in your Ecwid admin, go to Settings → Notifications: here you can choose which customer notifications you want to send and which ones you want to disable, set the store name that customers will see when they receive emails from your store, upload a logo, etc. You can also edit email notification templates, add info about new products in your store, alert customers to ongoing sales, and encourage customers to place new orders by sharing discount coupons.
Enabling/disabling customer notifications
By default, all customer email notifications are enabled in the store. You can see and manage these notification options in your Ecwid admin, go to Settings → Notifications, in the "Customer order notifications" section.
You can choose what emails you want to send to customers and disable those you don't need. For example, if you change order statuses in the control panel to keep track of order processing for yourself and don't want the customers to see these updates, you can disable "Order status changed" notifications and keep only "Order shipped."
To enable or disable customer notifications:
From your Ecwid admin, go to Settings → Notifications.
Find the "Customer order notifications" section.
Click on the toggle on the right to enable or disable notifications: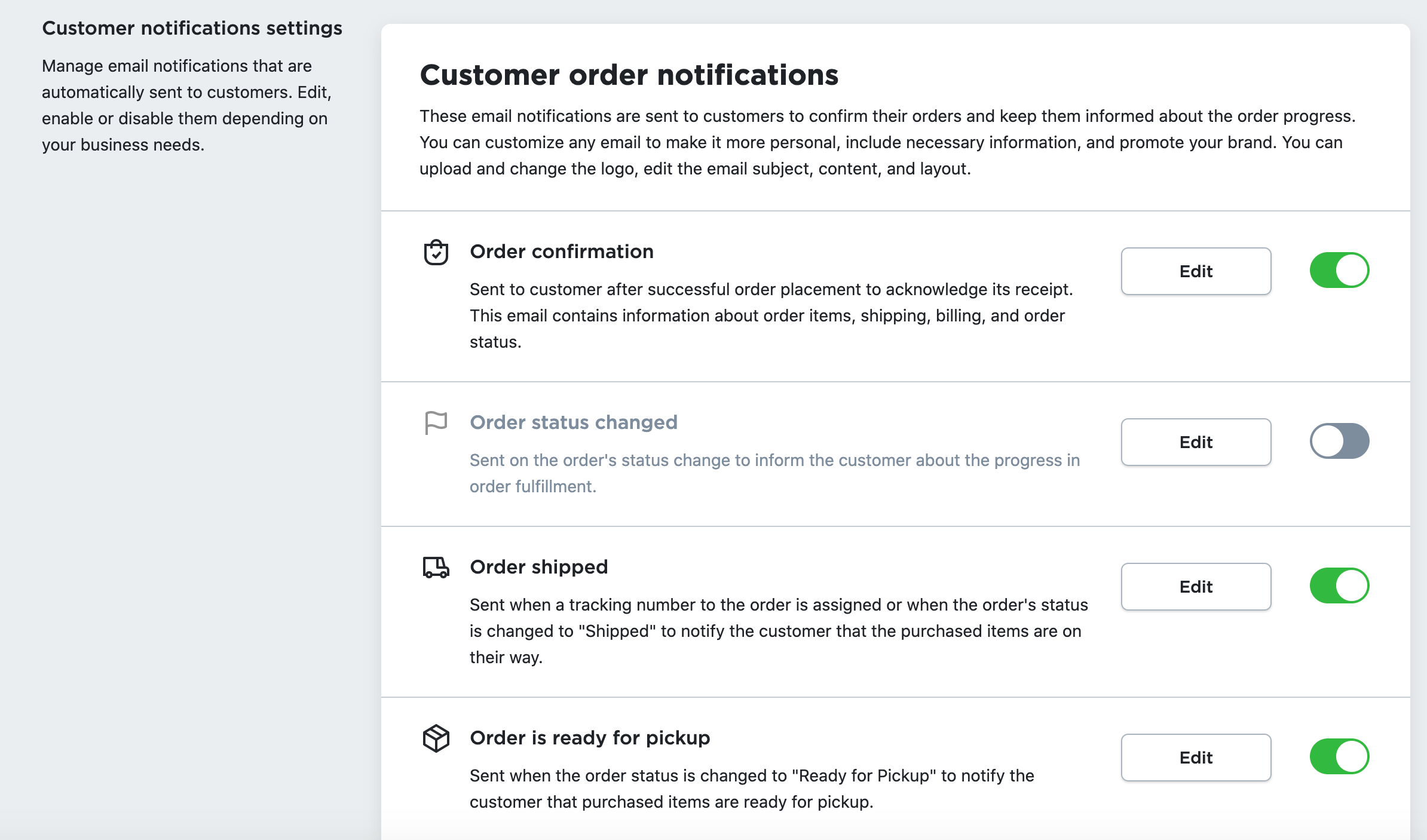 You can re-enable customer notifications at anytime.
You can also keep customers updated about different steps of shipment process, e.g., when shipments are in transit, out for delivery, when a delivery attempt might fail. To send buyers email or SMS notifications about their parcel, use the
AfterShip app
from the Ecwid App Market.
Changing the sender's name
When customers receive email notifications from your store, they will see the store name you provided during store setup as the sender's name. They will also see notifications@ecwid.com as the sender's email address – this is Ecwid's email address used for sending emails.

You can change the sender's name to help customers identify you (e.g., to your company name or any other name to your liking).
To change the sender's name for your customer notifications:
From your Ecwid admin, go to Settings → Notifications.
Scroll down to the "Sender's name" section.
Click Edit.
In the "From name" field, put the name that you want customers to see when they receive your emails.
Save the changes.
If your customers use Outlook, Hotmail (and other Microsoft webmail services), or Gmail, they may see that the email was sent by Postmark on your behalf instead of just your "from" name and address. Postmark is the mail service that we use.
If you are on Ecwid's Business or Unlimited plan, you can completely remove this mention by adding an SPF record to your domain. To do this, you'll need to add records of "TXT" type through your hosting provider, domain registrar, or DNS provider. You can contact our support team if you are not sure how to do this.
Editing customer email templates
Default customer email notification templates were designed to be universal and to work well for different businesses. If your business doesn't have any specific needs, the default templates should work just fine for you.
Still there is an option to edit each email template. You can brand the email templates so that they contain your business colors; you can also offer discount coupons or add custom messages informing customers about new products in your store.
10