Accepting files from customers is useful if you sell custom products. For example, if you print logos on T-shirts, sell pillows with custom embroidery, or offer any other services that involve custom designs provided by the customer.
You can let customers upload files like images, text files, videos, etc., on the product page in your store. You are able to see and download these files from the order details page in your Control Panel. Ecwid accepts all of the common file types like doc, pdf, jpg, png, and others.
The maximum allowed size is 25 GB per file.
Adding an upload button to a product
After you add a file upload option, a button to upload files will appear in the storefront of the product page. Add the upload file option to each product that requires or allows customers to upload files.
To let customers upload files to a product:
Go to the Ecwid Control Panel → Catalog → Products.
Choose a product or create a new one.
Open the "Options" tab.
Click Add New Option.
In the "Option name" field, type the name of the option. You can even specify what formats you prefer to work with. For example, "Upload your print in PNG or JPG format."
In the "Input type" drop-down select Upload Files: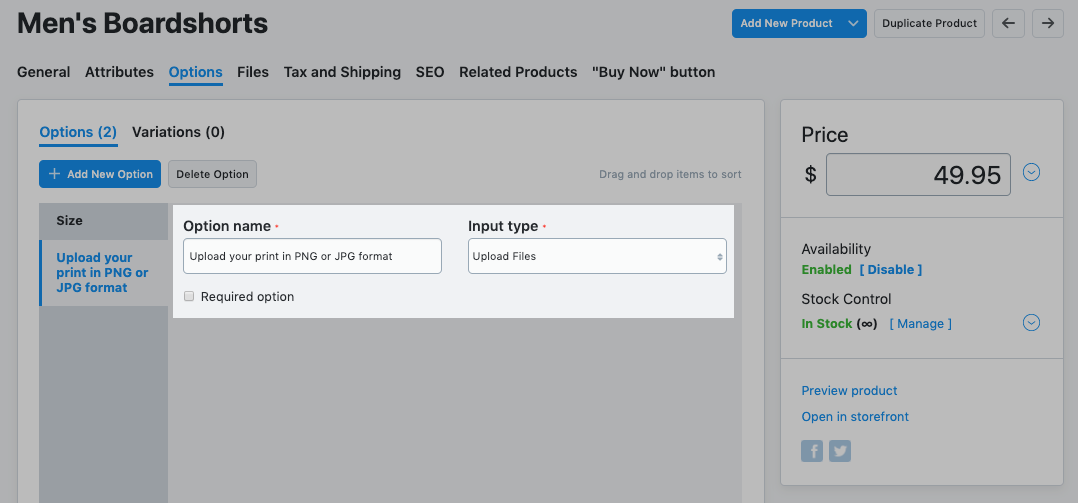 (Optional) Select Required option if this option is mandatory. Selecting this option means customers won't be able to add this product to their cart without uploading a file.
Save the changes.
Customer view
In the storefront, customers will see the "Add files" button on the product page: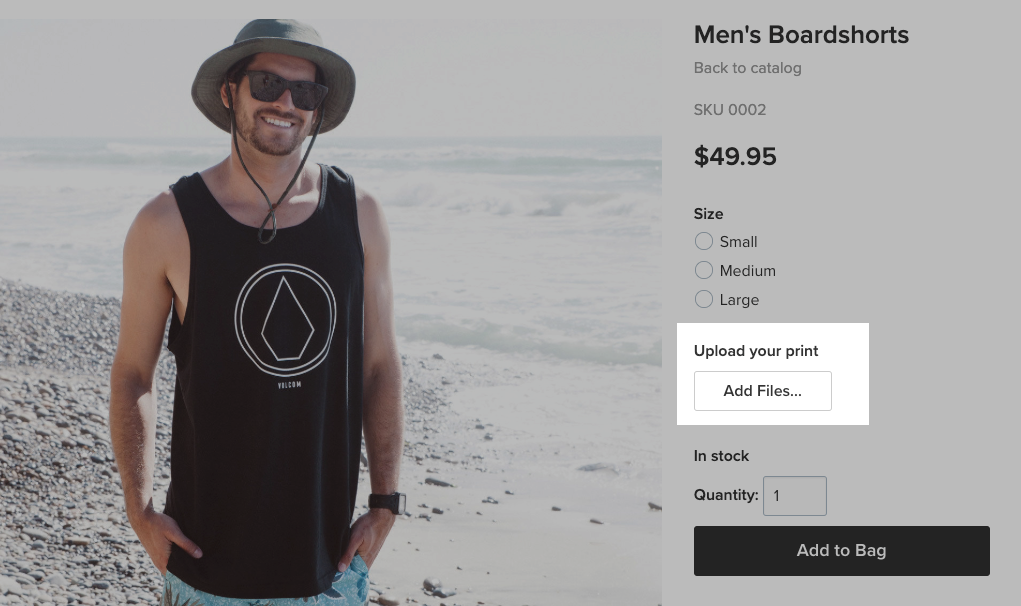 Once a file is uploaded, customers will see a preview of the product with their uploaded file. Customers can upload several files by clicking the Add More Files link: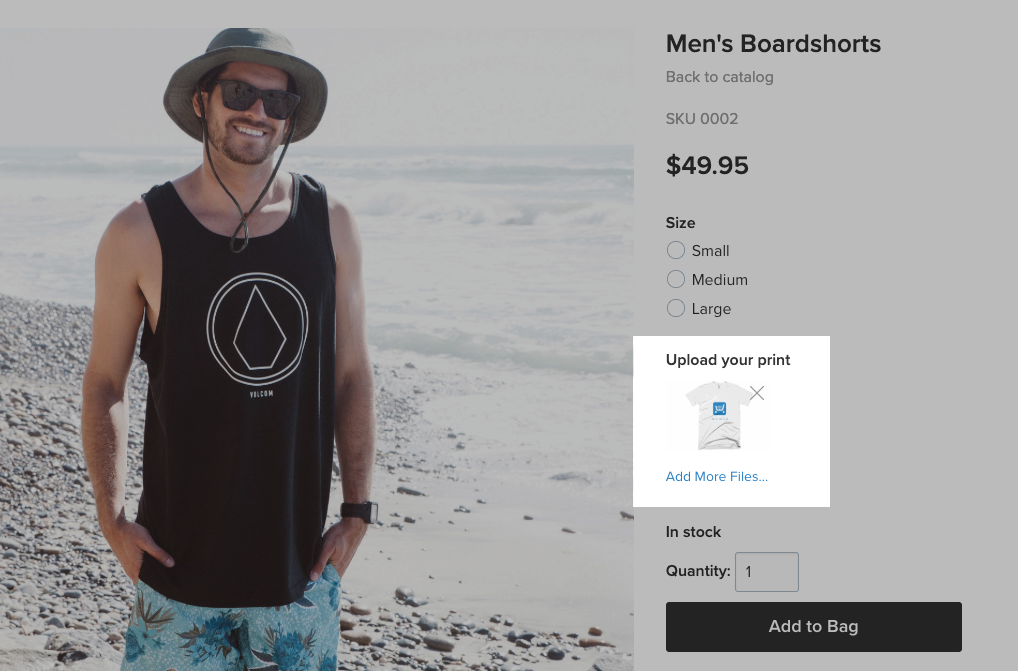 You can change the "Add files" and "Add more files" text using the Storefront Label Editor in your Ecwid Control Panel.
Downloading customer's files
We host all files that customers have uploaded in your storefront. You can download them from your Ecwid Control Panel at anytime.
To download a customer's files:
Go to your Ecwid Control Panel → My Sales → Orders
Click on the order from which you want to download files.
Click on the file. The download will begin automatically: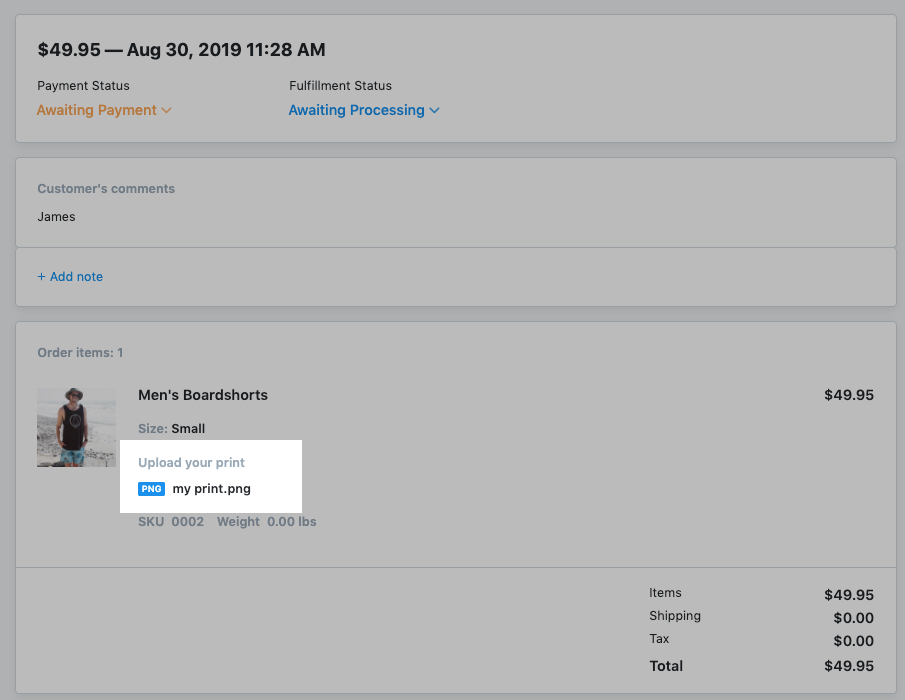 When you get an order where a customer has uploaded files, you will see the file name in the order confirmation email. To download the files, you must go to the order details in the Control Panel. Files can't be downloaded from the email.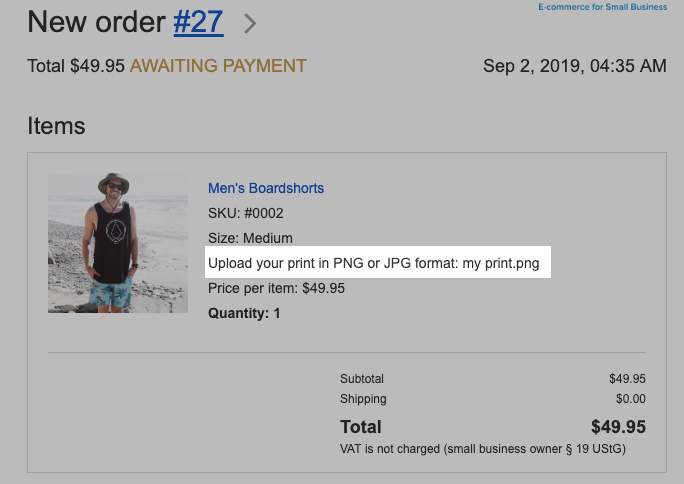 You may want to ask customers for more details about their order, such as how soon they want the product to be ready (hopefully, they are ordering it in advance giving you more time to make it), or if they are ordering it as a gift for someone and want to add a special note or wrapping. See how you can
request additional information from customers
.