When you have an Ecwid account registered via Wix, you can use it for free and get all the tools for creating an online store. If you need premium features for your store, e.g. discount coupons or stock control for product options, you need to subscribe to a paid plan.
Pricing and features
 Plan

Free

Starter*

 Professional*

Unlimited*

Price 

$0 forever

%0 transaction fee

$7.99/month

$79/year

%0 transaction fee

$19.30/month 

$190/year

%0 transaction fee

$79/month 

$790/year

%0 transaction fee

SALES CHANNELS

Online Store
✔
✔
✔
✔
Facebook store
✔
✔
✔
✔
Marketplaces
 
 
✔
✔

MOBILE

Mobile responsive shopping cart
✔
✔
✔
✔
Android and iOS store management app
 
 
✔
✔

FEATURES

Products
10
50
2,500
unlimited
Categories
2
10 000
10 000
10 000
Digital goods 
 
 
1Gb per file
10Gb per file
Unlimited bandwidth
✔
✔
✔
✔
Abandoned cart saver
 
 
✔
✔
Discount coupons
 
✔
✔
✔
 
 
✔
✔
Inventory management
 
✔
✔
✔
Advanced SEO tools
 
✔
✔
✔
Social media tools
 
✔
✔
✔
Wholesale pricing groups
 
 
✔
✔
Google Shopping
 
 
✔
✔
eBay integration
 
 
✔
✔
Create and edit orders
 
 
✔
✔
Product options
✔
✔
✔
✔
Stock control for product options
 
 
✔
✔
40+ Payment methods

✔

✔
✔
✔
All the world currencies
✔
✔
✔
✔
Real-time shipping rates from FedEx, UPS, USPS, Australia Post, CanadaPost, Brazil Correios
✔
✔
✔
✔
Fully Customizable invoices
 
 
✔
✔
Customizable email notifications
 
 
✔
✔
Store CSS customization
✔
✔
✔
✔

Support service

E-mail support
 
✔
✔
✔
Live Chat support
 
 
✔
✔
Phone support
 
 
 
✔

Advanced features

Ability to use Google Adwords
 
✔
✔
✔
Marketplaces (Google Shopping, eBay Pricegrabber, Nextag, Shopzilla, Yandex.Market)
 
 
✔
✔
A way to integrate custom payment gateways 
✔
✔
✔
✔
Sale and promotional price
 
✔
✔
✔
Bulk discount pricing
 
✔
✔
✔
"Terms and Conditions" checkbox on Checkout page + Legal pages
✔
✔
✔
✔
Custom domain
✔
✔
✔
✔
Secure data transfer
✔
✔
✔
✔
Set up custom taxes
✔
✔
✔
✔
Custom shipping rates
✔
✔
✔
✔
Import your products
✔
✔
✔
✔
Export your products
 
✔
✔
✔
Storefront translations
50 languages

Built-in Google Analytics integration with e-commerce reporting

✔
✔
✔
✔
Affiliates features
 
✔
✔
✔
Retrieve inventory information via API
 
✔
✔
✔
Retrieve orders' information via API
 
✔
✔
✔
Simultaneous login to your site and store via Single Sign-On API
 
✔
✔
✔
Powerful Javascript API to customize your store
✔
✔
✔
✔
Content Delivery Network for all store content for faster loading
 
✔
✔
✔
Ability to track orders
 
✔
✔
✔
SEO capabilities
 
✔
✔
✔
POS integrations
 
 
 
✔
* Special offer for Wix users only
Upgrading to a paid plan
To subscribe to a paid plan take the following steps:
Go to your Wix HTML Editor → Pages.
Open the page where your store is located.
Click anywhere on your products, then click Settings in the menu that appears: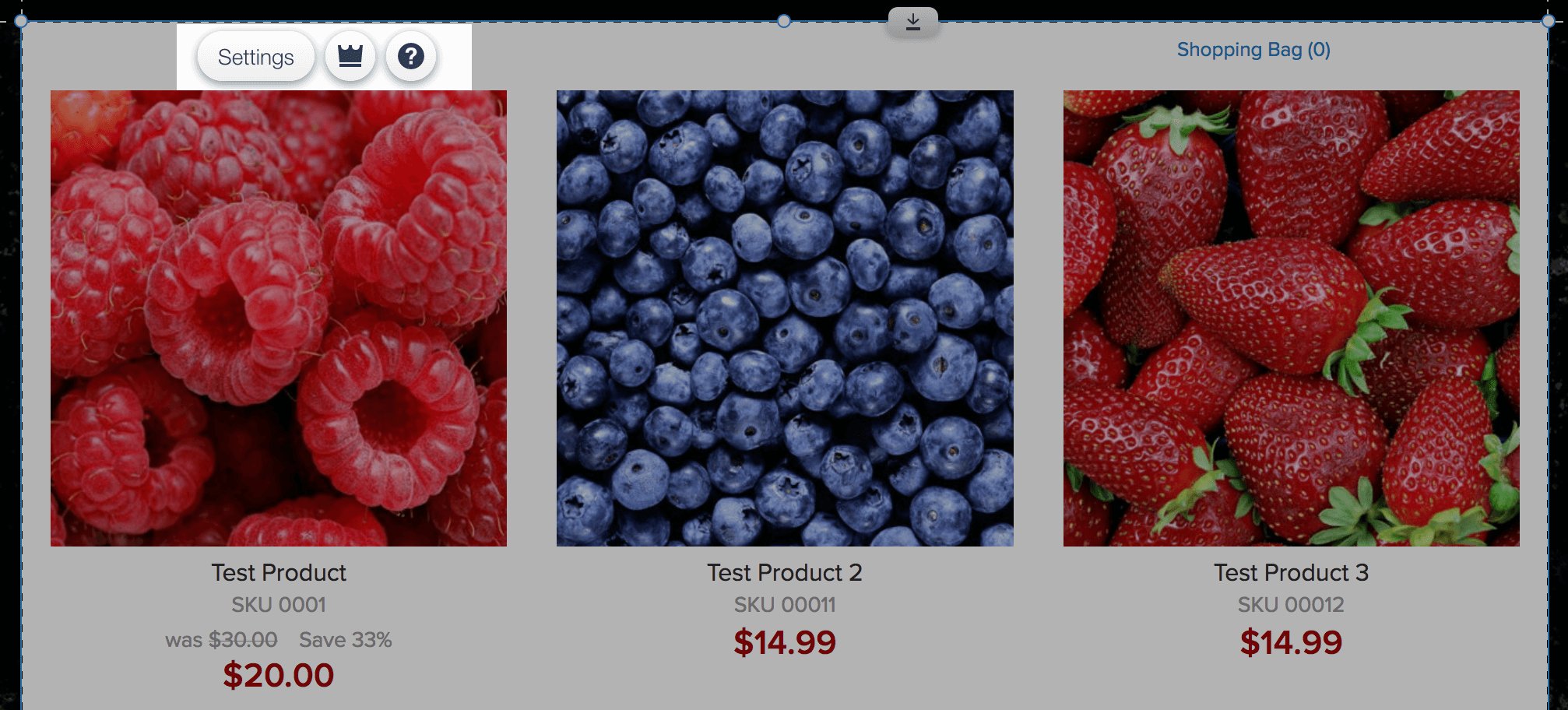 In the pop-up with settings click Upgrade: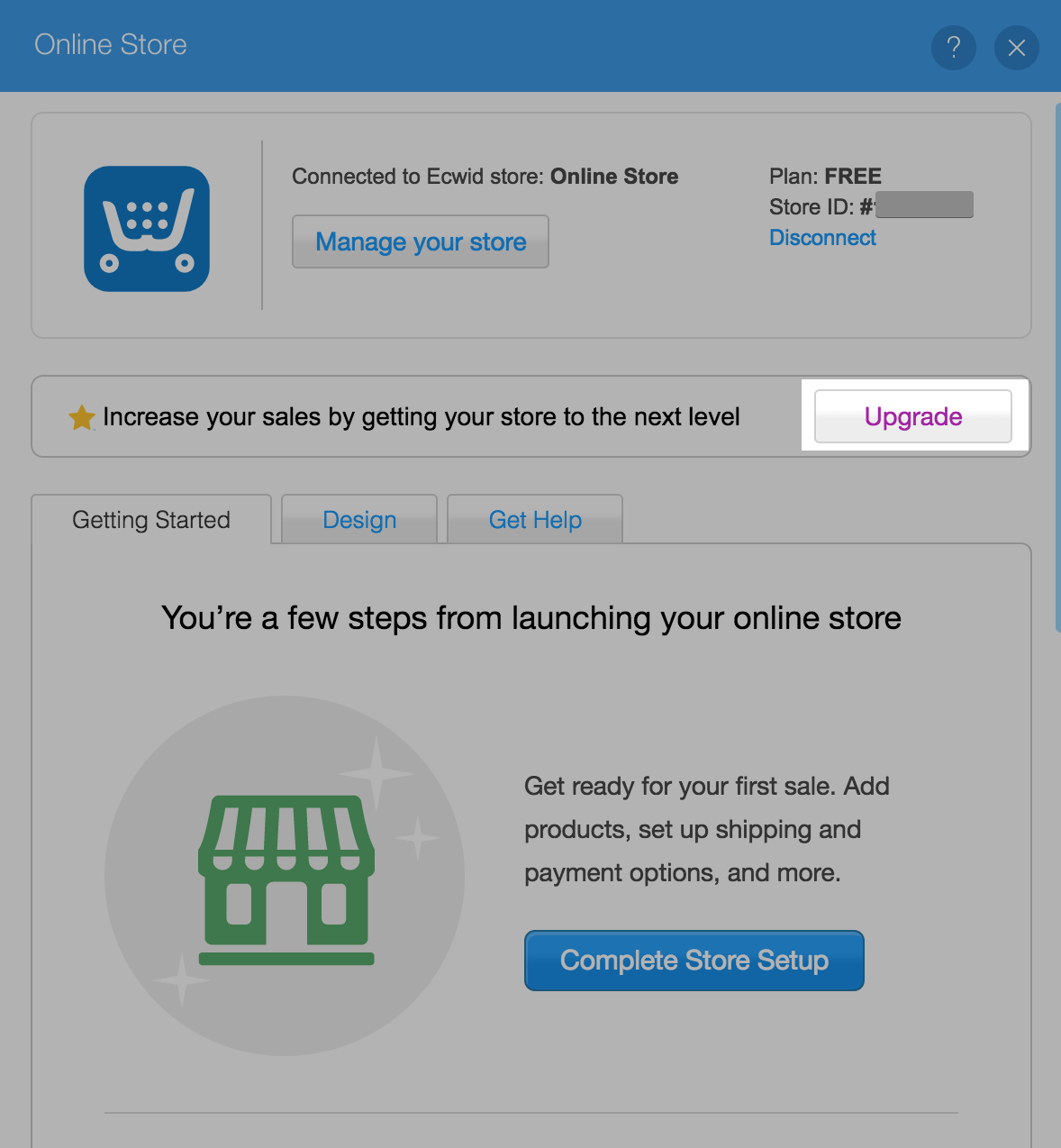 Select the plan you like and click Upgrade Now
Fill in the required details in the payment form and submit the payment: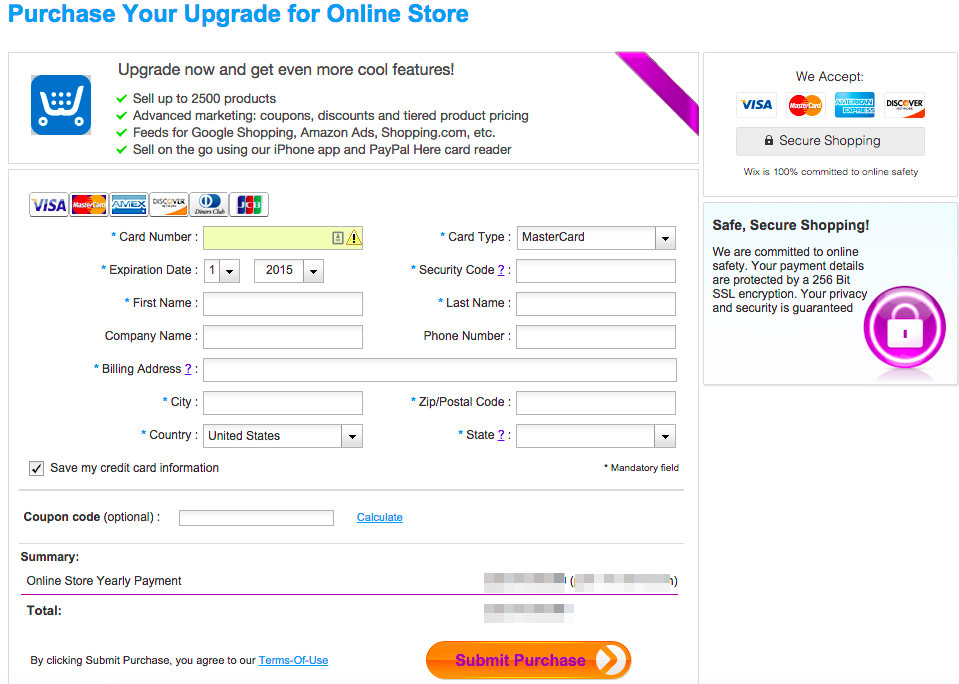 Save and refresh the page with your store after upgrade.
Subscription to paid plans is handled by Wix. If you faced any difficulties with a subscription, please contact Wix directly at 
premium@wix.com
.
Back to top