All Ecwid Starter Sites are optimized for Google. See a detailed description of what we do to make SEO a priority on Ecwid Starter Site.
In this article:
Sitemap
A sitemap is an XML file that contains a list of the site pages. A multi-level menu (Home → Category → Subcategory1 → Subcategory2 → Product) takes Google a longer time to index these products because they are deep in the site structure. A sitemap will help search robots crawl and index your products faster.
New pages – and new products – are indexed faster with sitemap since search engines check sitemaps every day. New pages appear on the sitemap in about a day.
Microdata
Microdata is a set of special tags on the site code. They help search engines to see what information on the site is more important. This helps index the products and categories better. Ecwid uses microdata by Schema.Org and adds it to all store pages automatically.
Static copies of pages
Ecwid is a SaaS solution created using JavaScript. It is added to any website as a couple of lines of JavaScript code. The site source code does not contain any data about products. Rather, it is generated dynamically "on the go" when a visitor opens the page. With this technology, you can add Ecwid to any websites and social media account and sell on multiple platforms at the same time.
Search engines do not always index dynamic websites well. To ensure they index Ecwid stores, we use a special technology. Ecwid creates a static HTML-copy for every product and category page in your store and gives this copy to a search engine. This way, all product and category data shows.
This helps Google and other search engines index your Starter Site as if it were a static HTML site.
Clean links
Services that use JavaScript have hashbangs (#!) in their links. Ecwid found a solution to display all Starter Sites links as clean and understandable:

Clean links are better received and more quickly indexed by search engines.
Automatic ALT-tags for images
"ALT" is a tag used to explain images to search engines. Ecwid creates ALT-tags for images automatically with the same text as the product title: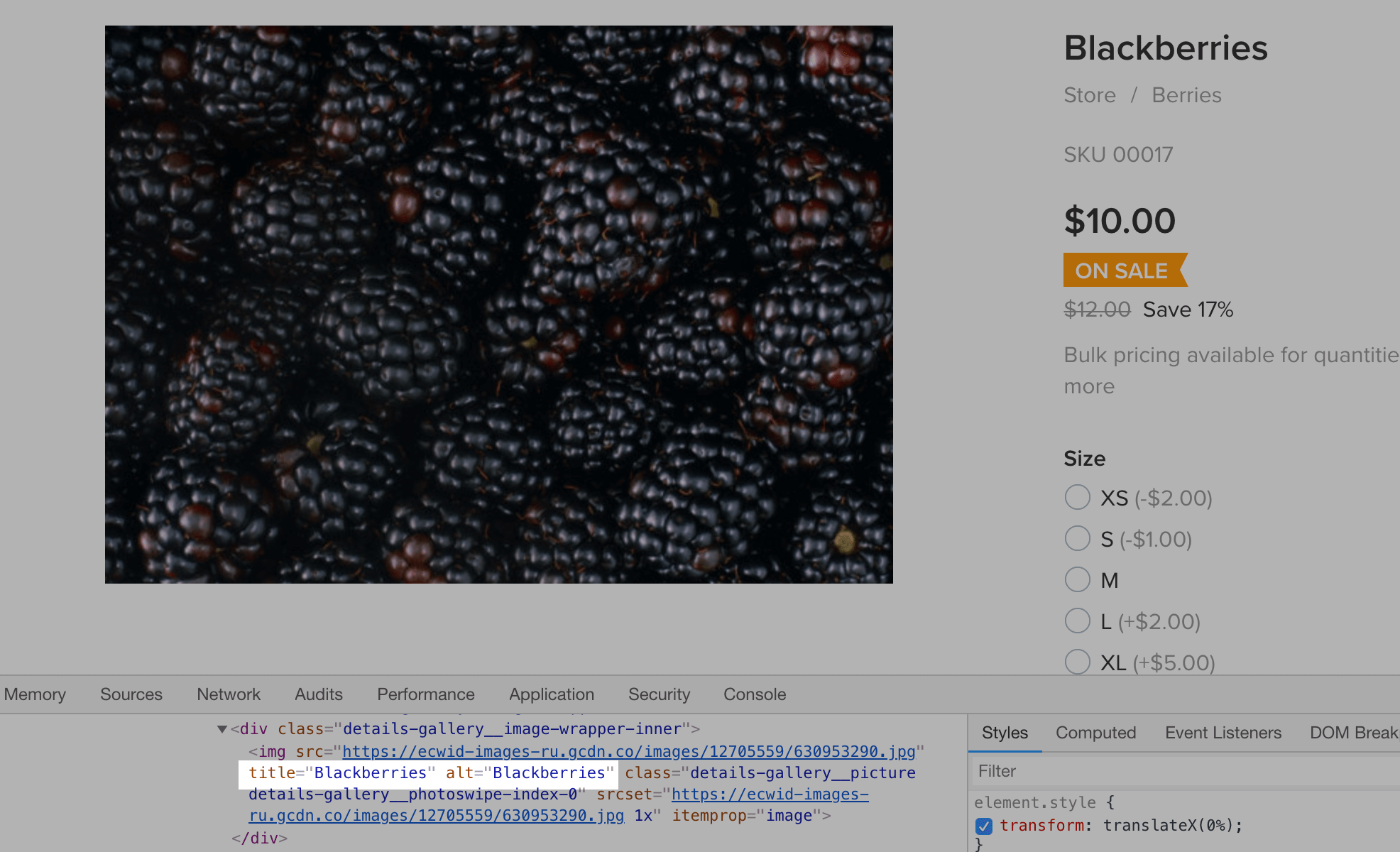 Adding keywords using ALT-tags helps search engines index your site more effectively.
Robots.txt
Robots.txt is a text file that shows search engines what pages can be indexed. Search engines can index all the product and category pages on Ecwid Starter Sites, but they will not see the cart page or search results. These pages should not be indexed as their content is different for every visitor.
Starter Site verification
Some services such as Google Merchant Center, Google Search Console, and Pinterest require verification of ownership. There are several ways to verify a site. One of the most common is to add a special HTML tag to the site.
To verify that you are the owner of a Starter SIte:
Log in to the admin area of the service where you are verifying the site.
Copy the tag (code) to use for verification in Ecwid.
Scroll to Header meta tags and site verification.
Click Add Code:
Paste the HTML-tag in the text field and click Save.
Return to the service admin area and confirm that you have added the tag.
Managing indexing
Search engines index all the Starter Sites by default. If you add your store to your own custom website and do not want to have duplicated content, you can hide the Starter Site from search engines:

Related articles
SEO for Starter Sites
Using Google Search Console
Back to top