Klarna
If you sell in Europe, Canada, or the USA or plan to expand your business, you can use the Klarna payment solution in your Ecwid store. Klarna supports Buy Now Pay Later (BNPL) business model — a flexible payment method which gives your customers a choice to pay for their order immediately or later, in full or in installments. 
Offering the various payment options in your online store can help you get more clients and increase your checkout conversions.
In Ecwid, Klarna is set up through Stripe, a fast and trustworthy payment gateway that allows you to receive a variety of payment methods from all over the world including credit and debit cards, mobile wallets, and dozens of other options your customers prefer.
Requirements to use Klarna
Regions: Klarna is available as the payment option at checkout for customers from Austria, Belgium, Canada, Denmark, Finland, France, Germany, Ireland, Italy, The Netherlands, Norway, Poland, Spain, Sweden, Switzerland, the United Kingdom, and the USA.

Currencies: Klarna works with Euro, Sweden Krona, Norwegian Krone, Danish Krone, British Pound and USD. You can change your Ecwid store currency from the store admin, in Settings → General → Regional Settings → Currency.
Product categories: By enabling Klarna with Stripe, you are accepting Klarna Merchant Services Agreement and confirm that your business doesn't operate within Klarna Restricted Business Categories. That includes travel (including travel agents, car rental, and hotels), ticketing (including event tickets), booking services, digital goods and services, marketplaces and others.
Klarna also have Ethical instructions for merchants (pdf) which states the company's ethical standards. Among restricted are alcohol products; products or services, which is intended to cause danger, injury or suffering to humans or animals; products and services (e.g. fireworks, prescription drugs, weapons and armaments) provided without appropriate licenses; adult, sexual or pornographic products and services, including live web cam; electronic cigarettes (including e-liquid), etc.
Legal pages: Before you start accepting live payments with Klarna, make sure to update your Terms and Conditions and Privacy Policy according to Klarna Data Protection and Privacy Requirement.

Setting up Klarna
To accept Klarna payments, you can add the Klarna payment method in your Stripe account connected to your Ecwid store. If you don't have a Stripe account, you can create one fast and easily.
Due to the integration specifics, if you have customers from Italy or Spain, you need to do an
extra step
after you set up Klarna so that your customers can pay you with Klarna payment options.
To accept payments in your online shop via Klarna:
From your Ecwid admin, go to Payment.
Scroll down, click Choose Payment Method and select Klarna (via Stripe) from the dropdown.
Click Connect Klarna. You'll be redirected to the Stripe website where you can login into your existing Stripe account or create a new one.
If you create a new Stripe account, you'll need to fill in the information about your business and then Stripe will connect to your Ecwid store. After that you will be redirected to your Ecwid store.
If you already connected your Stripe account to your Ecwid store, you need to log in to your Stripe account and the Klarna payment method will be added to your store. After that you will be redirected to your Ecwid store.
Make sure that Klarna payment method is activated in your Stripe account. To check it, click on the Manage account button in your Ecwid store or open your Stripe Dashboard:


On your Stripe Dashboard, go to Settings → Payment Methods and find the Klarna method. If you see Activate next to the Klarna method, click on it and fill in the additional information. You may also see the Request access button, click on it to activate Klarna:


The Klarna Merchant Services Agreement will pop up and you have to agree with it by clicking Confirm.
Stripe may ask you to provide more information about your business to accept payments with Klarna:


Click Provide info and in the popped-up window click on settings. You will be redirected to Stripe's Settings page where you'll need to fill in the information about your business.
If you have any questions about activating a payment method in your Stripe account, contact Stripe's support for more information.
After activating Klarna payment methods, make sure that the Enable this payment method at checkout setting in your Ecwid admin is turned on to display Klarna payment options at checkout.
(optional) In the Payment instructions for customers field you can add a description of the Klarna payment method for your customers, it will appear at the checkout. For example, describe the flexibility of delayed payment that Klarna provides to your buyers.
(optional) Click Limit availability by shipping method to limit the Klarna payment option to a specific shipping or delivery method. 
That's it. Now you can accept payments in your online shop via Klarna: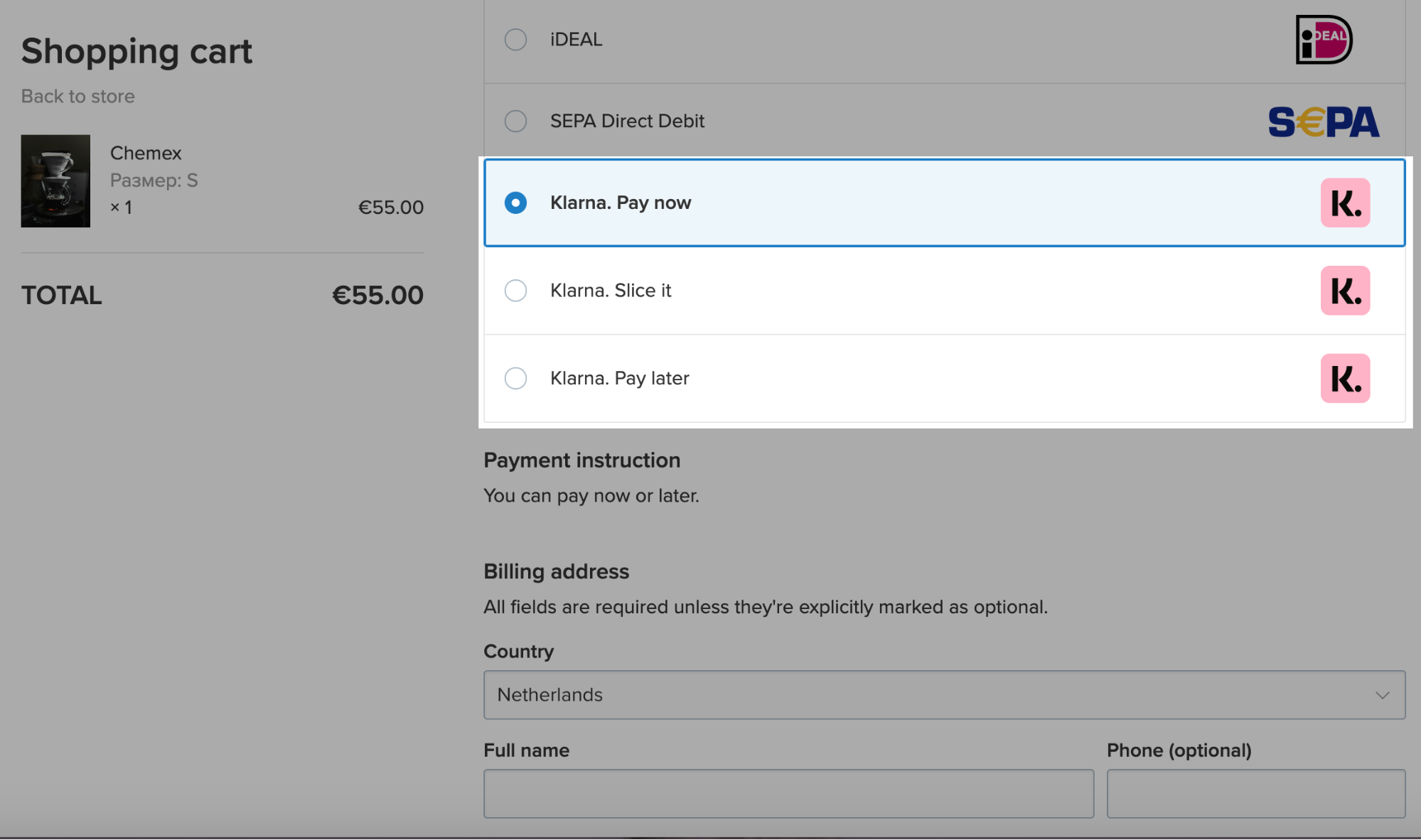 Additional Klarna setup to sell in Italy or Spain
Klarna has several payment options available for customers depending on their location. In particular, customers from Italy and Spain can choose between installments split in 3 months and immediate payment. 
To enable payment options for customers from Italy or Spain, you have to take an extra step in your Klarna setup.
To enable payment options for customers from Italy and Spain:
After setting up Klarna, go to Payment and click on Klarna.
In the Appearance options, fill in the Name for "Pay later" payment option field. Leave other fields empty:


Click Save.
That's it. Your customers from Italy or Spain will see the Klarna payment method at checkout. When they select it, they will see all available payment options for their countries and can choose how to pay you: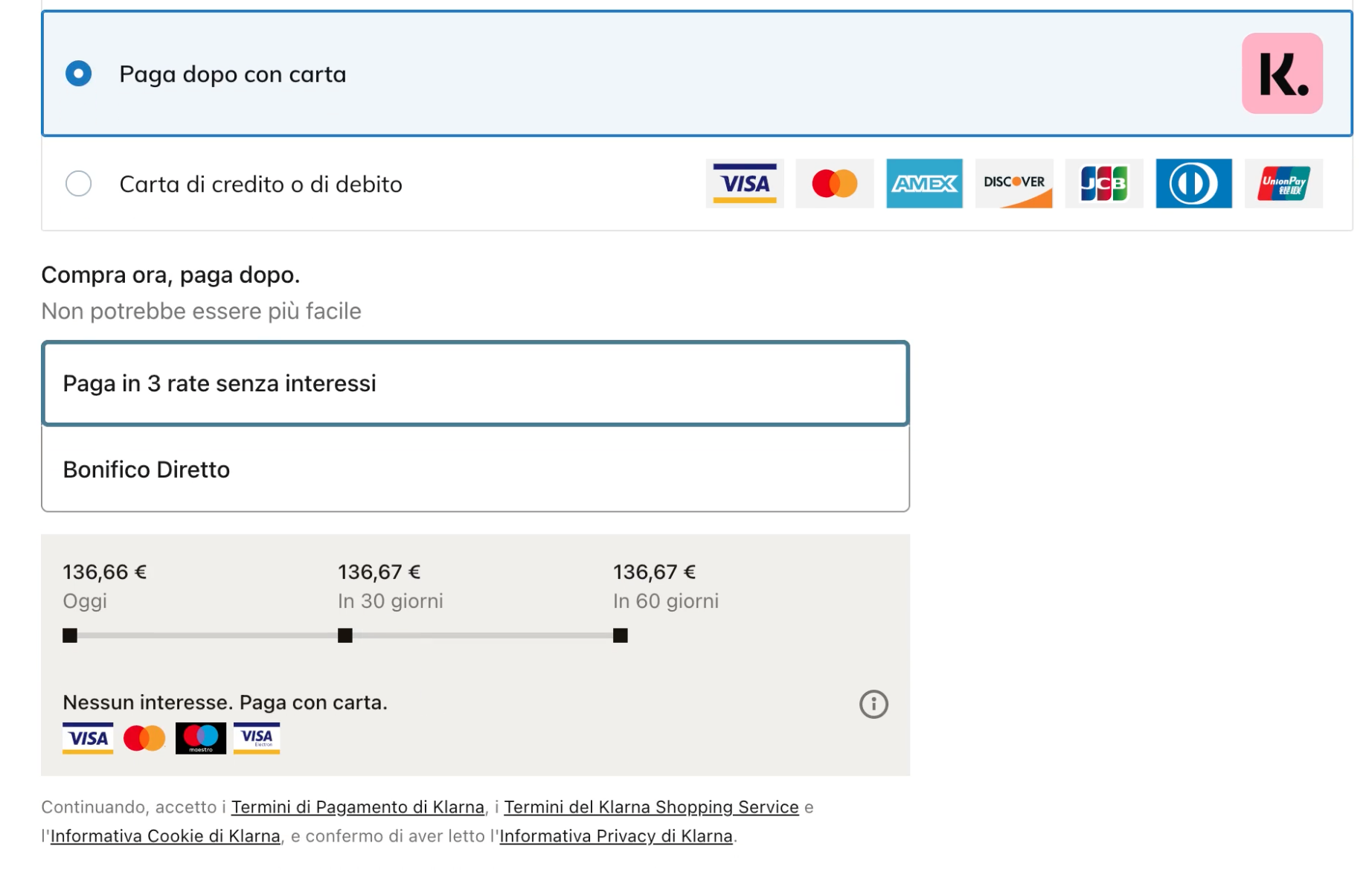 Accepting Klarna payments
After you enable Klarna in your Ecwid store, your customers will be able to choose one of three Klarna payment options at your store checkout: Pay now, Pay later or Slice it (also called Installments). These different payment options let customers pay immediately, by invoice, or through installments using direct debit or credit card.
Klarna Pay Now method lets customers pay for the order using their online banking details. If your customers choose to pay now, they have to fill in the billing address on your store checkout page.
Depending on the location customers may need to fill in additional information. After entering information and clicking Continue, your customers will be redirected to the Klarna website to proceed with payment.
Klarna Pay Later allows your customers to order first and pay 30 days after purchase without any fees. After placing the order, customers will get a bill from Klarna. No matter when your customers decide to pay, Klarna will pay for the order up front and in full.
To learn more about the Pay later method, watch this video from Klarna.
Your customers can pay in 4 interest-free installments with the Klarna Slice it payment option. In that case while authorizing the payment, Klarna will show your customers their payment plan. For example, if they bought an item in your shop that costs €120, they will have to pay €30 every 2 weeks.
Here's a quick video about Slice it payment method, explaining how the payment process looks like.
After completing the order, customers will get an email with a payment link. Once Klarna collect their first installment, you will be paid by Klarna for the order up front and in full.
For customers from the UK and U.S. the orders paid with Klarna have Awaiting Payment status for up to 24 hours from their creation. Once the charge is confirmed and the funds are guaranteed, the order status automatically changes to Paid. In other countries the payment status of the order gets updated immediately.
You can always check what payment method has been used for an order by viewing an order's details in your Ecwid admin, My Sales → Orders.
Processing orders paid with Klarna
Klarna requires merchants to ship the order within 28 days of placement. Otherwise, Klarna will recognize the order as outstanding and automatically make the refund.
To avoid the refund, you need to ship the item within 28 days and change the status to Shipped or Delivered.
10