Initial shipping and delivery setup in Ecwid
In this article, you will find basic steps for the initial shipping setup. Once you follow the steps, you can proceed with a further shipping setup based on your shipping strategy.
Step 1. Mark products as shippable
Whether you offer shipping, local delivery or in-store pickup, you need to mark your items as shippable. Without that, customers won't be able to select a delivery method at checkout. In Ecwid, all new products in your catalog are automatically marked as shippable.
You can get at-a-glance overview of products that require shipping from your Ecwid admin, Catalog → Products: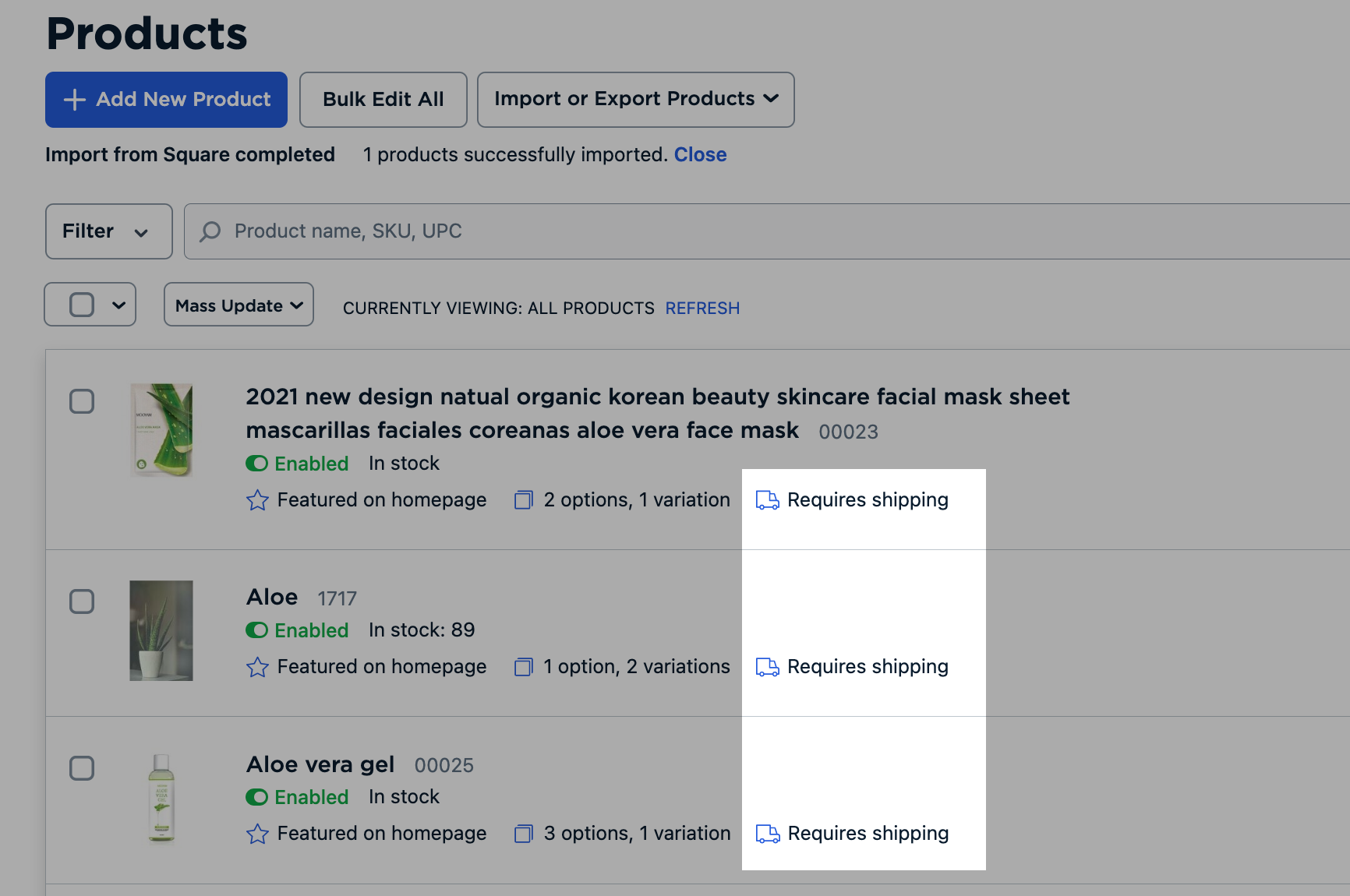 To mark a product as shippable:
From your Ecwid admin, go to Catalog → Products.
Open the product you want to set up.
Make sure the Requires shipping or pickup checkbox is ticked:

If you have both shippable and non-shippable items in your store, you can use Bulk Product Editor to quickly adjust shipment option for products and/or check out what items in your store require shipping.
Step 2. Specify product weight
Each item in your catalog has its own weight that you can enter on the product details page. Carrier services use order's weight to calculate shipping rates, so you need to specify weight for products if you want to use accurate shipping rates based on weight: either real-time or manual.
To specify weight for a product:
From your Ecwid admin, go to Catalog → Products.
Open the product you want to set up.
In the Weight section, enter the weight:

For a large catalog, use Bulk Product Editor to quickly specify weight for different products.
For some carriers integrated with Ecwid, product dimensions also affect live rates. You can specify product size to get more accurate real-time rates at checkout.
Step 3. Proceed with setting up a shipping method
After you make adjustments to products, your store is ready for shipping. It's time for you to set up shipping methods in your store. On your Shipping & Pickup page in your Ecwid admin, you can edit or create one of the following shipping methods:
For individual items in your store, you can use product-specific rates.
10