Making "Buy One Get One Free" promotions
You can run various campaigns in your Ecwid store to attract more customers and increase conversion: set up sale prices, add automatic or bulk discounts, or create discount coupons.
Along with these built-in marketing tools you can use the Buy One Get One Free: Sales Promotions app from Ecwid's App Market to run one of the most popular ways of promotion amongst shoppers: the "Buy one Get one Free" (BOGOF) deals. For example, you can run promotions like:
Buy 2 products, get one free
Buy one, get one at 50% discount
Buy 4 products at the cost of three
...Or any other similar promotion
You can also run several different promotions of this type in your store simultaneously.
Installing the app
To install Buy One Get One Free app:
From your Ecwid admin, go to Apps → App Market.
Find the Buy One Get One Free: Sales Promotions app.
Click Add payment method and buy under the app name and pricing.
This app has a 14-day free trial period, but you still have to provide your payment details. After that the app will be available in Apps → My Apps and in Marketing → Buy One Get One Free in your Ecwid admin.
Setting up your promotion
The Buy One Get One Free app has flexible settings to create various special offers. The overall idea is that when a customer buys X units of some product, he can get one unit of a certain product with a discount or for free. You can offer any product for a discount.
Please note that a customer needs to add both products to cart to trigger a discount. For example, we want to offer a free cookie for each purchased coffee blend. In that case, a buyer needs to add a coffee blend and a cookie to get a discount at checkout.
To set up your BOGOF promotion:
From your Ecwid admin, go to Marketing → Buy One Get One Free.
Click + Set Up Promotion.
In the first section, choose the discount type and give your promo a name:


Click Save.
In the Manage promotion conditions section, specify the number of products that a customer has to buy to participate in the promotion. Click Save.
Click Buy-products and enter the product name, SKU, or UPC to choose what product a customer needs to buy to get a discount. You can choose several products at once. Click Add to promo, then Save.
(optional) You can make the whole category to be a part of the promotion. To do that, click Buy-categories and choose the category. That way, all products in the category will participate in the promotion. Click Add to promo, then Save.
In the Manage promotional discounts section, click either Get-products or Get-categories to choose products or categories a customer can get a discount on. Click Add to promo, then Save.
In the Promotion type section, choose who can take part in promotion. Select Automatic Discount to make the BOGOF promotion available to all your customers. Select Discount Coupon to require a promo code for participation and enter a new coupon that will be added to your store. Click Save.
That's it.
In our example, we set up a 100% discount on a homemade cookie that a customer buys with a coffee blend. Now, when a shopper adds both items to cart, they will get a discount on the second product: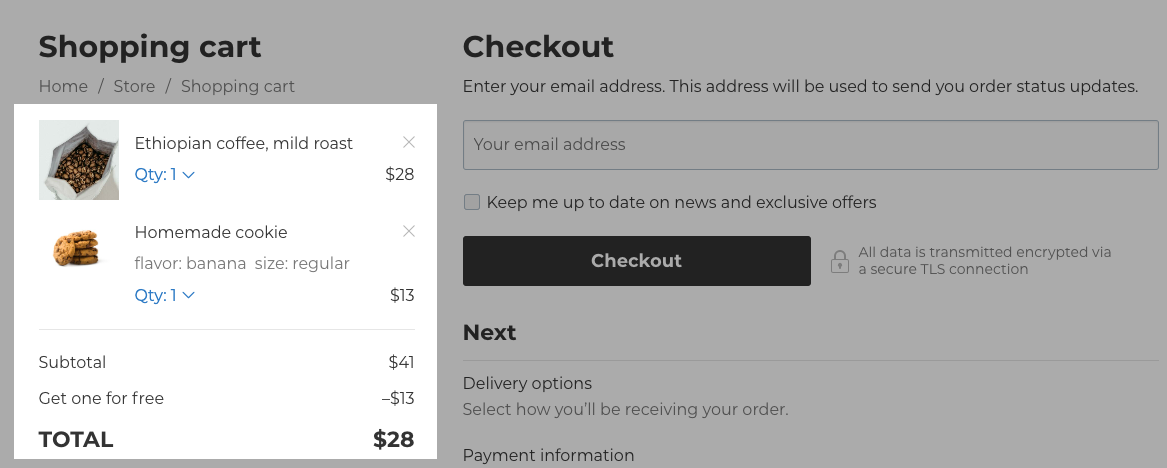 You can edit, delete an existing promotion, or add a new one on the Marketing → Buy One Get One Free page.
Telling your customers about a special offer
Products that participate in the Buy One Get One Free promotion don't get any special description on your storefront – the only place where customers see it is the shopping cart. So, after creating a special offer, you have to inform the potential buyers about it. The more people know about the promotion, the more sales you can expect.
There are several ways to promote hot deals running in your store:
Email newsletters
You can send out newsletters with special offers running in your store to your subscribers. To do that, you can use, for example, Mailchimp. To learn more about newsletters, read the guide How to start email marketing.
Category description
You can inform the store visitors about promotions in the category description fields. You can edit them in the Catalog → Categories section in your Ecwid admin. The text editor allows you to insert images and even videos to the description area. See more details in the article Adding welcome texts and banners to your store.
Custom notices on checkout
You can use apps from the Ecwid App Market such as Checkout Notices and Promo Bar to add custom notes and pop-ups with special deals your customers can benefit from.
Product ribbons
You can highlight products with ribbons — colored labels that are displayed in your catalog "above" product images. Put bright ribbons on the products that participate in your promotions and add your BOGO promo text to these labels.
What else?..
Write a post in your blog or on social media. Add a message on the store home page. Show products that participate in your promotions as related products. Use those channels that will best fit your business to spread the word among your potential customers and your promo campaigns will not go unnoticed.
10