Product options enable you to give a possibility for customers to choose some properties of an item. For example, you can add different sizes, colors or gift packaging. 
Adding options to products
More video tutorials on our YouTube channel: Ecwid Team
Go to your Ecwid Control Panel → Catalog → Products, product page, open the Options tab.
Click New Option to add an option and its parameters
Then follow these steps
Submit the title and choose an input type (for example Radio Buttons).
Click on New Selection to add the values of the option. 
Set the price modifier if needed. 
If you have more than one selection, choose which one will be selected by default on the product page.
If you want more than one selection for each option, just click New Selection again.
Once you have all your options set, click Save.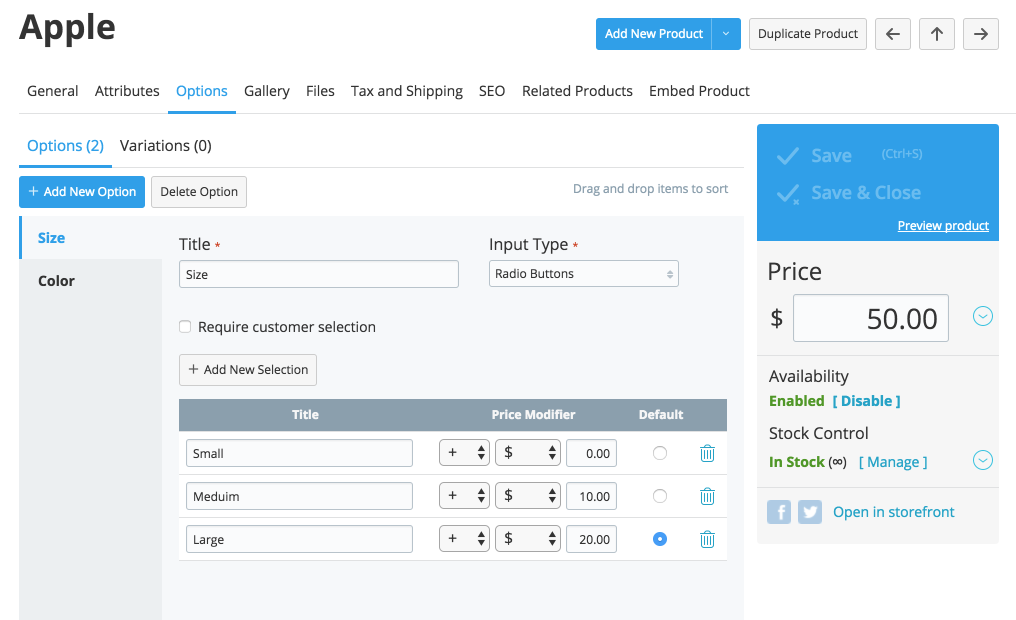 Price Modifiers
How to use price modifiers
Price modifiers are additional rates which you can add to the options selections. When a buyer chooses the selection that modifies the price, the final price shows on the product page in your store. 

You can assign price modifiers to the options selections in your Ecwid Control Panel → Catalog → Products, product page, the "Options" tab. The price modifiers can add absolute or percent amount to the price. The price modifiers can be assigned to drop-down, checkbox and radio-buttons option types.
Column 1

+ adds up to the basic price

- deducts from the basic price. 

Column 2 

$ - adds/deducts amount

% - adds/deducts a percentage

Column 3

Enter the amount or % depending on what's selected in Column 2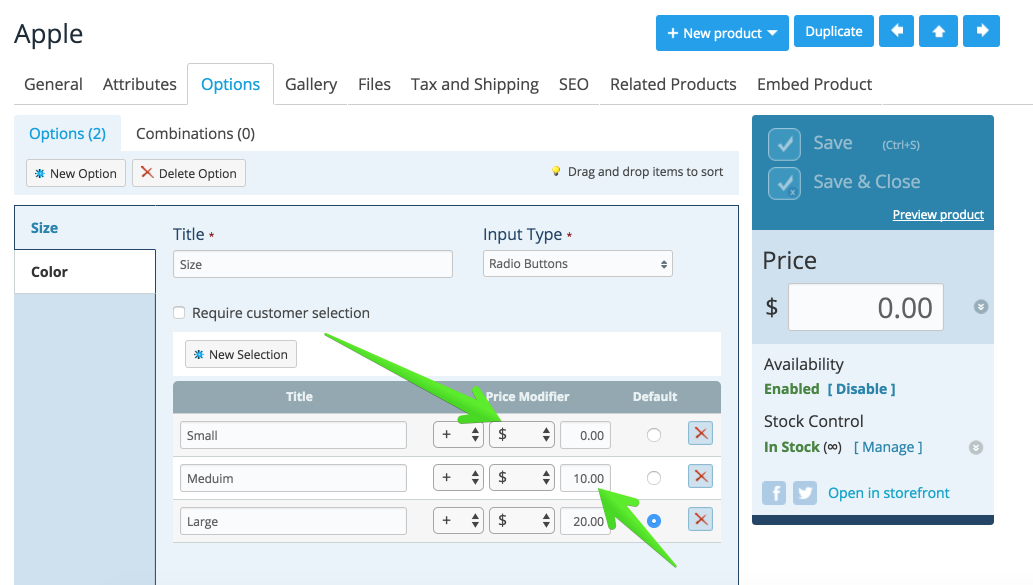 Here is how price modifiers look in the storefront: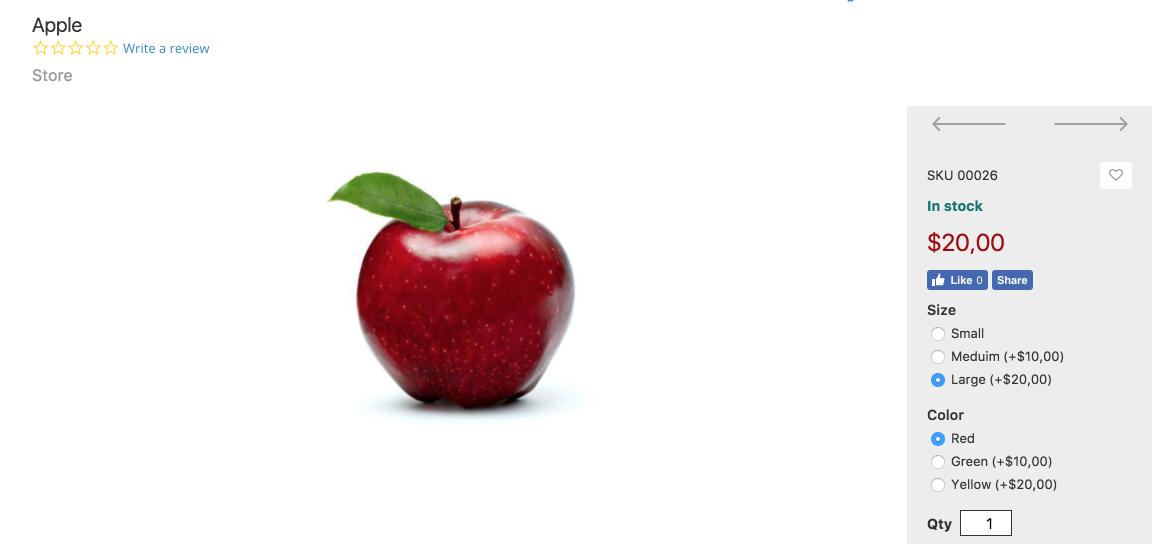 How to hide price modifiers
If you use price modifiers but want the base product price to change smoothly when the selections are chosen, you can hide the price modifiers values from the storefront.

This can be done with the help of the following script:
<script>window.ec = window.ec || 
Object();window.ec.config = window.ec.config || 
Object();window.ec.config.product_options = window.ec.config.product_options || 
Object();window.ec.config.product_options.hide_price_modifiers = true;</script>
This script should be added to the source code of the page on your site before Ecwid integration code.

How to add the script to Wordpress.org site
How to add the script to Wix site
How to add the script to Facebook
Options types
Each option type refers to a certain type of selection.
Drop-down list — drop-down menu with option values
Radio-buttons — radio-buttons with option values
Date Picker — the input box with the popup calendar to select date
Text Field and Text Area — an input text field to type in any text by your customers
Upload file — allows customers to attach files to their purchases. NOTE: this option is available for paid Ecwid accounts only Upgrade to get this feature 
Checkboxes -  checkboxes with option values
Required options
To make sure customers make a selection before adding the product to cart, you can make options required (except checkboxes).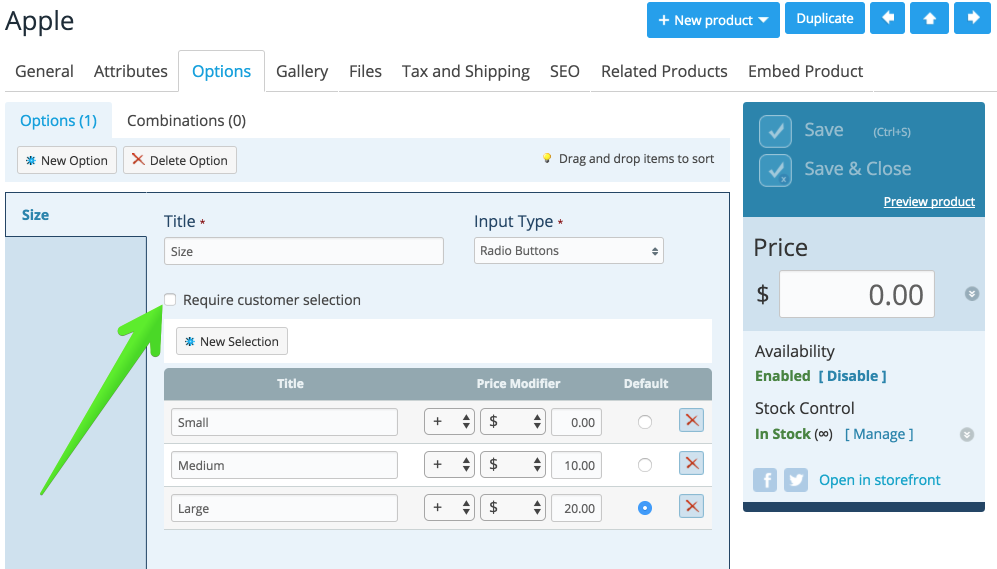 When "Require Customer Selection" is checked, a customer cannot add a product to cart without selecting an option. 
 Updating options in bulk
It is possible to easily update your product options in bulk using a special app from our App market, Bulk Product Editor. The app allows to:
Bulk update all your products, or filter which you want to change,
Change their properties like price, weight, quantity and more,
Add/remove options, and add/remove selections to these options,
Bulk enable/disable products in your store.
You can install the app right in your Control Panel on the app page in Ecwid App Market.
How to control stock of products with options
You can control the stock of the products with options with the help of the "Product variations" feature. It gives you the ability to control the inventory for products that have options. It also allows to set different images for different variants of a product (frequently used for apparel and shoes). 
Please see the details about how to use product variations in our article on the topic: Controlling stock of products with options 
Back to top