Legal pages in your Ecwid store
When you run an online business, it may be essential for your website to display legal information on your terms of services, privacy policy, shipping terms, etc. Read about how to add the legal information in your Ecwid store.
In this article:
Adding legal pages in Ecwid store
Ecwid allows to create the following legal pages:
Legal Info
Terms
Revocation Policy
Privacy Policy
Shipping/Payment Info
You can enable these pages in your Ecwid admin, go to Settings → General → Legal Pages: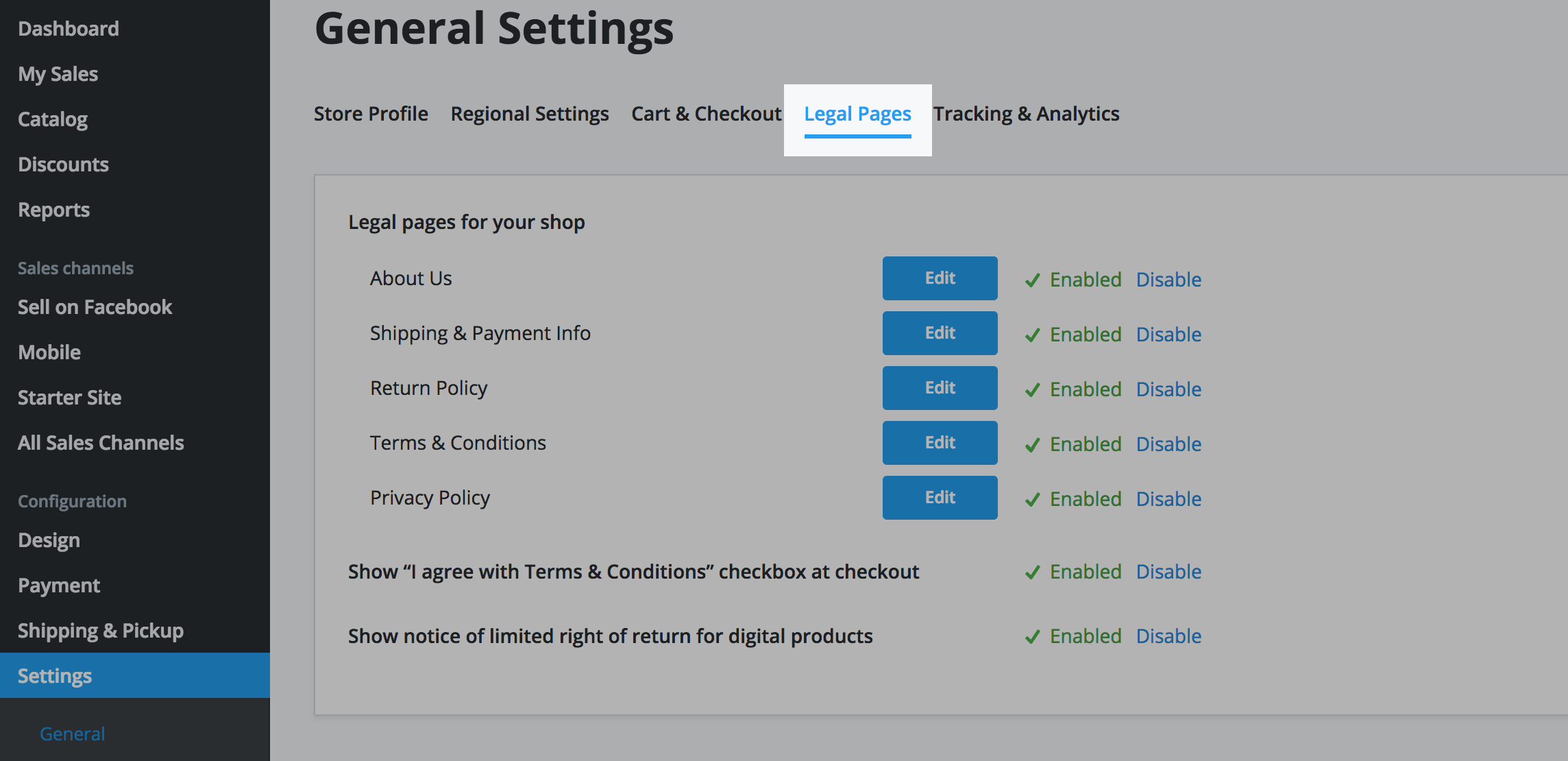 Click Edit to open the page's settings and content form. You can specify any title to your page. If you already have a similar page on your website, you can add a link to that page here.
The pages links will be automatically attached and shown in your Instant Site and Facebook shop, at the bottom of each store page.
Getting links to legal pages
If you run your Ecwid store on a website, you will be able to place these links to any spot on your site. To get the links to legal pages, do the following:
Enter your Instant Site and scroll to the bottom of a page for the llnks to the legal pages that you've enabled in your store.
Click on a legal page link and check your browser address bar. Each page will have its own ending. For example, the privacy policy page - /pages/page=privacy-policy
Copy the link.
Open your website.
Enter the page with your Ecwid store.
Get the URL from your address bar and append the copied part to it. You will have the URL to your privacy page in Ecwid store.
Place this URL on your website. The exact instructions depend on the platform or content management system you use for your site. If you are not sure how to add the links, feel free to contact our customer care team.
In case the legal information is placed on your website, you can add a link to that legal page to your store settings so that customers can read it on your website. For this, go to your Ecwid admin, in Settings → General Legal Pages, click Edit next to the necessary legal page, choose the Show: on separate URL option and add the link from your site to the appeared field. Example:

What legal pages you need
The legal pages you need and the content they are to display depends on your business, and laws and regulations in your country. We recommend to look for professional lawyer advice regarding this.
Here are some examples of the legal pages content.
Terms and Conditions
Or simply TOS. It is a document that explains the rules for using your site/store. Learn more about adding Terms and Conditions to your e-commerce site.
Return policy
This is a document specifying your terms for refunds and product returns.
Privacy Policy
You need to let your customers know what information your store collects and how it will be used. Customers want to know if their personal data will be anyhow exposed to 3rd parties, sold, or use for newsletters. By providing a clear explanation on this matter, you will be sure to increase liability among your clients. This is also required by law in some countries, for example, by GDPR in Europe.
The Privacy Policy clarifies what information is collected through your website and store. This may include:
use of cookies,
how you process personal information like email, address, name, etc.
whether you distribute this information to any 3rd party and if so what for, etc.
Shipping/Payment Info
The shipping info page explains your delivery policy and may include the following information:
what items are allowed for shipment
to what regions you deliver your goods
terms of delivery
estimated shipping
how to handle returns
The payment info page should cover all possible questions about payment methods in your store.
There is a number of online tools for generating various templates for privacy policies, terms of user, etc. You can check these services to get the content for your legal pages that would be streamlined and up to date. For example, https://termsfeed.com, http://www.iubenda.com. Please remember to check it with the professional lawyers before adding the legal pages to your store.