Selling wholesale on Ecwid
Selling wholesale means selling in bulk quantities at a lower price. Often, wholesale customers are retail businesses that purchase goods in higher quantities with a volume discount and then resell these goods to customers with their margin. By selling your products wholesale you can increase your brand recognition and generate more cashflow.
You can use your Ecwid store to sell to your wholesale customers. There are several ways to achieve it:
Bulk pricing
Special discount coupon
Wholesale customer group
Separate wholesale store
We'll describe the pros and cons of each option below to help you find a suitable one.
Bulk pricing
You can add bulk pricing to the products in your Ecwid store if you want to encourage all of your customers to purchase more. Bulk prices are set up individually per product, they are displayed in the product details page and automatically applied in the cart: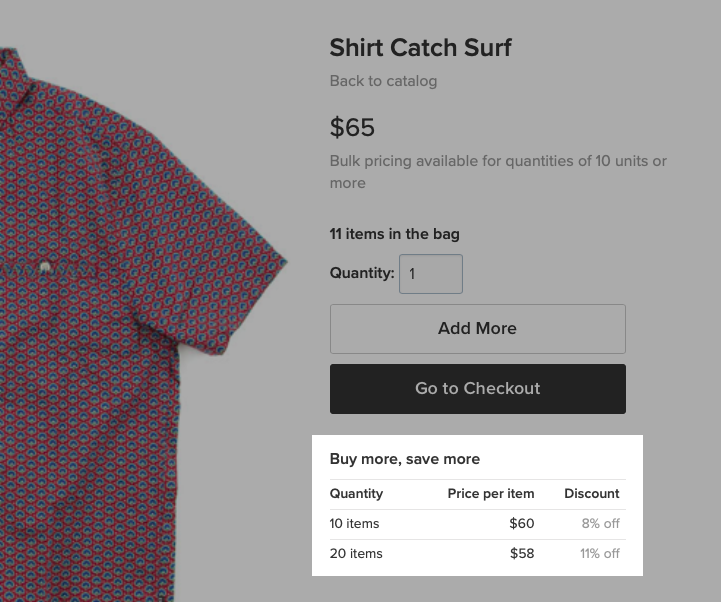 You can set up bulk pricing for a product in its editing page in your Ecwid admin:
Go to Catalog → Products.
Click on a product name to open product details.
Unfold the Price block by clicking the arrow icon.
Add the quantity ranges with the discounted price per item.
Once set up, the Buy more, save more block with quantity discounts appears on that product's page near the regular product price. You can easily rename this block to "Wholesale discounts" or use any other heading for it.
As soon as a customer adds the qualifying number of product items to their order, your bulk discount will be automatically applied in the cart.
Pros
You can use one Ecwid store to sell retail and wholesale.
You can set different bulk prices for every product.
Customers don't have to do anything to get a volume discount except adding the right quantity of product's items to the cart.
Cons
Volume discounts are available to all buyers by default.
Special discount coupon
The simplest way to provide your wholesale customers with a discount is to give them a discount coupon. To apply a coupon to an order, buyers need to enter coupon code in the shopping cart before starting the checkout process: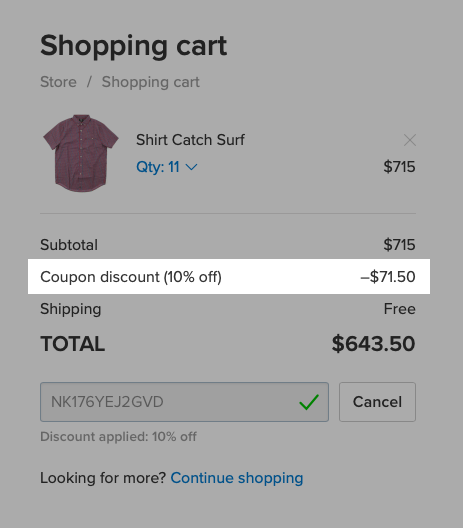 This option works best if you have a simple wholesale scheme like always offering a 30% discount on your retail catalog.
With a coupon, you can give a simple discount (% or $ discount as well as free shipping) to all orders. Or you can make it more complex and limit the discount to certain product categories or to the carts over a certain minimal subtotal. To add a coupon code, head to Marketing → Discount coupons.
Pros
You can use one Ecwid store to sell retail and wholesale.
You can create coupons with different discounts for different product categories.
You can create coupons with different discounts for different order subtotals.
Cons
Coupons can be shared with others.
Buyers need to manually enter coupon code for every order.
 Wholesale customer group
To provide your wholesale customers with a special discount, you can mark them as belonging to a special group in your store and set up a discount on your catalog limited to this customer group only. Once logged in, your clients from this group will automatically get their wholesale discount in the shopping cart (in the catalog they will see the standard prices):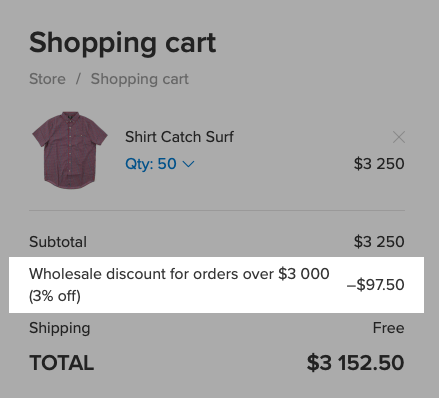 Follow these steps to set up a wholesale group discount:
Need to place the link to your store's Sign In page on your website? Learn how to create
a custom Sign In link
.
Once you set it up, your wholesale clients will need to authorize themselves through your store's Sign In page using their personal logins. Then, after adding products to the shopping cart, they will see the wholesale discount applied to the cart content and can place their wholesale order with you.
If you want only customers from the wholesale group to see product prices and/or Buy buttons once they log in, you can modify your store theme with group-specific CSS codes.
Pros
You have one catalog for retail and wholesale customers and manage it in one place.
Group discount automatically applies in the cart.
Cons
The group discount automatically applies to the cart of the logged-in wholesale clients.
The wholesale discount is the same for all the products in your store.
Separate wholesale store
You can open an independent wholesale store in addition to your retail store if it needs a different setup such as different product prices, special payment options, or minimum order amount.
For your separate wholesale store you need to open a separate Ecwid account:
Sign out from your current Ecwid account.
Create a new Ecwid account for your additional store.
If you are using Wix, a separate Wix site will be needed for the second Ecwid store due to the technical limitations.
To quickly switch between your retail and wholesale stores as the admin, you can then bundle your Ecwid accounts with one login.
Add your catalog in the admin area of your second store.
Upon your request, the Ecwid support team can help you duplicate the catalog from your first Ecwid store.
Customize the shopping experience for your wholesale customers:
It is a common practice to protect a wholesale store with a password so that only your wholesale customers can place orders at your discounted price. Your Ecwid store can run on a free Instant Site or on your own site on any other platform. If your own site allows you to protect a page with a password, you can add your B2B Ecwid store to such a protected page on your website and share the link and password to this page with your wholesale clients. Alternatively, you can install the Required Login for Storefront Access app to display your catalog to all logged-in customers (they will use their personal logins) and then modify your store theme with CSS codes containing your customer group ID to display your catalog only to those logged in customers who belong to your Wholesale customer group.
Pros
You can set wholesale product prices individually for each product.
You can set up special shopping experience for your wholesale customers.
Cons
You need a separate Ecwid account for an additional store.
Retail and wholesale catalogs are managed separately by you.
You can use
Ecwid API
to automatically sync inventory between the products with the same SKU in different Ecwid accounts. If you don't have programming skills, we can create such sync for your stores within the
Ecwid custom development service
upon your request.
10