How to go international with Ecwid
Ecommerce is booming these days, and international sales are a space of extra possibilities. They allow you to expand into foreign markets, grow and meet new challenges. There are as many business options as your imagination can travel.
Luckily, Ecwid is really flexible and offers a wide range of tools that are useful when selling to other countries. In this guide, we will give you an overview of these tools — so that you can choose the ones that suit your needs and your business strategy.
International sales are a promising yet sometimes complicated area. It's highly recommended to seek professional advice on import laws, taxes, and duties before you start selling.
Getting started
Building a website
Translating your storefront
Choosing your currency
Setting up payment methods
Setting up shipping methods
Setting up taxes
Adding legal information
Controlling your stock
Getting started
Ecwid allows setting up an online store in any country, and once you have a store, you can start your international expansion.
If you don't have an account yet, then — first things first — you need to sign up. You can sign up right here with just your name and email.
Most settings for selling internationally require a paid subscription. You can upgrade your free plan right away or anytime later. Learn more about Ecwid plans and features →
We also suggest downloading the Ecwid mobile app for iOS or Android to manage your store on the go. On the Free plan, you can test drive the mobile app for 28 days.
After you sign up, you can configure the general settings for your store and add products. When you are done filling your catalog, feel free to continue with the steps of the initial setup. You can also follow a setup wizard that you see on your dashboard: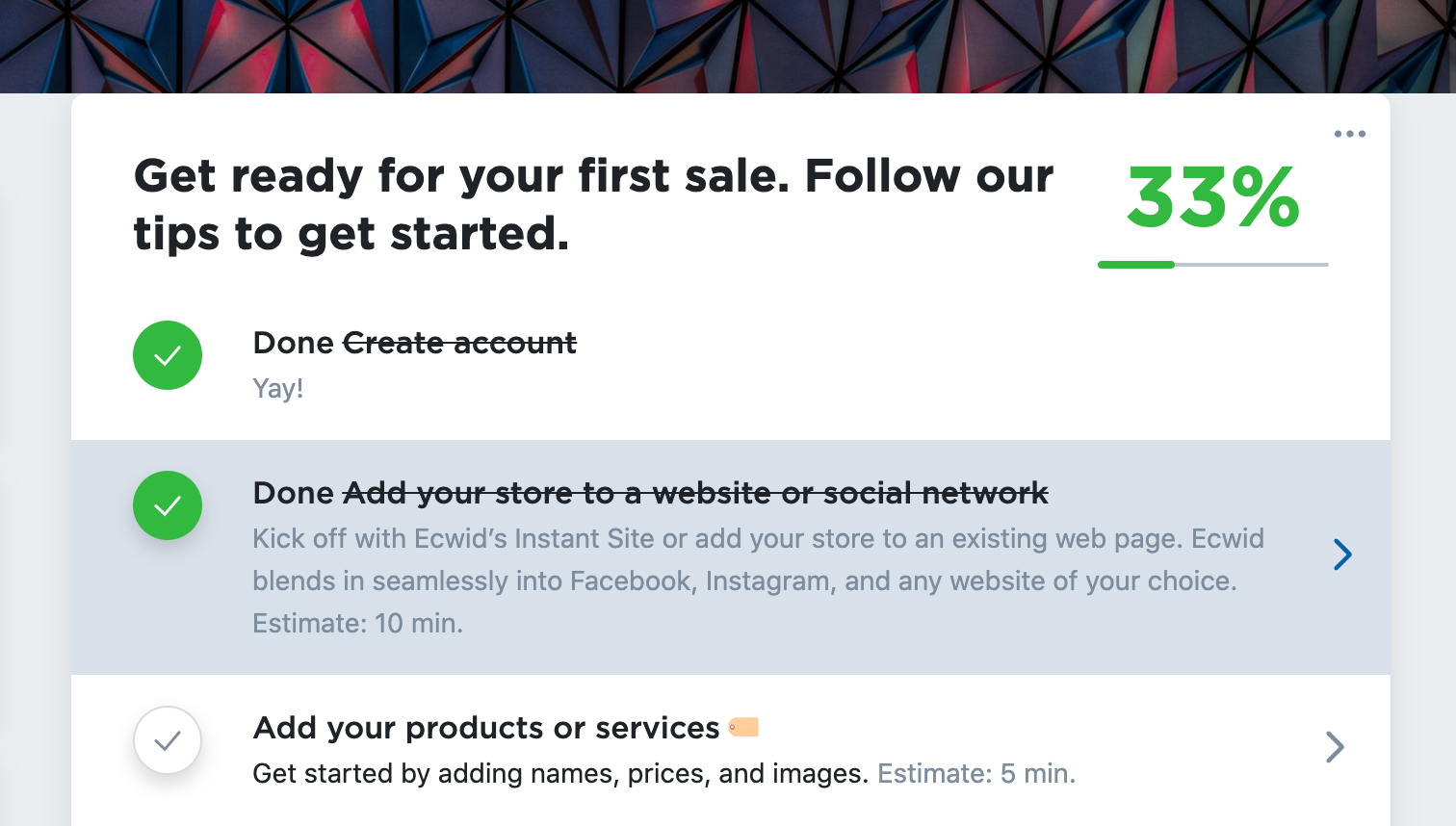 International sales, however, will require additional attention to some of the steps as well as some extra steps. We're going to describe them in the following sections.
Do I need more than one account?
Selling internationally may require more than just one Ecwid account. Here is what you need to consider:
Do you want to sell different products in each of the countries that you expand to?
Do you need a separate website with a unique design and on its own domain for every region that you sell to?
Do you want to make it possible for your customers to pay in their national currencies (one Ecwid account can support only one currency, although you can use an app to show prices in alternative currencies)?
Do you need to adjust prices for different countries (similar goods may cost significantly more/less abroad compared to your home country)?
If the answer is "Yes" to some of the questions, then you will probably need several Ecwid accounts (and several websites).
In case you plan to use several Ecwid accounts to sell the same products (e.g., you need different prices for different sales regions), you can save time on setup. For that, just add your products to one of the stores, then export them, make the necessary changes in the CSV file and import this file into the other store. This way, you will have the same list of products in both of your stores.
Building a website
When it comes to websites, Ecwid Instant Site is a perfect option for you. Instant Site is forever free and comes with every account. It has a built-in online store, so you can start selling right away. In case you want to localize your website for customers from different countries, you can add translations to the languages you like. Site visitors will be able to choose their preferred one using the language switcher in the Instant Site header.
Instant Site is also your option if you want to use two or more Ecwid accounts — each account will have its own Instant Site — or if you need different websites for different sales within one account. For example, you can have Instant Site for your home country and a site on some other platform for foreign sales.
If you need several languages in your Ecwid store, you can as well use your store with any of the site builders that support this option. For example, creating a multilingual website is possible with WordPress or Wix. Another option is building your own custom website with several languages.
To expand internationally, you can also sell different products/product categories on different websites or consider adding products from your Ecwid store to social media and marketplaces. Learn how to have different storefronts with one account and how to track which storefront an order came from.
📖 Further reading:
Ecwid for any website
Configuring design and content for New-gen Instant Site
Translating your storefront
In case you want to offer your customers a multilingual experience, you can translate your Ecwid storefront. This way, customers from other countries will be able to shop in their native language. Translations can also help win your foreign audience as they allow you to consider local needs and etiquette and change some descriptions accordingly.
Please note that the storefront is an independent part of your website, no matter whether you use Instant Site or any other website. After you translate your website content, you still need to translate your storefront — and vice versa, translating your store does not automatically translate your website.
Storefront translation consists of two parts. One is automatic, and one is manual:
Ecwid can automatically translate navigation elements in your store (e.g., texts on buttons), interface texts, invoices, and email notifications. Basically, all the texts that are present in your store and that you don't enter yourself.
You will need, though, to manually translate the texts that you enter yourself. This includes product names, descriptions, product options, category names, etc.
As their translation is not automatic, you can vary these texts so that they serve your foreign customers better. Online translators are constantly improving, but if you want customers to feel that you care, it's best to hire people who actually speak the language.
How does that all work, you might ask? Here's how: Ecwid will detect the preferred language of your customers' browsers and will automatically show your store in that language.
For example, you sell spare parts for cars in the US and in Canada. By default, your store language is English, but let's say you have also set up French. Once you finish the setup, customers with English as the browser language will see your store in English, and customers with French as the browser language will see your store in French. All the other customers (like those who have Spanish as their browser language) will see your store in English as it's your main store language.
You might be wondering which languages to choose. This decision can be based on the market analysis and be profit-driven. For example, you grew to have customers from a particular country and then came up with an idea to provide your store in this language to sell even more. Or — it can be driven by the languages you speak yourself. This way, you won't need the help of a translator.
You can also use language switchers (e.g., in Wix or Wordpress) to allow customers to choose the language for your store, or, in case you are using some other site, you can create a landing page where your store is forced to appear in a certain language.
Your store notifications (both customer and admin) are translated automatically into most languages, but you can also translate them manually. Please note that if you are using text labels that you have translated manually, or if you have modified your invoices (including tax invoices) and/or notifications, they will not be automatically translated anymore as they are considered your custom content.
Tip: To add custom translations for buttons and other text labels, you can use the Store Label Editor in a multilingual mode. 
Choosing your currency
Ecwid supports all the official currencies, so feel free to enter product prices in the currency that you want to accept in your store. To set or change currency, go to the Settings → General → Regional Settings tab in your store admin.
In case you set a non-USD currency, you can specify the conversion rate. This will be helpful if a payment gateway that you want to use accepts dollars only or if a shipping service connected to your store doesn't accept your currency but works with USD.
It's possible to set only one currency for your store, but if you want to sell to other countries, you can use the Currency Сonverter app from the Ecwid App Market. This way, the prices will be automatically converted, and your customers will be able to see the prices in your store in their native currency.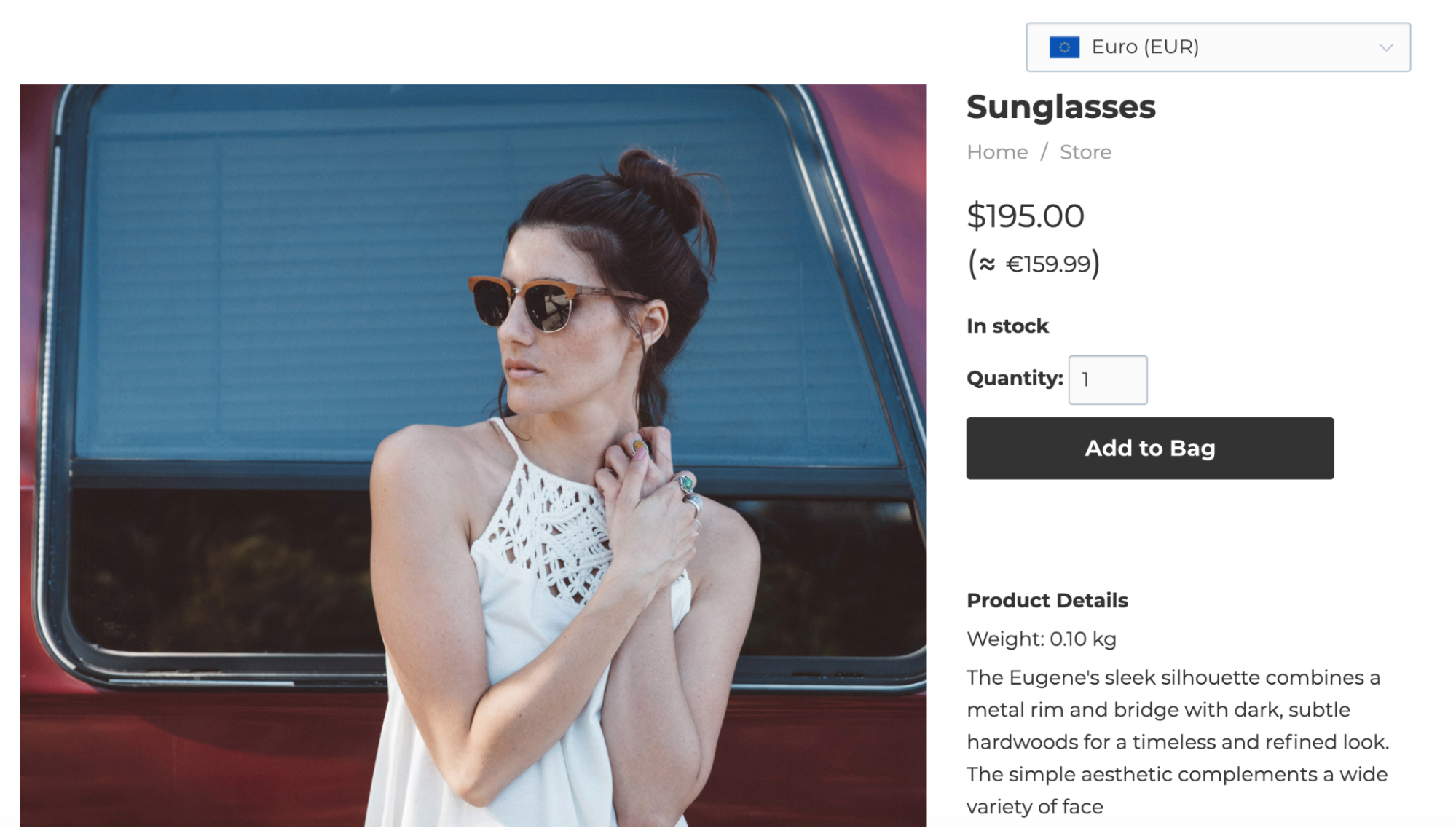 The app converts the currency of your store based on the client's geolocation. If needed, customers can select another currency right in your storefront and see the recalculated prices immediately. You can hide prices in the original store currency, select currencies that will be used in your store for conversion, etc.
Please note that Currency Converter only helps to display prices on your storefront. Customers will be charged in the currency that you set for your store. In case you sell to several countries and want to charge foreign customers in their native currency, you can create several Ecwid accounts so that each of the stores has a separate currency.
📖 Further reading:
Setting up payment methods
When selling to foreign countries, it's really important to find a payment option that is:
Available in your home country
Available in the countries of destination
Deemed trustworthy in the countries of destination (as you are not their neighbor, customers will be extra cautious about how safe their payments are)
This may require additional research as preferable payment options vary across the globe.
If you can find an online payment method that covers all the regions that you plan to operate in, then all you need to do is connect that payment gateway. If not, then you might need to set up several online payment options to cover all your countries of destination. Learn more about payment options that are available for different countries in Ecwid.
In case you want to use some online payment method that Ecwid is currently not integrated with, it might be possible to add this method as a custom solution with the help of Ecwid's API. You can do it yourself (if you have coding skills), hire a developer, or you can contact our Customization Team to request development on a paid basis.
Apart from online payment methods, you can also use bank transfers. For that, you will need to set up a special manual payment method. This will allow you to collect money outside your store interface. Please note that when an order with a manual payment method is placed, it gets the Awaiting Payment status in your store admin. So, when you receive the money, you will need to manually change the status of the order to Paid in My Sales → Orders.
If only part of your products is sold internationally, then you can assign particular payment options to particular shipping options. This way, some payment methods will be available only to your foreign customers. Just go to the page of this payment method in your store admin, scroll down to the Payment method availability based on shipping choice section and select the shipping method that you use to ship abroad from the list. Limiting payments to shipping methods is available both for online and manual payment methods.
📖 Further reading:
Creating product-specific payment methods
Setting up shipping methods
Apparently, you can't chase all the rabbits, which means that you can't target all the countries in the world in terms of shipping. You need to ponder where your products will be most popular and aim at these countries.
Sales destinations require a certain market analysis. We're sure that you have already carried out research if you plan to sell internationally, but if you're only considering it, then take your time and explore. Maybe you already have orders from some regions?
For a start, you can ship only part of your products — the ones that you know would be popular among your foreign customers and the ones that are easy to ship (e.g., small items). If some of your products are shipped internationally, and some are not, you can use product-specific shipping rates to divide them and if you don't ship to some destinations, exclude these areas using shipping zones. This way, customers from these countries will be restricted from ordering certain products.
You might need a special carrier for your international shipping. Think about the countries where you plan to ship and make sure that the carrier you choose supports them. It's best to use companies that already have a reputation in this area. In the case of the US, Ecwid has built-in integrations with FedEx, UPS, or U.S.P.S. If you're from another country, you can check for the list of such carriers in the Shipping section of the Shipping & Pickup page in your Ecwid admin. It's really easy to set them up — simply follow the instructions.
Some other shipping services (like DHL) are integrated with Ecwid in the form of apps from the Ecwid app market. If you're really into some carrier that does not have any integration with Ecwid, then you can get the rates from a carrier's website and set up a table with rates in your store admin. As an option — if this shipper has an API — you can create a custom integration using Ecwid's Shipping API and get the rates automatically.
In case you want to hand over your shipping chores, consider using a fulfillment center or third-party logistics (3PL).
Not only should you find a reliable carrier but also you should give additional consideration to the prices. Your shipping costs will be higher if you offer international shipping in your store. So take time to compare rates from different carriers. Also, check on the weight requirements to make sure your postal service will be able to ship your products.
You can also offer free shipping (e.g., over some subtotal) or flat rate (e.g., if you ship similar products and the shipping price does not vary for them). This might be your option if you want to plan your expenses on shipping yourself.
If you ship internationally, then your customers will definitely appreciate having a tracking number for their orders. In Ecwid, you can assign tracking numbers to corresponding orders if you use delivery services that provide tracking. Your customers will receive the tracking number by email.
US-based stores can buy international shipping labels for the U.S.P.S. international shipments right from the Ecwid admin. Rates are lower than retail rates at the post office, and order details are inserted automatically. Plus, U.S.P.S. includes insurance in some shipments. Buying international shipping labels is also available for stores from Belgium and the Netherlands.
If you run into problems while setting up your international carriers, read our article on troubleshooting shipping.
Also, when it comes to shipping, Ecwid's App Market offers a wide range of apps you can use:
To get the most out of your international sales, you can also use dropshipping.
Can there be any issues with shipping?
International shipping tends to be quite complicated. There are some general tips to follow if you want to ship abroad:
Check on the rules concerning your products. Can they be shipped internationally? Can they be shipped into this particular country? Are the items perhaps forbidden there or considered dangerous in terms of transportation?
Determine which customs documents are required. Check on the papers that you need to fill out for a product in your country before it is shipped.
Double-check on the duties and taxes for this product. You have to comply not only with the law of your country but with other countries' rules as well.
Depending on a country, import and export regulations may vary for different products. You can include this information for your customers in the product description (and in your legal pages, of course).
Think about insurance for your product. The good news is some postal services include insurance in their shipment options.
Setting up taxes
While selling internationally, you will almost inevitably have to deal with taxes.
Taxes add up to the initial price of the product. If customers have to pay unexpected additional fees when receiving an order at the post office in their home country, such an increase may come as a surprise, and they may even turn down the whole package.
To help your customers avoid such an experience, take time and study:
Laws of the countries you're selling to
Laws of your own country
It's also recommended to describe your policy concerning taxes in the legal pages of your store and maybe even on the pages of your products to inform customers about possible additional fees upon delivery.
To charge taxes at checkout, you can set up automatic or manual taxes. Product-specific tax rates allow you to create different rates for different products. In case you are using manual tax rates, and you need to set different taxes for different countries, you can do that with the help of destination zones.
Keeping up-to-date with the taxes
Information on foreign taxes requires continuous tracking — that is after you make your initial inquiry — as the rules tend to change with time. For example, if you sell goods that are to be imported into the EU, then you should pay attention to the new rules on cross-border VAT for e-commerce that are effective after July 1, 2021.
The changes include no more €22 tax-exempt threshold for import. Until July 1, 2021, goods below €22 were VAT-exempt when imported into the EU from a third country/territory. After July 1, 2021, all such goods are subject to VAT. This means that either you should charge your customers at checkout (it's allowed if the order is below €150 and if you register with the Import One Stop Shop (IOSS)), or they will be charged when receiving their order in the EU.
Learn more about the new EU VAT rules and how you can apply the IOSS scheme in your store →
📖 Further reading:
EU taxes (VAT) in Ecwid
Handling tax exempt customers in Ecwid
Taxes on digital products
Adding legal information
Providing all the necessary information to your customers is a must when selling to other countries. This way, customers will feel safe as they will know enough about your company to make a purchase.
This information includes your privacy policy and your refund policy, your terms and conditions, and information about payments. When you decide on your shipping strategy, and after you set everything up in your store, you will need to communicate this information to your customers in the form of a clear and well-structured shipping policy.
You can add all the information about the buying process that could interest your customers to the legal pages of your Ecwid store (Settings → Legal). Rename these pages in the Legal pages and policies section if you need to: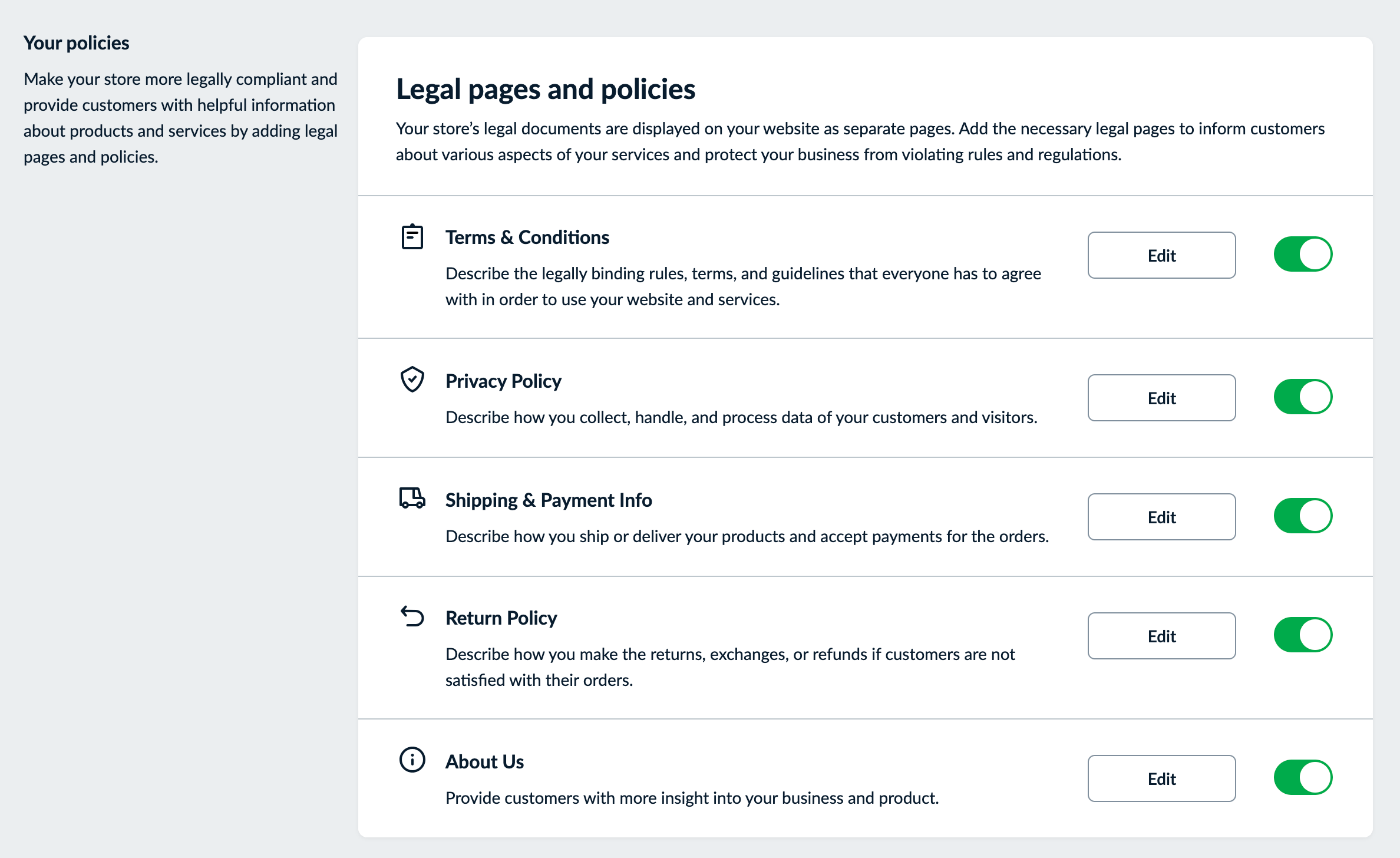 If your store is multilingual, you can add your legal pages in multiple languages.
The easier it is for customers to understand how your store operates in various cases, the easier it is for them to buy from you. Well-written policies help create a positive website experience and set the right expectations. You can feature the most important aspects at the beginning of each policy section. People usually don't like reading a lot of text, so… find the essence for them, and then elaborate.
Depending on your business, you may need to provide more or less information. There are lots of examples of various policies on the internet. Find one — or two, or more — and adjust to your needs. Just make sure that you address all the possible questions. Wrong time to be mysterious — tell everything as it is. You can also create a FAQ page with additional info.
It's highly recommended to check your store policies with professional lawyers before adding the legal pages to your store.
Links to your legal pages will be automatically attached and shown in your Instant Site footer (if you use Instant Site). They will also be displayed at the bottom of email notifications sent by your store.
Controlling your stock
When selling to foreign countries, it's extremely important to track your stock so that you don't sell more than you can provide and don't have to deal with refunds. You can use Ecwid's built-in stock-tracking tool or keep track of the stock yourself.
In case you want to be informed about items running out, you can additionally enable special low-stock notifications.
If you sell across multiple channels using one Ecwid account, you can manage all inventory in one place with the help of the Orderhive app. Orderhive syncs your inventory through each of your channels and unifies inventory and order data in one single back-end. You can scan, save and search for products by their SKUs across your warehouses with the help of barcodes.
In case you are using two or more Ecwid accounts for your international store, you can request a custom stock-tracking tool from our Customization Team or develop such a tool yourself using Ecwid's API. This way, you will be able to track stock for several accounts in one place by product SKUs. By the way, you can use the same login and easily switch between several Ecwid accounts.
📖 Further reading:
Over to you
Now you know more about Ecwid's tools for international sales. So... choose the ones that you need for your business, do your research and expand.
Ready for a cross-border journey? We hope you are.
📖 Further reading (Ecwid blog):
How to Optimize Your Store for a Global Audience
International Business Online: How to Start Selling Globally
International Shipping: Picking a Provider & Shipping Around the Globe



10