Shopping cart
Your Ecwid store includes a shopping cart where your customers can keep track of items as they shop, adjust their quantity, get their discounts and see the total order cost. The cart is designed to be functional using its default settings. You can customize your cart to tailor it to the needs of your business.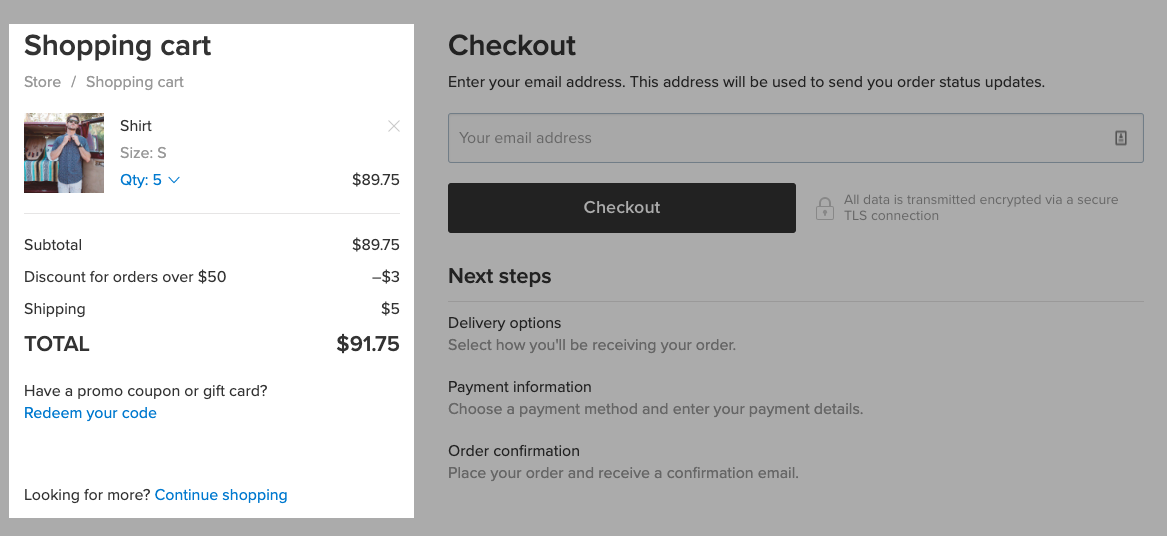 Accessing the cart
Store visitors can typically find the Shopping Bag link in the store footer or they can click the Go to Checkout button on the page of a product that they've added to cart.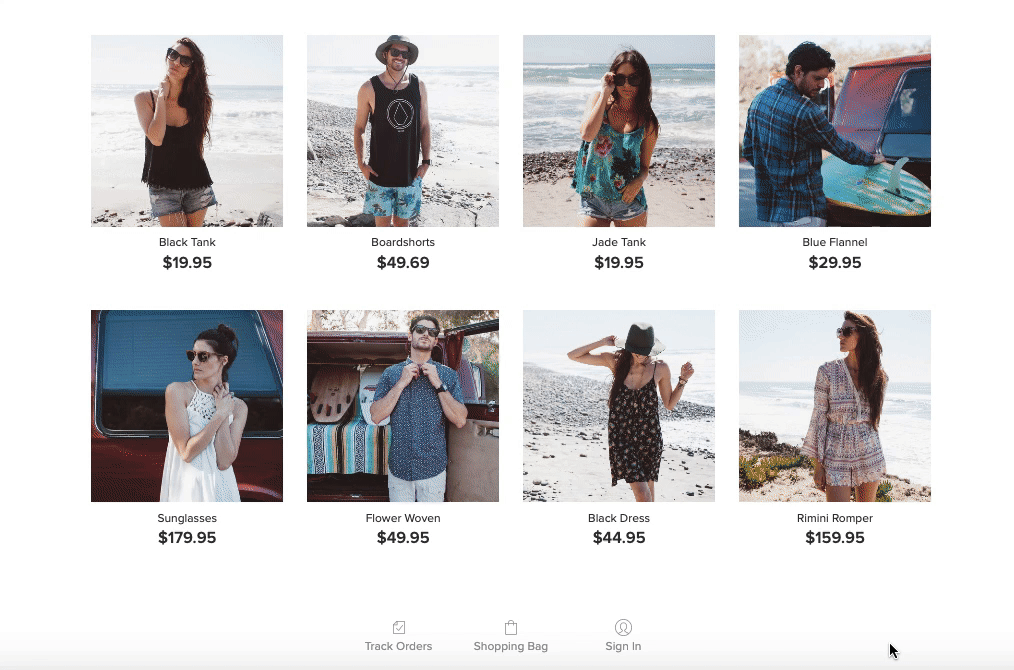 If you use Instant Site with your Ecwid store, it comes with the additional shopping bag icon that is visible in the top right corner of the website:

Additional Shopping Bag icon in Instant Site
Customers can click on this icon and proceed to checkout if their cart contains at least one product.
If you have Ecwid store on your existing website, you can add a shopping bag icon to your site header so that your customers can access their shopping cart from any page. Learn more in this step-by-step guide Adding shopping bag to a custom site. There are many style options you can choose from if you want to customize the cart icon such as choosing if you want to display a shopping cart, bag or basket icon, and more.
Viewing the cart content
Here is what your customers can see when they are in the shopping cart: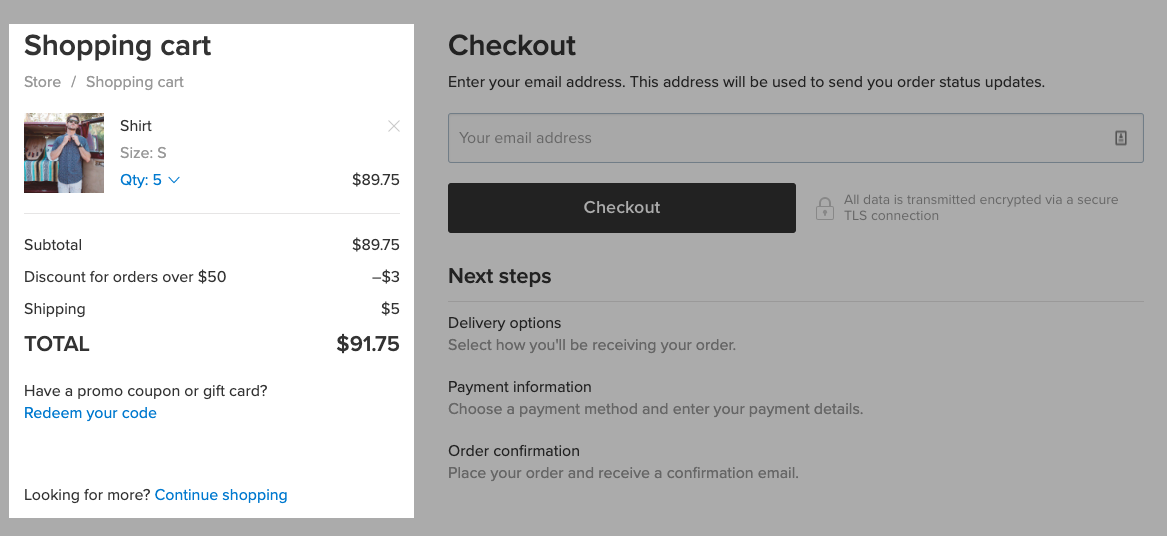 Items, their quantities in the cart and selected options if products have them.
Order subtotal — a total cost of all items in the cart excluding taxes and shipping.
Automatic discounts that depend on order subtotal, including customer group discounts that are calculated in the cart for the logged-in members of a group.
Estimated shipping costs and tax rates if the store knows a customer's location.

If you've enabled several shipping methods in your store and they all are available for an order, the first shipping method's cost will be used in the cart for shipping costs estimation. You can define what shipping methods should be used as the first ones when possible by sorting shipping methods in your Ecwid admin.
Promo coupon and gift card fields where customers can enter a code of their discount coupon and gift certificate, if you have any active codes in your store. To see the input fields, customers need to click the Redeem your coupon/card link in the shopping cart.
Order total — a sum of order subtotal and shipping costs/tax rates/discounts.
Upselling in the cart with related products
You can suggest your customers to purchase more products when they view their cart content and are about to check out. To upsell products in the shopping cart, you can show related products in the cart: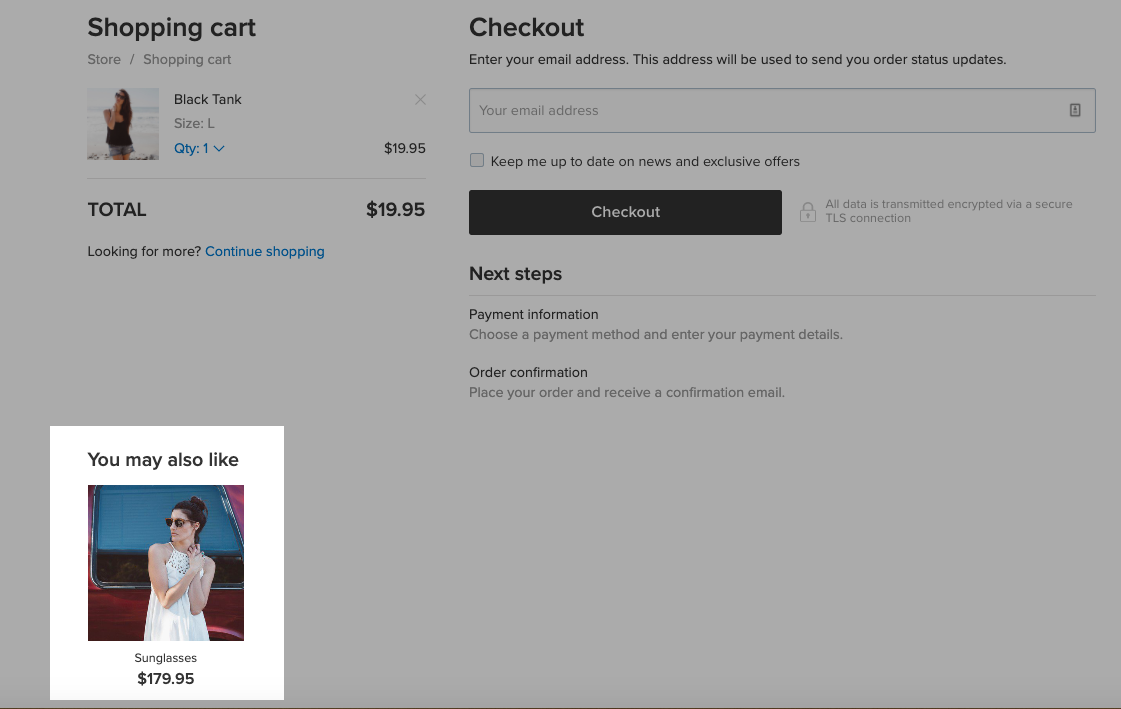 To show related products in the cart:
Add related products to the items that you want to offer other products for.
From your Ecwid admin, go to Settings → General → Cart & Checkout.
Scroll to the Related products.
Enable the On Cart page to show related products in the cart.
Setting a minimum purchase amount
You can set a minimum amount of money that your customers can spend on a single order in your Ecwid store. For this, you can define a minimum order subtotal amount, i.e. the order amount before adding shipping costs, tax rates, and discounts. If the order amount in a customer's cart is less than the set limit, the customer will see a pop-up message suggesting to add more items to the cart and won't be able to proceed further: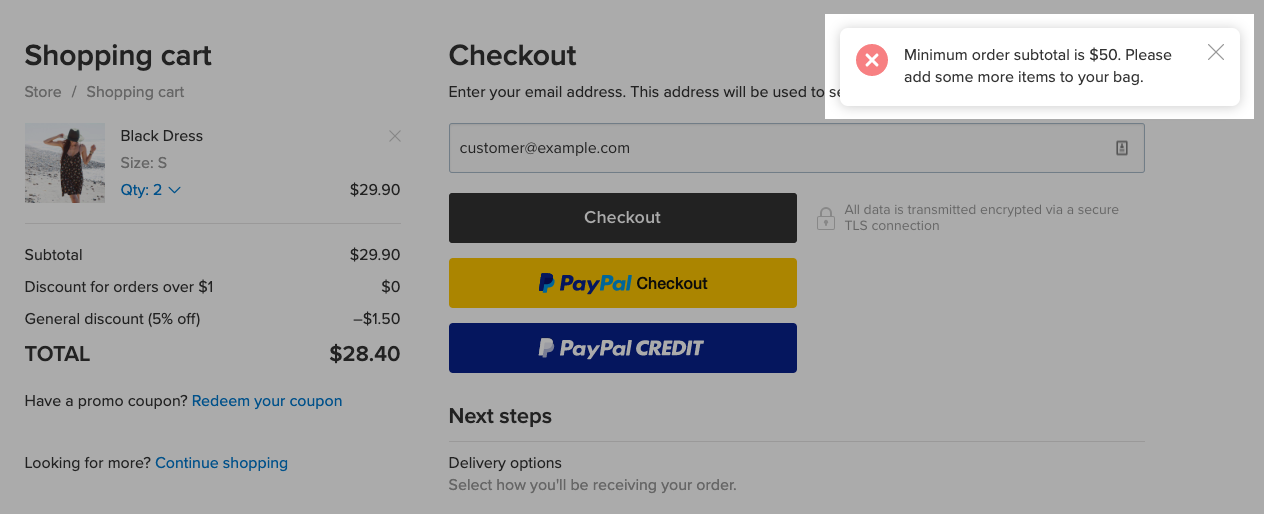 To set a minimum purchase amount in your store:
From your Ecwid admin, go to Settings → General, Cart & Checkout tab.
Find the Minimum allowed order subtotal field and enter the order subtotal value.
Save the changes.
FAQ
How long do the added products remain in the cart?
Once added, products remain in a customer's shopping bag as long as the customer uses the same device and browser and doesn't sign out from their customer account if they were logged in.
If you've enabled automatic inventory tracking, the cart content of shoppers is always checked against your product inventory to help you prevent overselling. If the products in the cart are out of stock, they are automatically removed from the carts. The empty cart displays a Continue shopping link that takes customers back to browse your store.
How can customers adjust the quantity of items that they want to order?
Your customers can adjust the quantity when they are in the shopping cart. They can also click Add More button on product details page to increase the number of a product that they want to purchase.
You can also add the quantity field on product pages if your customers mostly purchase products in bulk.
10