BRT
BRT, also known as Bartolini, is a courier service, specialised in the delivery and providing logistic support services for the handling and distribution of the goods. BRT is part of the DPD Group and located in Italy but ships worldwide.
You can offer your customers a home delivery by adding a custom table with rates in your Ecwid admin or pickup delivery that can be added through the Sendcloud app.
You can add both delivery options to your Ecwid store, giving your customers a better shopping experience.
Adding BRT home delivery
This is a standard method of delivery, when a purchase is delivered to the address that a customer filled in at the checkout.
You can manually add the BRT delivery options with their rates to your store checkout.
To offer BRT delivery options in your Ecwid store, follow these steps:
Step 1. Calculate the shipping cost with the BRT online calculator. To access BRT online services you should first apply for a client password. You can learn how to do it on the BRT website.
Step 2. Add BRT delivery options to your Ecwid store for different order weights and areas that you ship to:
From your Ecwid admin, go to Shipping & Pickup.
In the Shipping block, click + Add Shipping.
Click Set Up BRT. This method is automatically offered for Italian stores. If you run business from another country, click View all carriers and choose BRT from the list.
Set up a delivery option.
If you don't want to charge your customers for delivery, you can set up free shipping for all orders in a certain area. You can limit free shipping availability by order subtotal, for example, if an order value is above €50 or choose other conditions.
If you want to charge customers for shipping, in the Custom Rates block, click Set Up Custom Rates and set it up:

Shipping name at checkout
Specify the name of the delivery method. Customers will see it at checkout.
Shipping rates
Specify what customers should pay for an order of a certain weight by adding weight ranges and respective rates:




Description for customers (optional)
Add the description for this delivery method that your customers will see at checkout.
Limit availability by order subtotal (optional)
Specify the order subtotal before discounts. This delivery method won't be available at checkout for orders below that amount.
Show approximate delivery date at checkout (optional)
Turn this on to display the approximate delivery date next to delivery options at checkout. A clearly stated delivery date lets customers understand when they can expect to receive their order, resulting in a better shopping experience.
From the Order preparation time dropdown select how many days it usually takes for you to prepare an order. That time will be taken into account when calculating the delivery date for customers.
From the Days when you pack orders dropdown choose when you pack orders for shipment.
Set the final time to pack orders in the I pack orders received past this time on the next day box. Your schedule will be taken into account when calculating the delivery date for customers.
Set shipping region
Select the area where this delivery option applies. You can choose specific countries, cities or even zones in the city. Learn more about shipping zones in the Adding and managing destination zones article.

Click Save & Finish.
If you sell to customers in various areas, repeat the above steps to add delivery methods with other rates for each destination zone.
That's it. Now customers from the selected areas will see the BRT delivery options at checkout: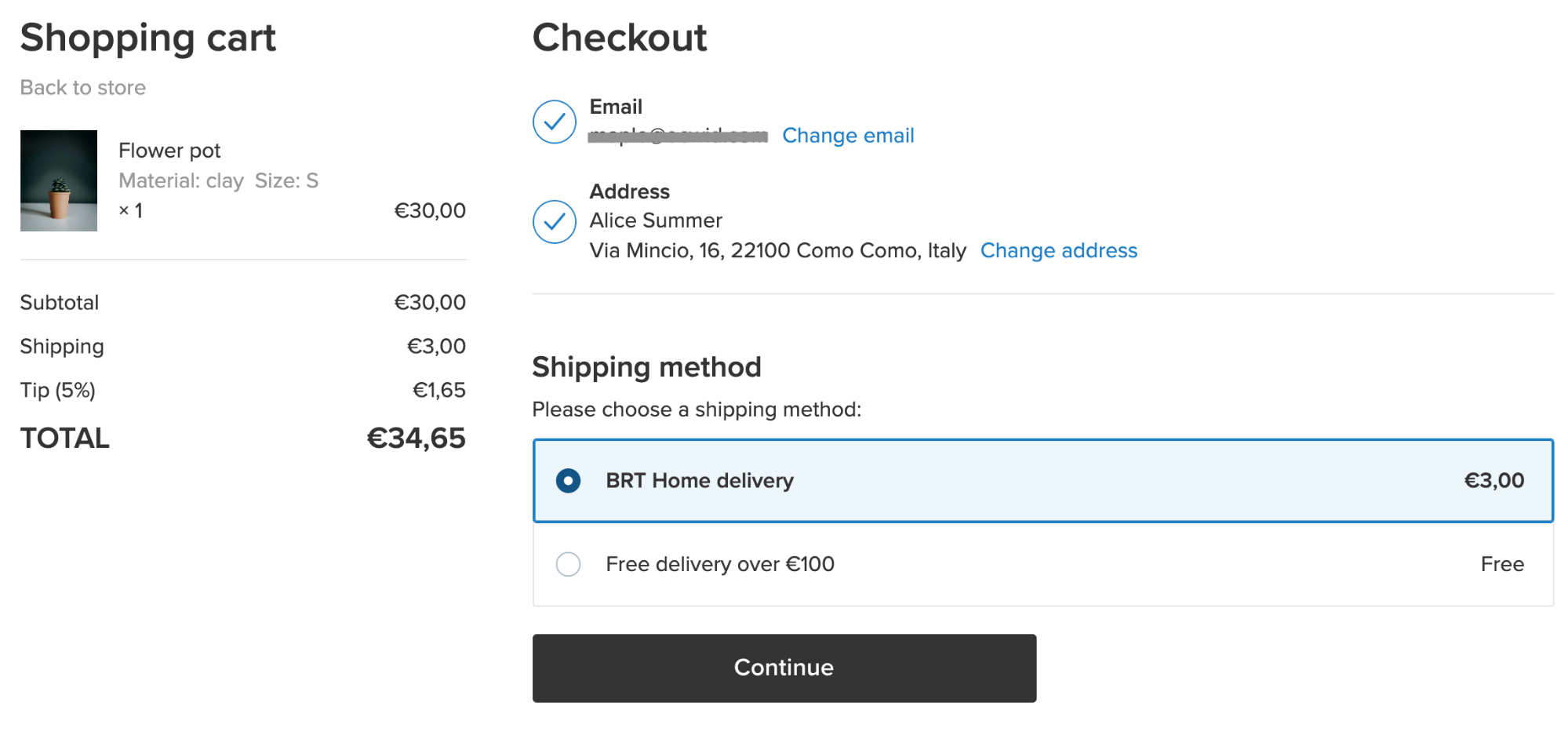 Adding delivery through service points (via app)
Bartolini doesn't offer the chance to ship or retrieve a parcel from a BRT parcel locker or drop-off point. However, it is possible to book a BRT delivery service from a physical office or online office within Italy. You can find BRT offices in many cities and towns in Italy.
Outside of Italy, your customers can collect your BRT parcel from a DPD depot or pick-up point. This method is basically a pickup, when a customer chooses a convenient pick-up point on the map at the checkout and their purchase is delivered there.
To set up service point picker at your checkout you need to connect your store to the Sendcloud app. Sendcloud is Europe's #1 shipping platform for e-commerce, so it can compliment your store not only with a service point picker but with automating and streamlining your shipping routine.
To activate BRT through Sendcloud you will need your own BRT contract. If you don't have one,
contact your local BRT office
to create an account, then proceed with the steps below when your account is activated.
To add BRT service points to your store checkout:
In the Ecwid App Market find the Sendcloud app and click Install.
Choose to log into an existing Sendcloud account or to create a new account:


A new tab will open where you can enter your Sendcloud credentials or create a new Sendcloud account.
After you finish creating a new account or log into an existing one, go back to the tab with your Ecwid admin. You may need to refresh the page to connect your Ecwid store to your Sendcloud account.
To activate BRT service points in your Ecwid store, you should first enable BRT in your Sendcloud account. To do so, in your Sendcloud account, go to Settings → Carriers & Pricing and enable the needed carrier (you need to be on the Small shop, Large shop or Business plan in Sendcloud to activate own contract):


Fill in required information and click Save.
After enabling the BRT shipping method in your Sendcloud account, go to Settings → Integrations and click the Edit button to change the shipping settings of your shop:


Tick the Service Point box and choose carriers for which you want to activate this delivery option. In our case it will be BRT. At the checkout your customers will see all service points from all the carriers you enable on this step. If you want to offer only BRT, uncheck other carriers.
Go to your Ecwid admin and open Shipping & Pickup, then choose Sendcloud: the shipping software for e-commerce. The Sendcloud app will open, where you can set up two options for a service point delivery — simple shipping method and advanced shipping method:


Enabling a simple shipping method will create a new shipping option at checkout and will be available for customers from all countries you specify in Additional settings on this page. Enter a flat rate for the shipping method. Enter an appropriate name, e.g., Service Point Delivery, so your customers could understand how their order will be delivered.
Enabling an advanced shipping method will allow you to use one of the existing shipping methods as service point delivery. It will be available to customers and countries that you specified in the selected shipping method.
Click Save.
Select which shipping method you want to synchronize with the Sendcloud app. Orders fulfilled by the selected shipping methods will be shown in your Sendcloud account.
Select shipping region. If you deliver with BRT to pickpoints, you should select all cities where you want to deliver to.
(optional) Add shipping markup if you need to cover additional handling expenses such as packing or insurance.
(optional) Specify the order subtotal before discounts. The delivery method won't be available at checkout for orders below that amount.
Once your shop is connected to Sendcloud and you enabled simple shipping method or advanced method with delivery options that use pickpoints, your customers will see the service point map at checkout: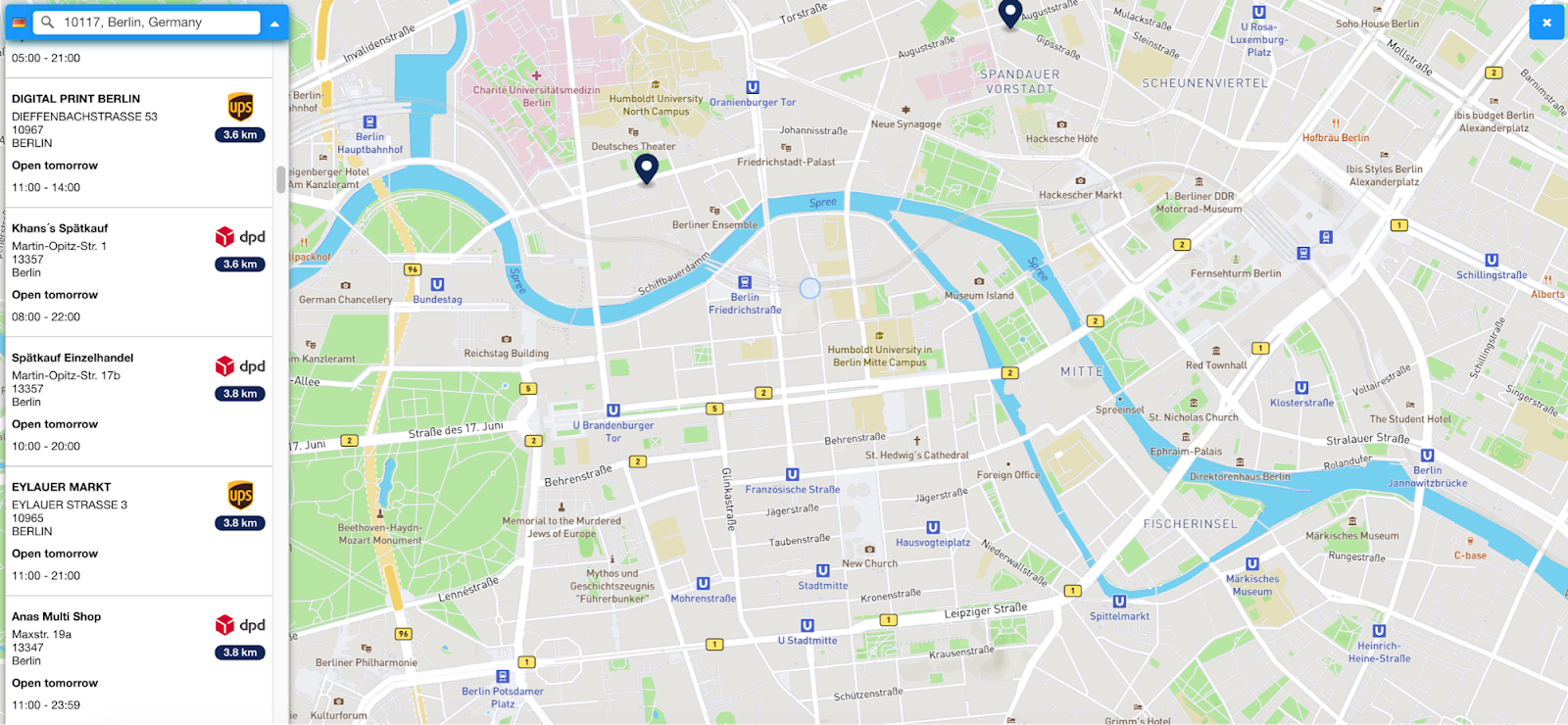 After a customer places an order, the information about the order will appear in your Ecwid admin and in your Sendcloud account in the Incoming orders. Once the order status is changed in your Ecwid store, it will be automatically changed in your Sendcloud account.
You can also print shipping labels and process your return shipments in your Sendcloud account.
10