How to set up
1. In order to get live Canada Post rates, you should register at Canada Post first and get a shipping profile. You can sign up at https://www.canadapost.ca/cpid/apps/signup?execution=e1s2
2. Log in to your Ecwid Control Panel. Make sure that your store currency is Canadian Dollar and your shipping origin address country is Canada.
3. Open Settings → Shipping, and add new shipping method of 'Carrier-calculated' type. Choose Canada Post and click the [Account details] link.

Ecwid offers you two options to use online Canada Post rates:
Use our default account (easy and fast way)
Your Ecwid shop will be connected to Canada Post through our Canada Post merchant account. Choose this option if you want to start getting Canada Post rates right away. Click Settings to unfold and edit the following additional settings:
Parcel Dimensions
Regular Canada Post rates and Discount Rates (notice that the Canada Post Expedited Parcel Shipping Method is only available if you select the "Discount Rates for commercial customers" option)
Additional shipping services
Use your own shipping account (advanced way)
If you already have a merchant account with Canada Post, you should enable this option. Also we recommend choosing it, if you would like to receive more rates and services that can be available for personal merchant account.

Enter Customer Number, Username and Password.
You will find the username and password in your Canada Post account:
sign in to Canada Post http://www.canadapost.ca/business (to Online Business Center)
go to Programs → Developer and click Join Developer Program
you'll get the table with API Keys: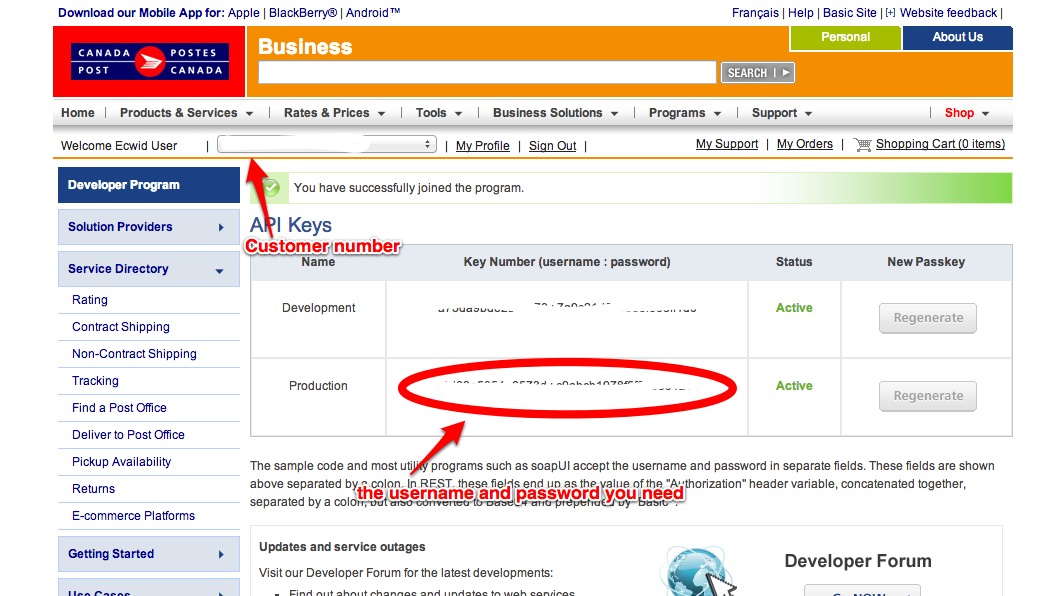 copy Production username and password and insert them to Account Details in the Ecwid Control Panel.
Additionally you can specify product dimensions in order to receive more precise shipping rates.

Click Test method to check your configuration. If all is setup correctly, the test will return 'Test succeeded'. Click OK → Save.
Troubleshooting
AAA Authentication Failure
This error means that you have wrong username/password in the Canada Post settings: Settings →Shipping → Carrier-calculated link next to Canada Post method → Account details.
Please, mind, the username and password are not those that you use to sign in to your Canada Post account. Refer to the instructions above to get the right username and password
Canada Post rates are smaller/larger than I expect
Please, refer to this article for troubleshooting steps: Real-time shipping rates I get are incorrect
"The {0} option conflicts with the {1} option" error
There are some options that can be applied to a shipment that conflict with the presence of another option. Please, find the list of pairs of options that can't be used together below:
Option name
Not compatible with:
Proof of Age Required - 18
Proof of Age Required - 19
Do not safe drop
Leave at door - do not card
Proof of Age Required - 19
Do not safe drop
Leave at door - do not card
Collect on Delivery (requires qualifier)
Leave at door - do not card
Card for pickup
Do not safe drop
Leave at door - do not card
Do not safe drop
Leave at door - do not card
Signature Option
Leave at door - do not card