UPS
UPS (United Parcel Service) is a shipping company that you can use to ship orders to your customers. They ship all over the world and provide online shipping rates. That means that you can offer UPS live rates in your Ecwid store so that customers could choose the shipping option they prefer and pay for it as they're placing the order.
Setting up UPS rates
You can add a UPS shipping method in your store to offer UPS live rates to your customers. At the checkout, customers will see how much different shipping options cost (in case you enable several shipping options) and their transit time. Based on this they can choose the method they prefer. You will see the shipping method and its cost in the order details in your Ecwid control panel or the Ecwid mobile app for iOS or Android.
To set up your Ecwid shop to receive UPS rates, follow the below steps:
In your Ecwid admin, go to Shipping & Pickup.
Click Add Shipping Method. You will see a list of methods to choose from.
Click Set Up UPS → Automatically calculated rates from UPS.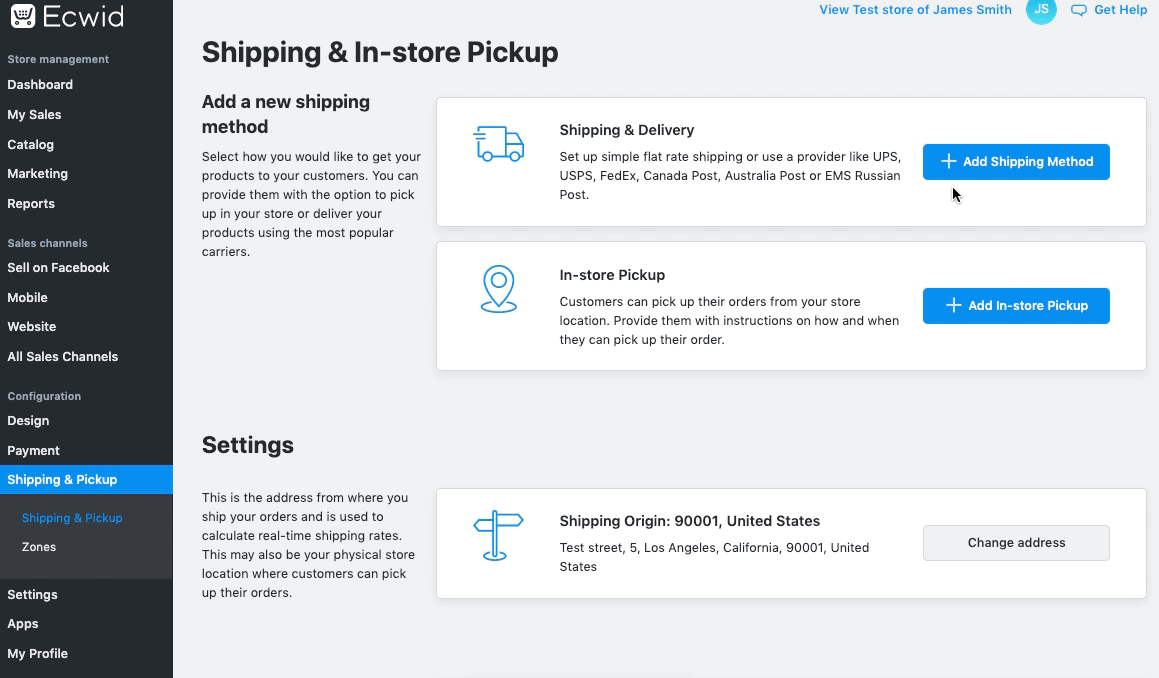 In the Ecwid iOS app click Add Shipping Method. You will see a list of methods to choose from.
Click Set Up UPS → Automatically calculated rates from UPS.
In the Ecwid Android app, go to Store → Shipping and Pickup.
Click Add Shipping Method. You will see a list of methods to choose from.
Click Set Up UPS → Automatically calculated rates from UPS.
Once you complete these steps, customers will start seeing UPS shipping options at the checkout. You can keep using the default settings that you see after UPS method is added. Our UPS account will be used for shipping rates. That's the default setup. You can also connect your own account and get negotiated rates.
UPS offers 100% money-back guarantee on late deliveries. Find out how you can get
automated shipping refunds
using the apps from our App Market.
Changing UPS settings
After you set up the UPS shipping method in your store, default settings are applied so that you could offer the rates straight away.
To change the UPS settings in your Ecwid store:
From your Ecwid admin, go to Shipping & Pickup.
In the UPS box click on the Actions menu and choose Edit from the dropdown menu.
Here is what you can change in the UPS settings in your store:
Shipping options
Disable UPS options that you don't want to use to ship orders.


To make sure that customers choose only between those UPS methods that you will use to ship orders, enable methods that you use and keep other methods disabled. Thus, the unwanted methods won't show up at checkout.

Show approximate delivery date at checkout
Turn this on to display the approximate delivery date next to delivery options at checkout. A clearly stated delivery date lets customers understand when they can expect to receive their order, resulting in a higher number of successful sales.


In the Order preparation time specify how many days it usually takes for you to prepare an order. That time will be taken into account when calculating the delivery date for customers.

In the Days when you pack orders specify when you pack orders for shipment.
Set the final time to pack orders in the I pack orders received past this time on the next day box. Your schedule will be taken into account when calculating the delivery date for customers.
Shipping region
Select for what destination zone UPS rates will be offered.


Only customers from the set zone will be able to see UPS at the checkout. Customers from other zones won't see UPS rates. You can set up other shipping methods for them if you want to.

Shipping markup
Add shipping markup. That's the fixed fee that will be added to the UPS rates. Use it if you want to increase the rates to cover your shipment expenses.
Default package size (cm)
Set default package size. This size will be used for the shipping rates calculation unless you specify product dimensions for each product in your catalog. If all your products are approximately of the same size, you can set the default package size in the shipping settings once and use it for all products.
Minimum order subtotal
Limit the availability of this shipping method by order subtotal. If the order is below the set amount, this shipping method will be inactive at checkout.
Internal shipping name
Enter the name that will be used to refer to this method in the control panel. This name is for internal use only and cannot be seen by customers. The actual names of the shipping methods displayed at checkout are retrieved from the carrier.
Connect your UPS account.
It will allow you to get negotiated rates which means lower shipping costs for your customers.
When the method is set up, you can check what rates your customers will see in the storefront. To do that, go through the same steps as your customers will: go to your storefront, add products to bag and proceed to the checkout. Enter a shipping address to see the rates. You can try different addresses to check how the rates will vary depending on the address. If needed, you can go back to the Ecwid control panel and adjust the UPS settings.
Connecting your UPS account
You can connect your own UPS account to the Ecwid store to get live rates associated with your account and use more rates and services that are available for personal merchant accounts only.
Step 1. Request an access key in UPS account
Go to www.ups.com
Login to your account or sign up for a new one.

Once you log in, go to ups.com/upsdeveloperkit and click Request an access key:

Fill in required information about your business. In the Choose an account to associate with this access key dropdown, select Add an existing account.
Provide information about your account. You can find your account number on any invoice from UPS on the View my Invoice page, or in Profile → Accounts and Payment Options of your UPS account.
After providing all necessary information, click the Request Access Key link to get an email with the access information.
Step 2. Specify your UPS account details in Ecwid
From your Ecwid admin, go to Shipping & Pickup.
Click on the UPS method to edit it.
Scroll the page to the bottom and click Use your own shipping account (advanced way):

Fill in the Access Key, User ID and password of your UPS account: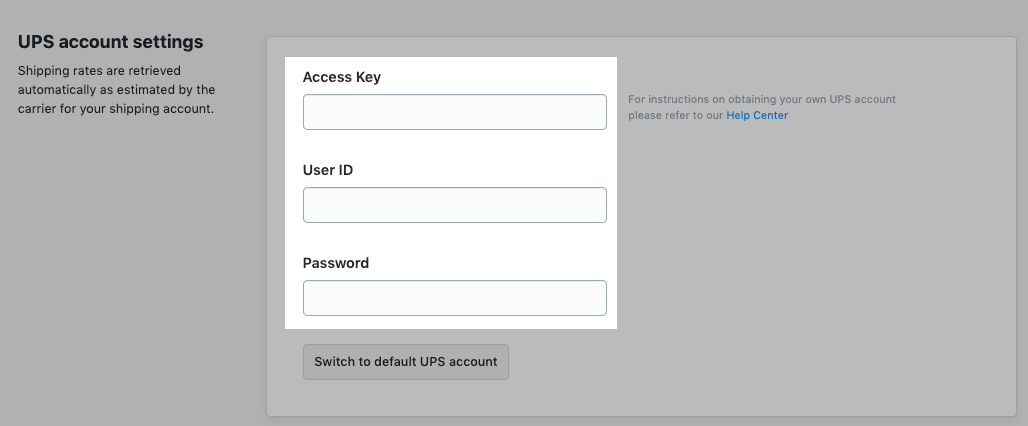 If your UPS account has negotiated rates and you want to offer them to your customers, tick the Use negotiated rates option and fill in your UPS account number: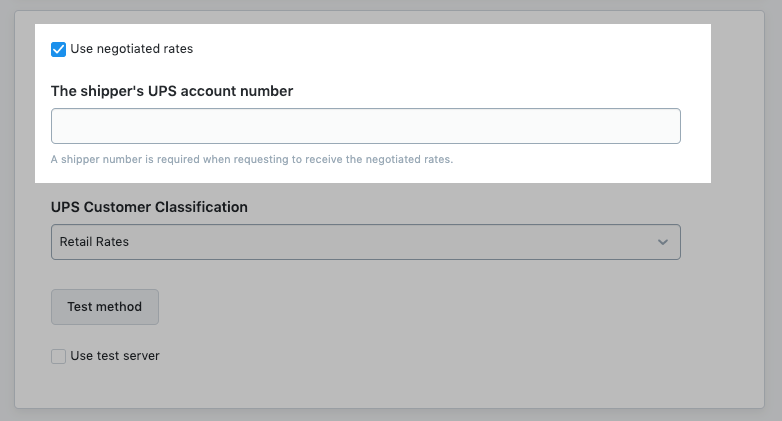 You can find your UPS account number in your account at
ups.com
: click on your profile name in the right upper corner →
Payment options
. Find the
Number
column under
My Payment Methods
. There you should see the number that you should put in "The shipper's UPS account number" field. If you don't see it, add a new payment method.
Select UPS Customer Classification. That's the type of rates that will be returned by UPS and shown to your customers at checkout:

Rates Associated with Shipper Number,
Daily Rates,
Retail Rates,
Standard List Rates.
If you are not sure what rates are supported in your UPS account,
contact the UPS team
. They will advise what rates you should choose.
To make sure that everything is set up correctly, click Test method.
Save the changes.
Also, you can go to your storefront, add some products to the bag and check what rates and shipping options you will see there.
If you don't want to use all 21 UPS options, choose what UPS methods you want to offer to customers in
Shipping & Pickup
→ UPS →
Shipping options
.
Disconnecting your UPS account
If you decide to disconnect your UPS account and use our default account, you can do it anytime.
To disconnect your UPS account:
From your Ecwid admin, go to Shipping & Pickup.
Click on the UPS method to edit it.
Click Switch to default UPS account.
That's it! Your account will be disconnected. You'll go back to using our default account for shipping rates.
FAQ
Can I offer my UPS negotiated rates to customers?
Sure, you can. To do that, follow the instructions on how to connect your UPS account, step 5.
If you have negotiated rates enabled in your store settings, but they still don't display at the checkout, make sure that your UPS account is eligible for negotiated rates and they're enabled. Also keep in mind that after you enable them in your UPS account, it might take up to three days before they start appearing in your store checkout.
You can use the
Shiptimize app
to ship with pre-negotiated rates. The app will allow you to create and print shipping labels too.
If none of the above helps and you still can't find out why the negotiated rates don't appear in your store, contact us. We'll be glad to help.
Why are the rates in my store different from the UPS rates?
There can be a number of reasons: you added shipping markup in the store settings which increases the shipping cost, you check different addresses in the store and in UPS, etc. You can take some steps to find out why that happens. They are described in this article: Troubleshooting shipping.
If you can't find the answer on your own, we'll help. At the end of that article, you'll find what info you can send us so that we could do further troubleshooting from our side.
What is the best package to ship my orders?
To make sure the package arrives safely, wrap your orders in quality packaging.
We recommend trying Arka, eco-friendly custom packaging service at the best prices. Arka has insert, poly mailers, stickers, and tissue paper, and boxes. Use the ecwid15 promo code to buy discounted packaging from Arka. To apply promo code, go to arka.com/ecwid, choose package, customize it if needed, and proceed to checkout where you can enter the code.
You can also use the Arka app from the Ecwid App Market to customize your packaging.
Related articles:
Choosing the right shipping strategy for your store
Sorting delivery options at checkout
Shipping labels
Tracking numbers
10