With the help of promotions you can build your customer base, boost store traffic and increase customers' loyalty.
However, launching a promotion is only halfway to success. You can come up with a great promotion campaign, but the execution is what matters the most.
It's vital to make sure that you let your customer know about your promotion campaign. For this you can use Ecwid's solutions.
Note in the Store front page
The first way to show your customers that you have an offer for them is to add a message to your store front page.
From your Ecwid admin, go to

Catalog → Category.
Select Store Front Page.
Open the General tab.
Add your message to the Description field. You can change the size, color and background for your text: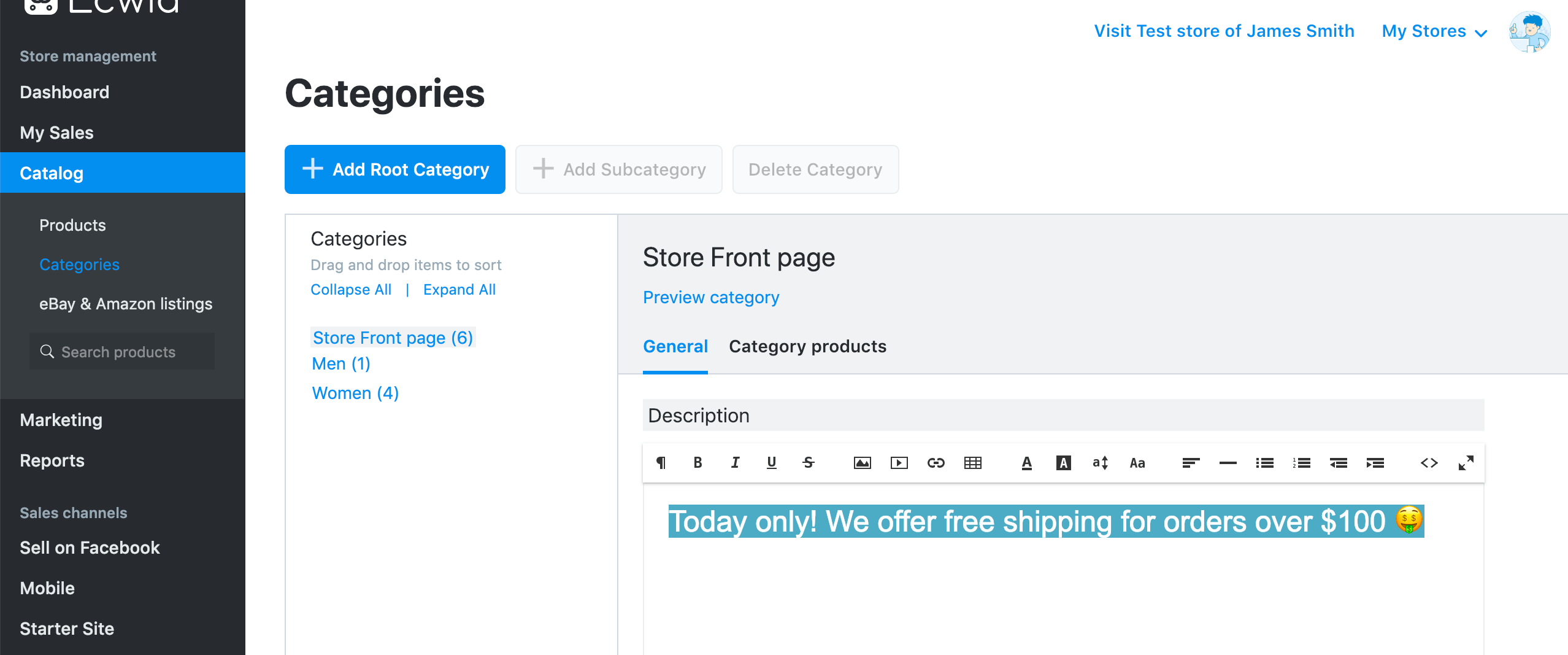 Save the changes.
You can add a text, an image, or even a video to the Store Front Page description — it's totally up to you.
This is an easy and yet very effective way to inform your customers on an ongoing promotion. Here is how your customers see it in your store: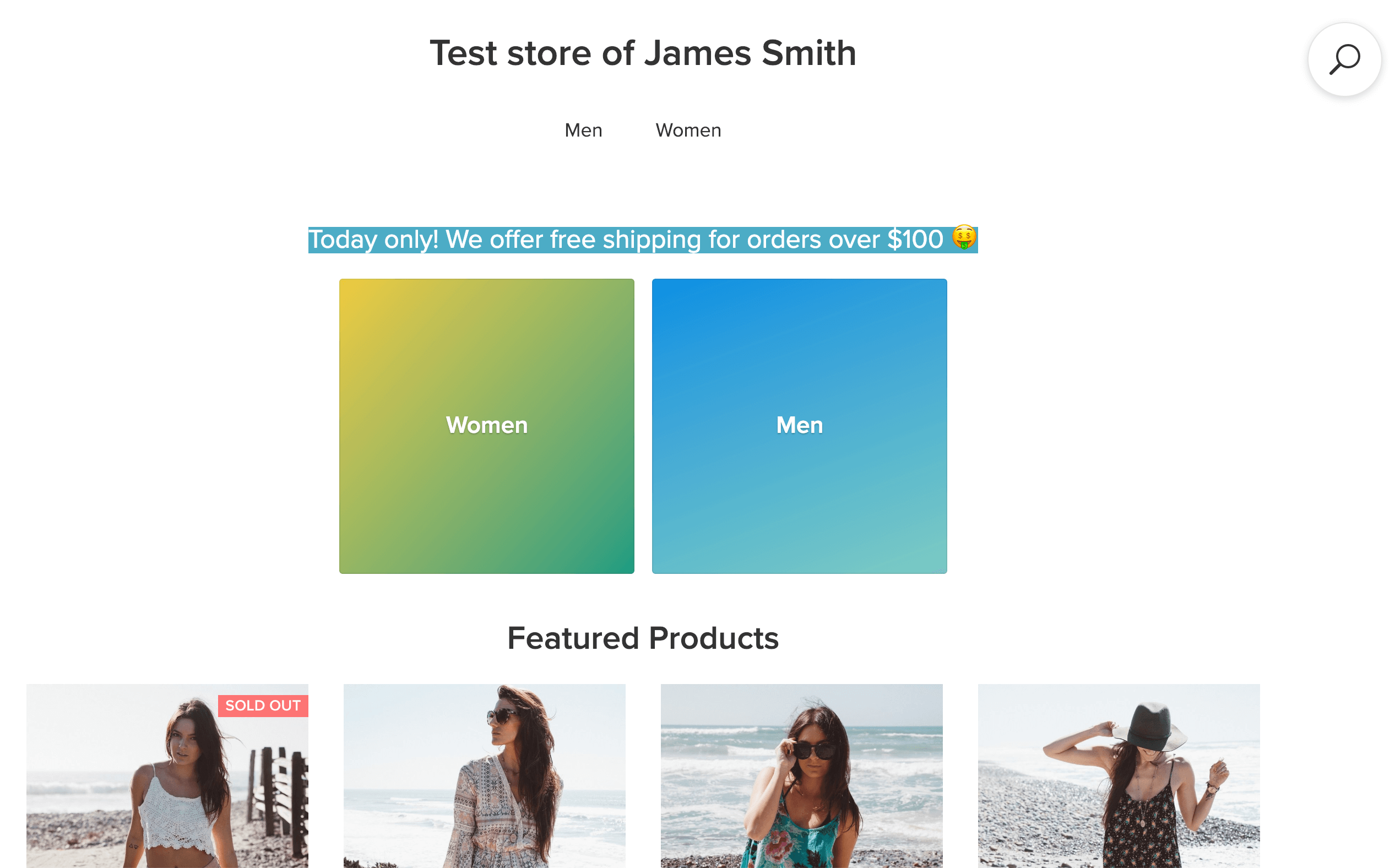 Note in a category page
If you run a promotion for a particular category of products, it makes sense to add the promotion information to participating category pages.
From your Ecwid admin, go to

Catalog → Category.
Select the category you want to add a note to.
Open the General tab.
Add your message to the Description field. You can change the size, color and background for your text: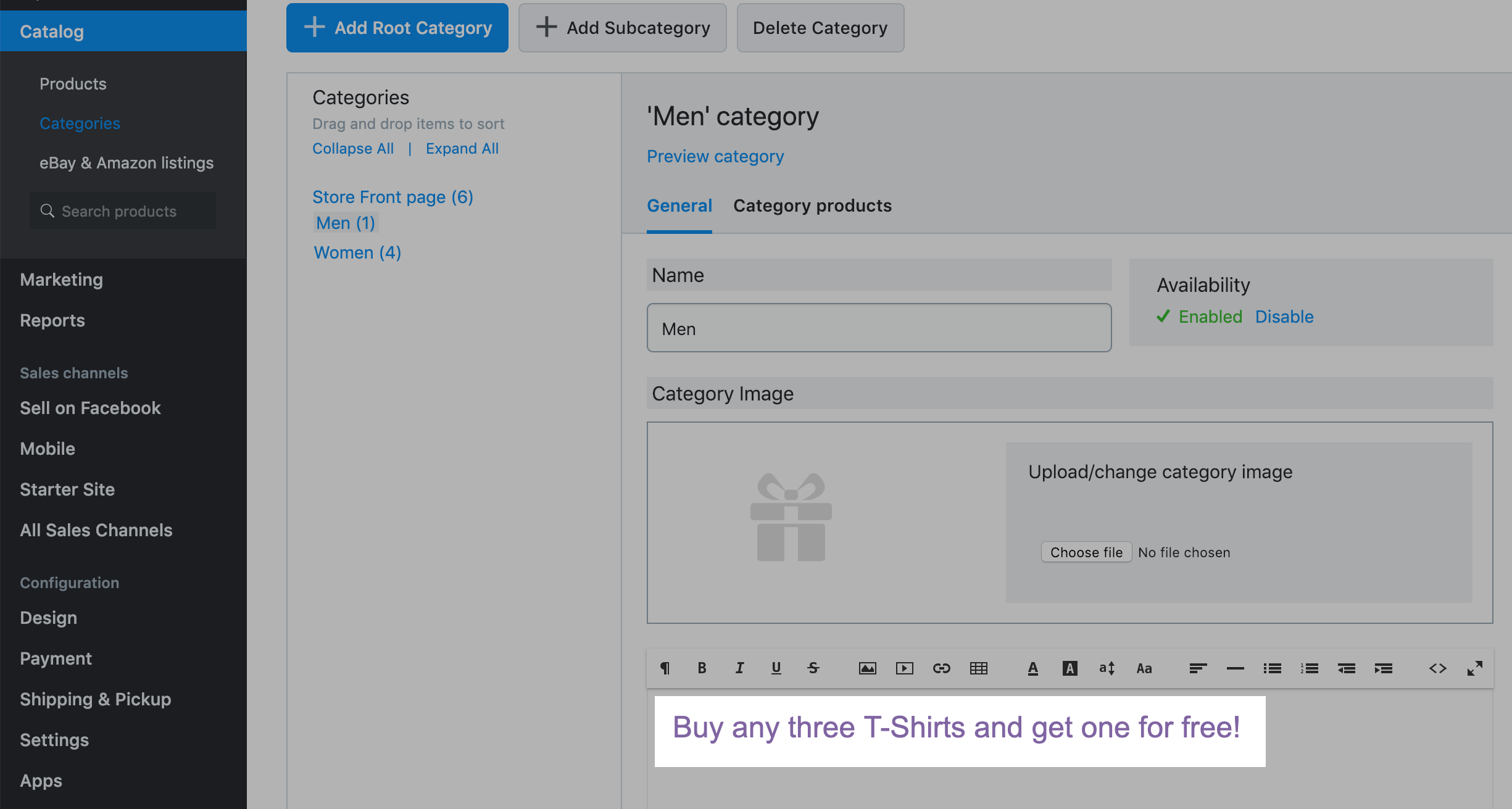 When your customers open this category, the promo information is the first thing they see: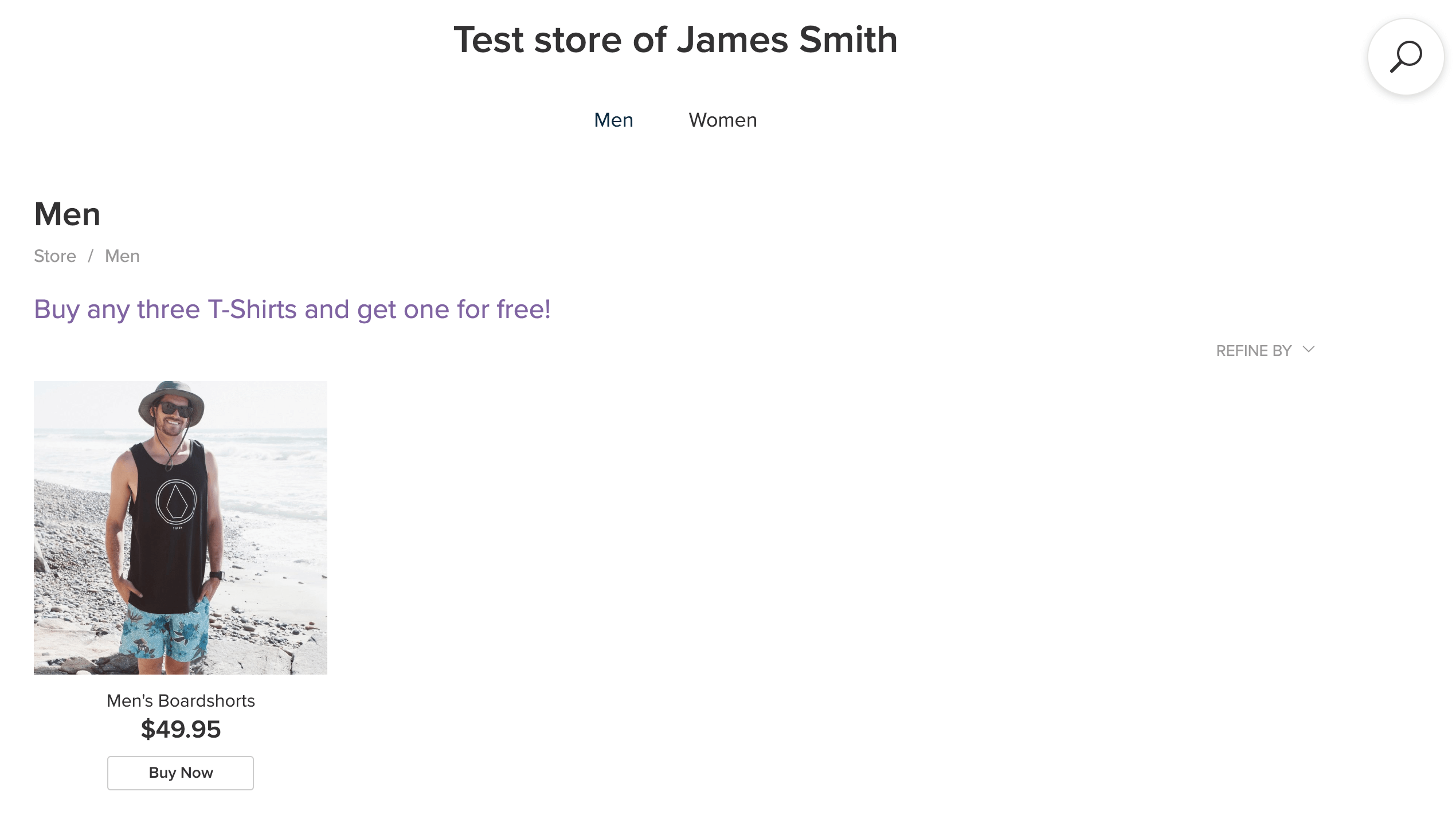 Promote directly on your website
If you added Ecwid to your own website, then you, of course, can put promo information at any place on a website you want: header, pop-up, sidebar, footer, everything is up to you and what your website build has to offer here.
Send newsletters to your customers
Email promotion is one of the oldest solutions to get in touch with customers. It's a proven tool to update your customers on ongoing promotions, campaigns, and offers. Check out our article about the ways to send newsletters to your customers.
In our app market, there are a few apps that would be of great help to deliver a message to your customers about promotions you are running.
Add notices on checkout pages
The Checkout notices app. The app name speaks for itself — show your promo details on checkout pages of your store.
Do you have a 20% discount coupon for orders over $50? Great! Just put the message and the coupon number to the cart.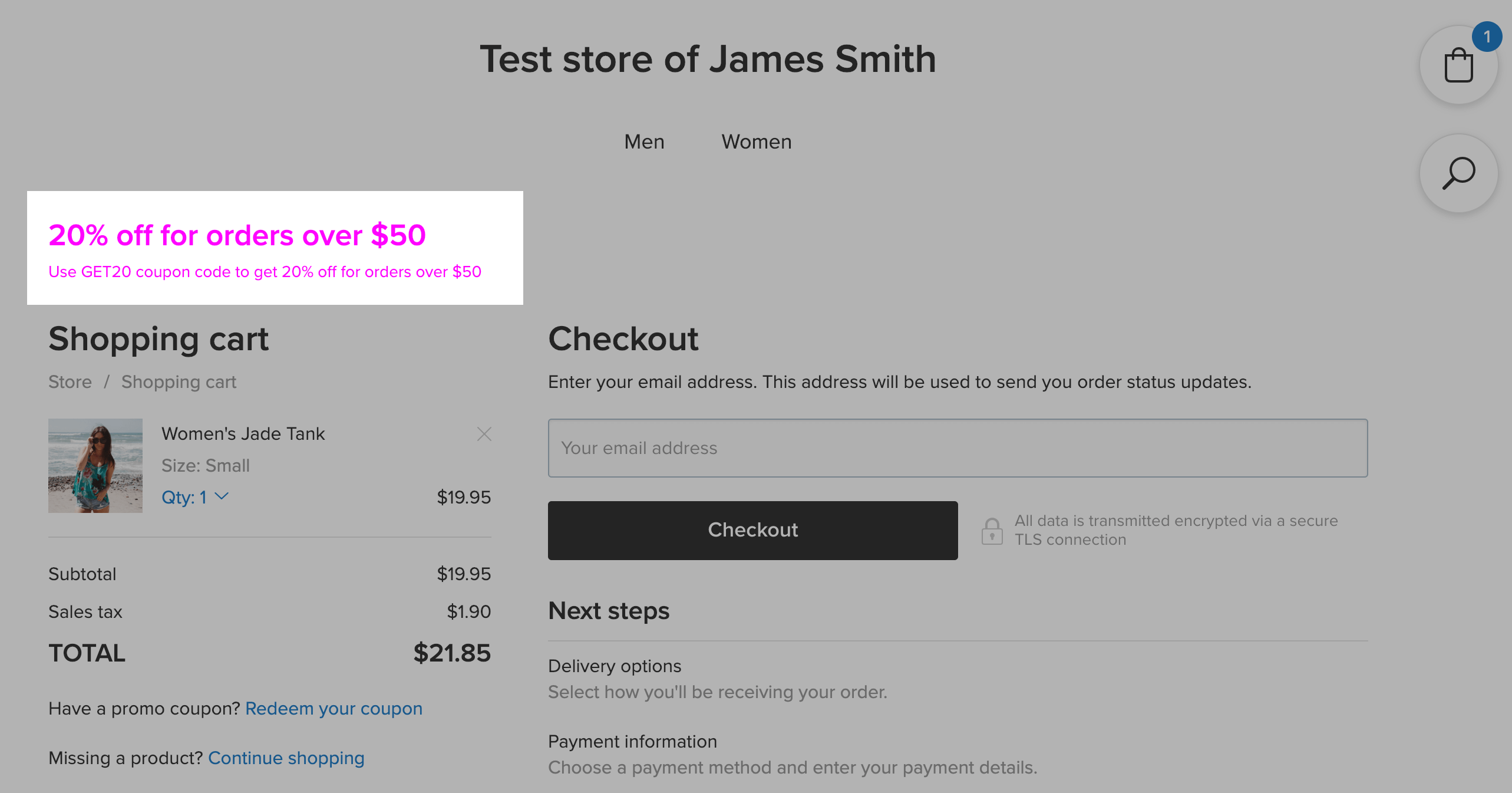 You can display a message on any checkout pages such as cart page, shipping details, payment details, order placement or even "Thank you" page. As you can see, the app is flexible and leaves a lot of room for promoting your special offers.
The app is free for all users on any Ecwid paid plans.
Going further, you can combine "Checkout notices" with the "Buy One Get One Free" app. The app allows launching advanced discount promotions with a bunch of conditions. Whether you want to motivate your customer to order in bulk or boost sales of slow-selling products, or maybe you want to promote a new product — the app works great for all these scenarios. There are a lot of discount settings that you can configure in the app settings and promote these discounts with the help of Checkout Notices.
Add a promo bar to your store
Zotabox Promo Bar Promote your special offers, discounts, or any other promotions by putting a promo bar to your website.
All your store visitors will see the promo bar upon opening the website, and it will be visible to them at all times unless they decide to close it. You can customize text, add links or change style of the bar.
Promote your offline business
Even if your business is offline, or you run a brick-and-mortar store, Ecwid provides great opportunities for products marketing and promotion.
The "Automatic Catalog and Flyer Builder" app will help you create a beautiful catalog and flyers in your Ecwid store.
The app also has a lot of features to customize the look of a catalog, promote on social media, communicate with your customers and so on.
Related articles
Marketing checklist
Setting up discounts and running promotions
Sending newsletters from your Ecwid store