By default the customers who open your store for the first time see the Store Front page. There they see the categories of the first level and your featured products – the ones that are added to the Store Front Category.
You may want to change this behaviour and display some other category to customers who open your storefront for the first time. This is useful if you want to show a specific set of items (for instance, New Arrivals) to new visitors right away.
You can add your Ecwid store to sites built on different platforms and sitebuilders. The ways to show a certain category for first time visitors can be different. Here is how to do it.
Custom site
In case your Ecwid store is installed on your website by means of the integration code, you can set the default category for the page by adding a special parameter into the code:
defaultCategoryId=%categoryId%
This is a sample embed code that opens a list of root categories (without the default category ID parameter):
<div> <script type='text/javascript' data-cfasync="false" 
src='https://app.ecwid.com/script.js?STOREID'></script> 
<script type='text/javascript'> 
xProductBrowser("id=my-store-"); 
</script> 
</div>

This is the same code that opens a particular category page (with the default category ID parameter):
<div> <script type='text/javascript' data-cfasync="false"
src='https://app.ecwid.com/script.js?STOREID'></script> 
<script type='text/javascript'> xProductBrowser("id=my-store-","defaultCategoryId=CATEGORYID"); </script> </div>
The category is defined by its ID. In our example it's CATEGORYID. The category ID is included into the category page URL. If you can't find it, check the guide on how to get the ID of your product or category.
Remember to change the STOREID parameter to your actual Store ID.
WordPress
In the WordPress admin panel, navigate to Pages.
Find the page where you have your Ecwid store and click Edit.
Click on the block with the store. On the right side, you will see the settings for this Ecwid block.
Click Store Front Page.
In the Default category ID drop-down, select the category that you want to display on this page:
Click Update to save the changes. 
Wix
In the Wix website editor open the page where your Ecwid online store is added.
Click on the store area.
Click Settings: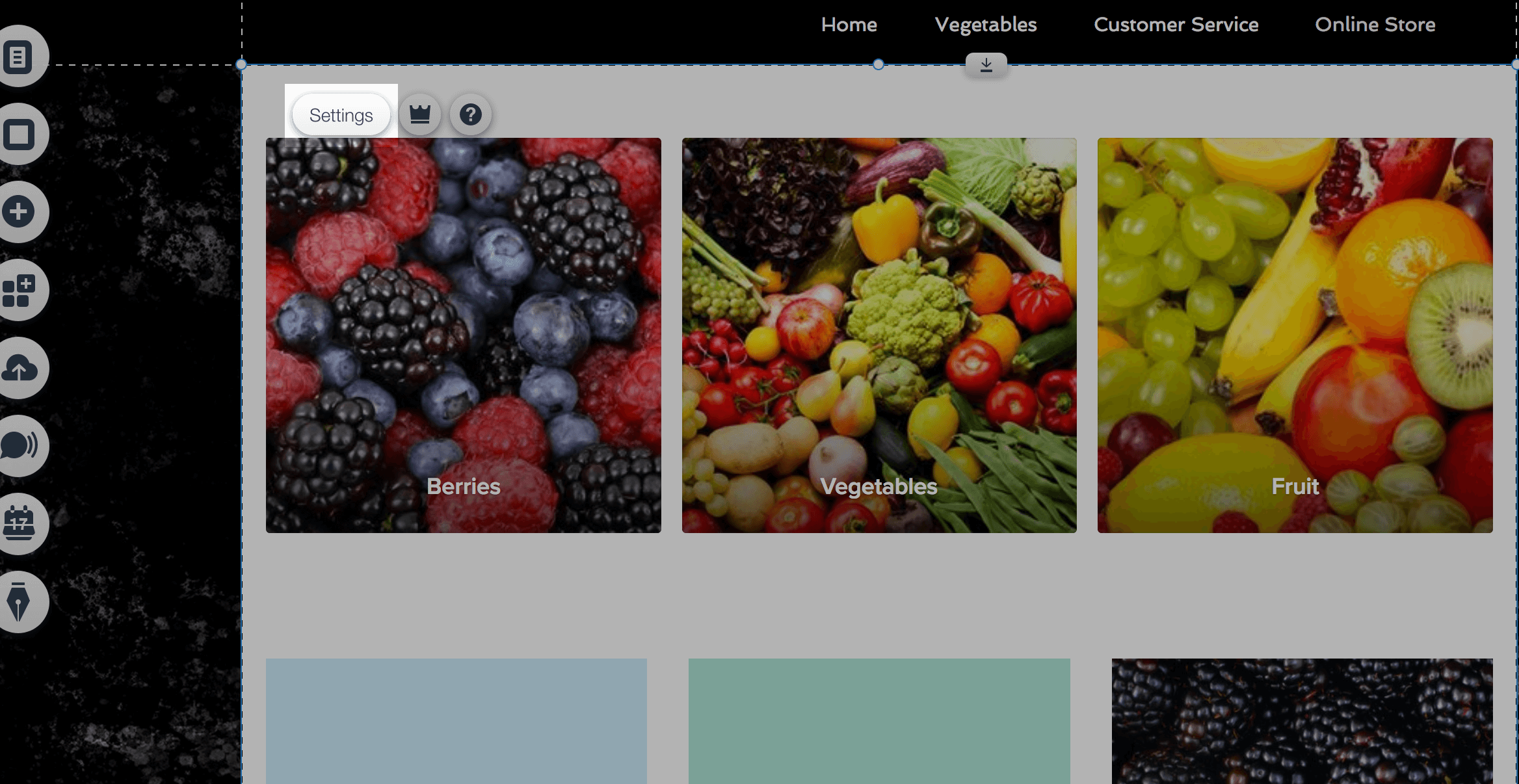 Switch to Setting.
Click the Choose the default category dropdown under Display Options: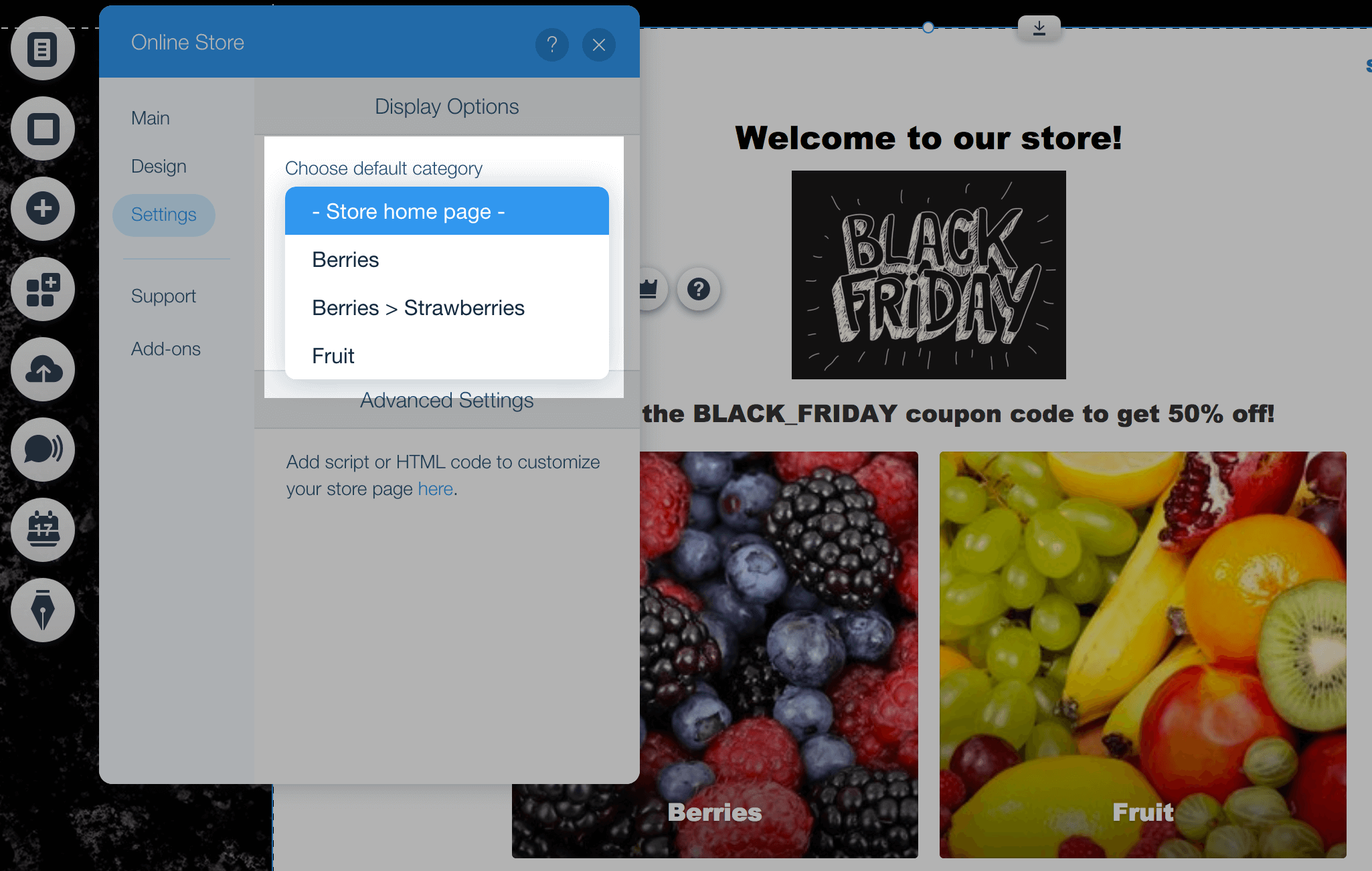 Choose the category you want to show
Click Save.
Joomla
In Joomla Control Panel navigate to Components → Ecwid → Advanced settings: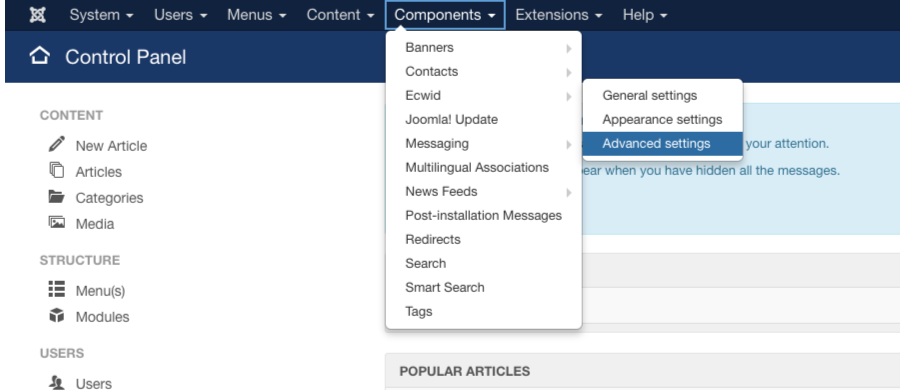 In the Category shown by default drop-down select the category that you want to display:
Click Save.
In case Ecwid is installed to several pages of your Joomla website, you can select a different default category for each of the pages.
Navigate to Menus.
Open the page where Ecwid is installed in edit mode.
Switch to the Basic Ecwid settings tab.
Find the Category shown by default drop-down.
Choose the category to open on this page: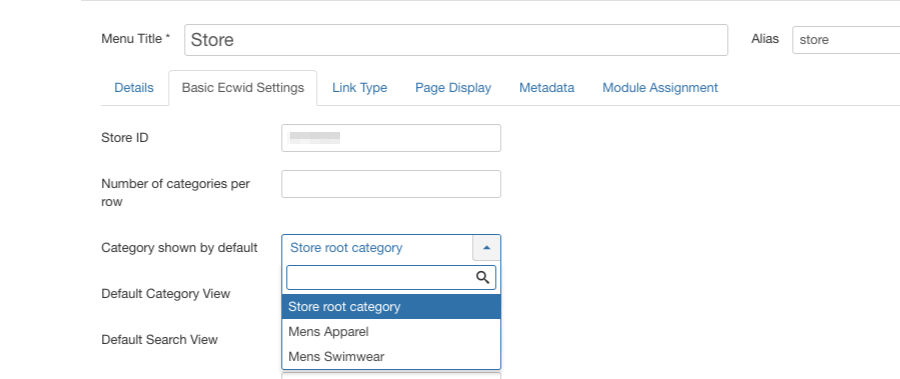 Click Save.
Repeat the steps for each page where Ecwid is installed. 
Related articles
Managing categories
Changing categories order
Hidden products and categories