If you already have a store on WooCommerce, you can easily migrate it to Ecwid. Ecwid is a powerful e-commerce solution that allows creating a professionally looking online store and use multiple sales channels to sell your goods and increase your customer base.
Sign up with Ecwid and bulk export your products and categories from WooCommerce to Ecwid with the help of our migration tool.
Importing your WooCommerce catalog to Ecwid
To bulk import your WooCommerce products and categories to Ecwid:
Go to your WordPress Dashboard → Tools → Import.
Find the Ecwid products and categories tool and click Run Importer.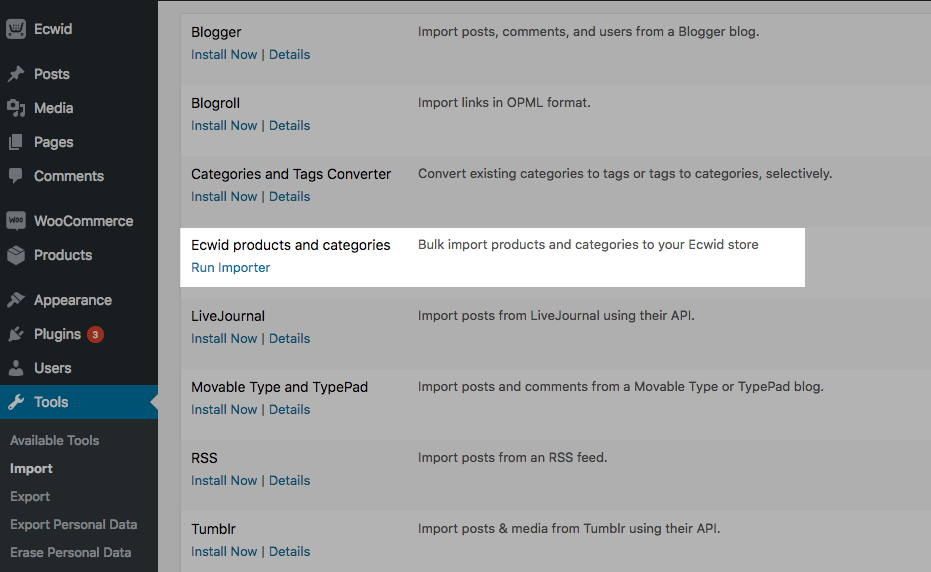 Click Import your WooCommerce catalog to Ecwid.
Here you can see the Import Summary:
a. the number of products and categories in your WooCommerce store;
b. the number of products and categories in your Ecwid store;
c. the total number of products and categories in your Ecwid store after import.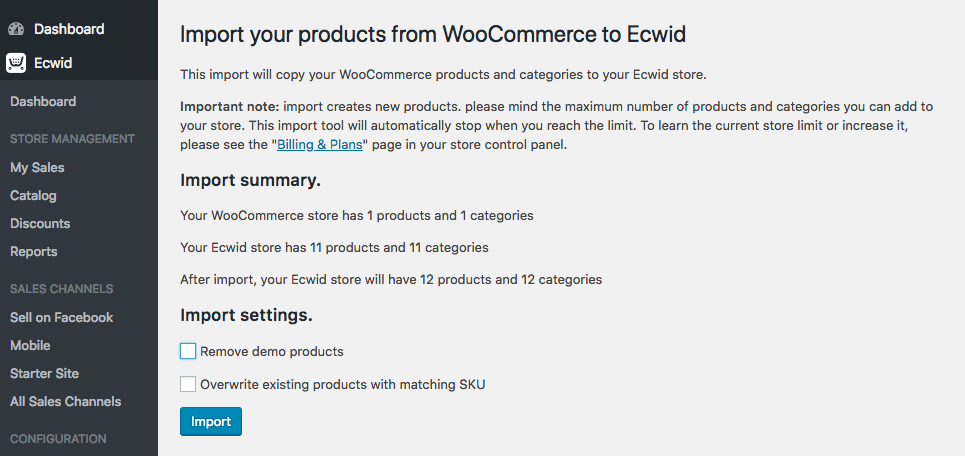 The Import Summary helps you mind the maximum number of products and categories you can import to Ecwid and increase the store products limit, if necessary, by upgrading your Ecwid account.
To find out your current store limit and manage your Ecwid subscription, visit the Ecwid's Billing and Plans page; in your WordPress Dashboard go to Ecwid → My Profile → Billing and Plans:
Check Remove demo products, if you have a newly created Ecwid store with sample products. This will help you bulk-delete demo goods.
Check Overwrite existing products with matching SKU, if you have already imported the products and categories from WooCommerce to your Ecwid store and would like to update their details.
Click Import.
You will be able to monitor the import progress and see the number of transferred products and categories, when the import is complete. For large catalogs with hundreds of products the import will take a while.
You can go on and check your products in Ecwid to make sure they have been transferred correctly. Click Go to your Ecwid products or navigate to Ecwid → Catalog → Products.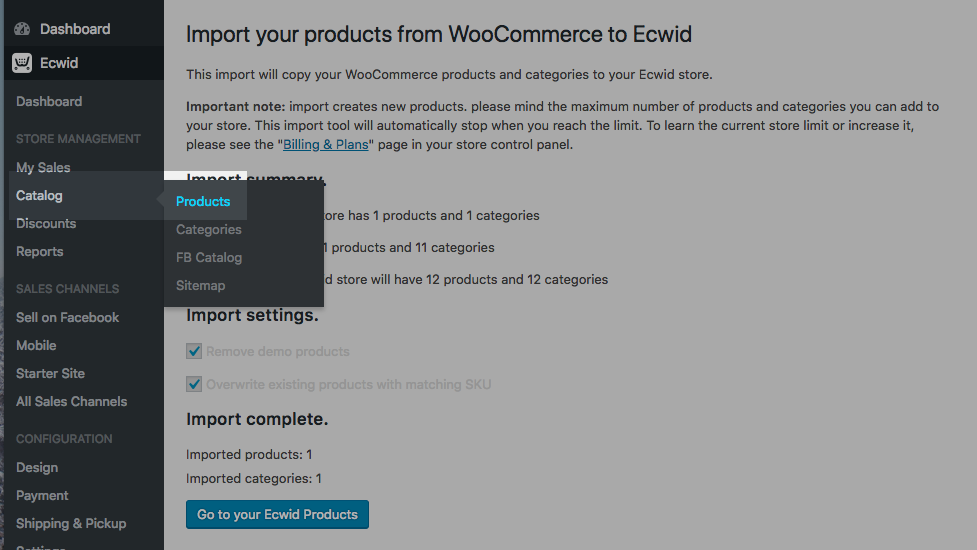 Further steps
Now that you have created an Ecwid store and imported the products, we'd like to give you a quick guide on what to do next.
Setting up your Ecwid store
Take care of the basic store settings like Shipping and Pickup, Currency and Languages, Payments, Taxes and more. You can check the article Getting started with Ecwid to see the full list of things to be set up.
Publishing Ecwid products on your website
When you have installed the Ecwid plugin to your WordPress site and successfully imported your WooCommerce products to Ecwid, your catalog will be automatically published on the separate Store page.
In addition, you can add your Ecwid catalog to other pages of your website or publish the individual store products with Buy Now buttons.
Promoting products to get more sales
Reach more customers and drive sales to your store by connecting Ecwid with multiple sales channels – popular marketplaces like Google Shopping or Amazon, social media like Facebook and Instagram and more.
Check out our Marketing checklist to learn how to promote your store effectively.
Related articles
Adding your Ecwid store to a Wordpress site
Plugins for your Ecwid store on WordPress