Migrating to Ecwid from Clover Online Store
This article outlines how to migrate your Clover online store to Ecwid. You can use it as a reference resource to ensure that you configure all key settings and successfully launch your new Ecwid store.
Step 1: Linking your Clover online store to Ecwid
Before you start transferring your products and orders from Clover online store to Ecwid, you need to link your Clover POS and Ecwid with the help of Ecwid's Sell Online app for Clover.
To get Sell Online app by Ecwid:
Open the Sell Online app in Clover App Market and click Connect: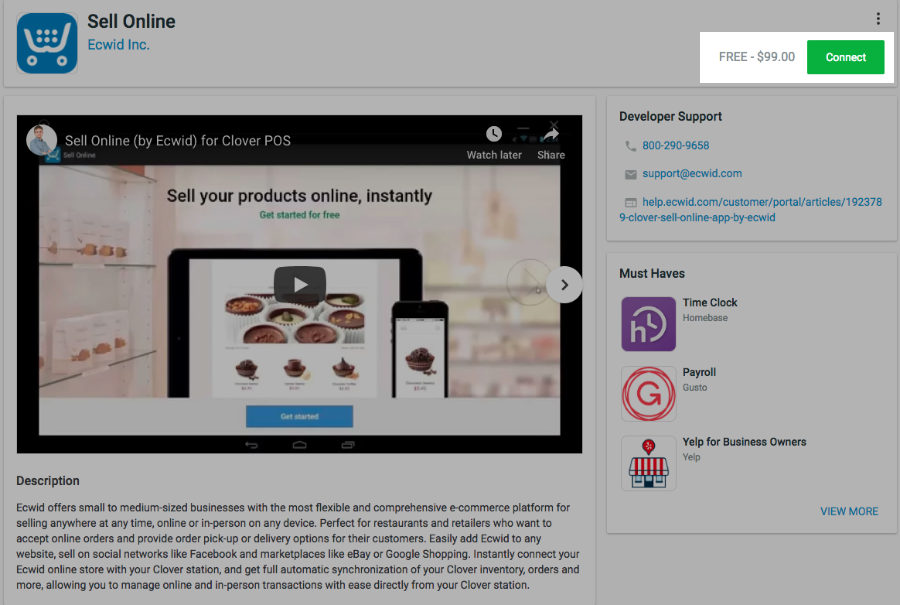 Select the preferable subscription tier and click Accept: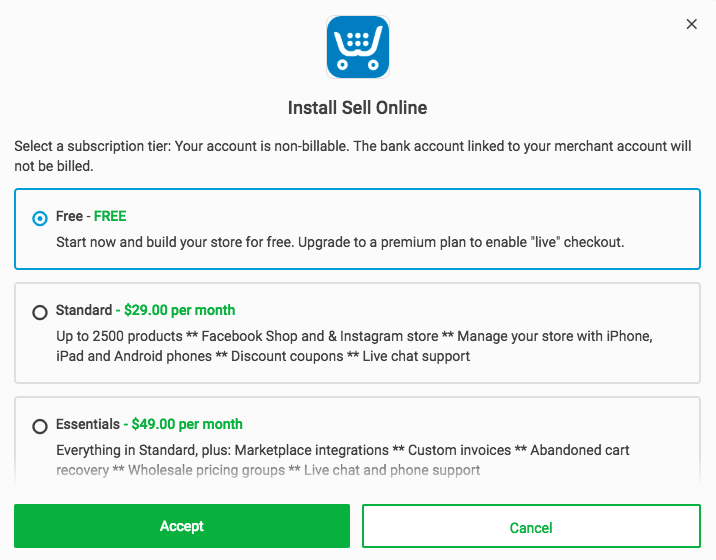 You can choose Free plan while setting up your store and change your subscription tier later.
Click Open app. You will be taken to the login page where you can sign up with Ecwid and create a new online store to which you'll be migrating.
Type in a password and click Create your online store: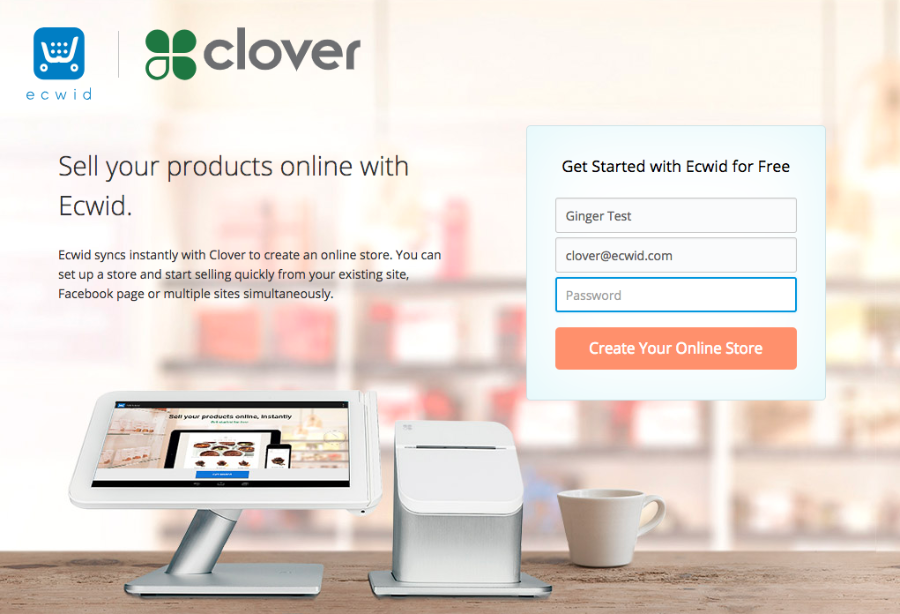 Welcome to Ecwid and congrats on creating your Ecwid store! You are now viewing the store's admin – a place where you'll manage all backend settings, including orders, products, customers and much more.
Now that you have a new home for your Clover products and orders, it is time to transfer them to your Ecwid admin.
Step 2: Synchronizing products between Clover and Ecwid
The Sell Online app allows to sync products and their stock levels, variations and categories. By default, the sync is disabled and you need to switch it on in your Ecwid admin. To do that:
Go to your Ecwid admin → Other Channels → Clover POS.
Switch on the sync options: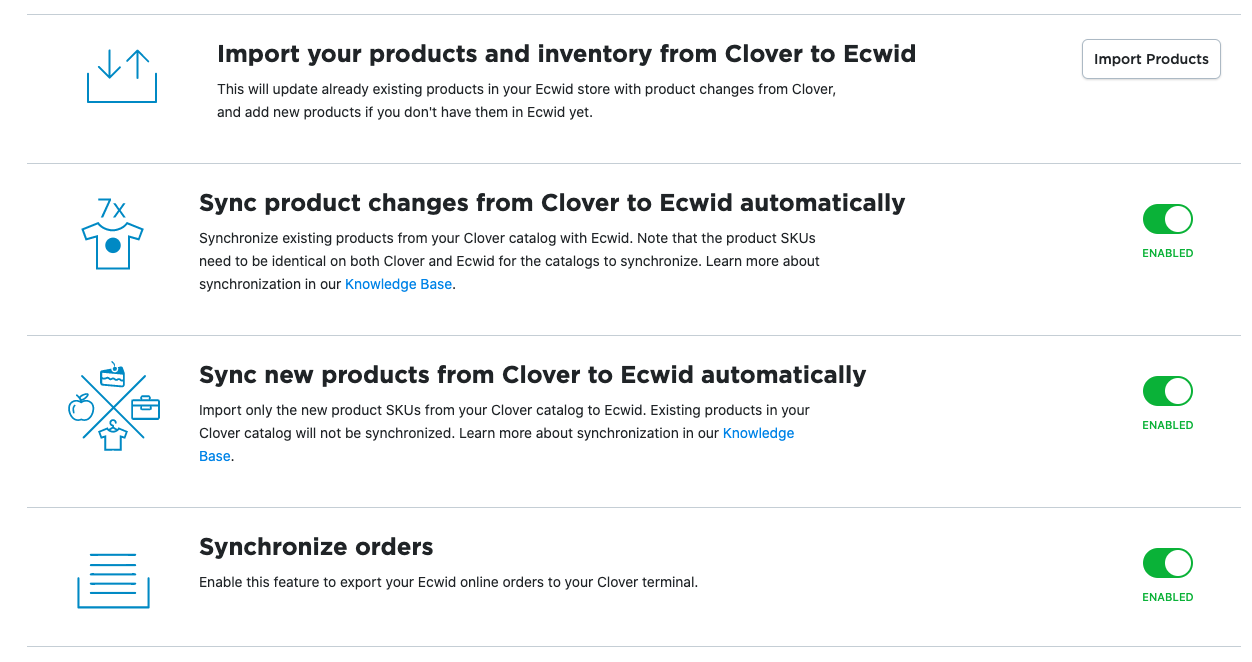 Your Clover products will appear in your Ecwid admin → Catalog → Products. If you have a large inventory, allow some time for Ecwid to import your Clover products to your Catalog.
The products are imported without images and descriptions, as Clover POS doesn't have such product properties. You will need to
add product images and descriptions
yourselves.
When you have successfully imported Clover inventory to Ecwid, you can proceed to setting up your new Ecwid store: configure basic store settings, add product images and descriptions, set up shipping rates and payment options, etc.
Step 3: Complete store profile and regional settings
You need to add some essential business information about your store, company and location to the store profile:
Go to your Ecwid admin → Settings → General → Store Profile.
Specify the name of your online store that will be visible to your customers in the online storefront, email notifications and invoices: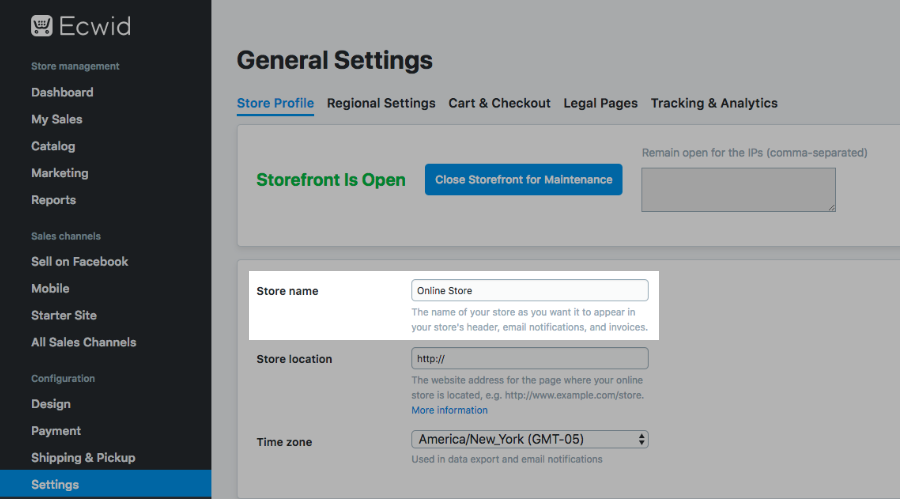 Add a web address of your online store and select the time zone that will be used in data export, order details and email notifications: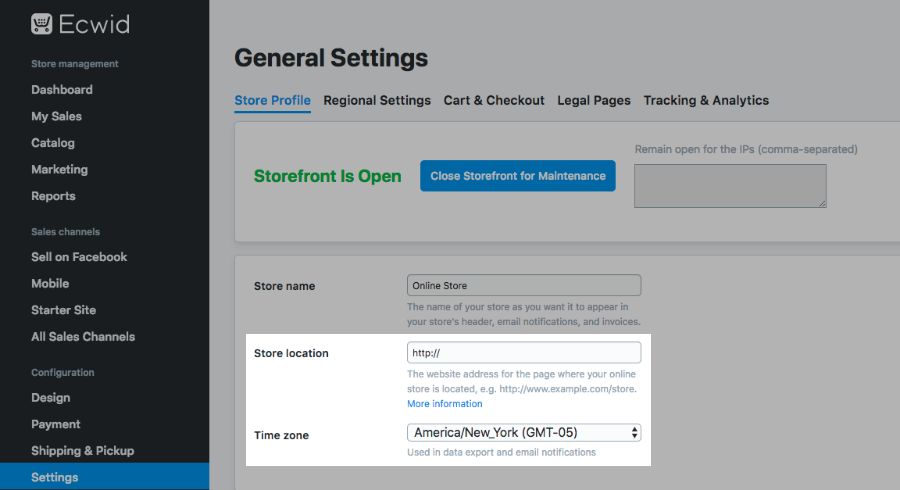 If you use your online store with Clover subdomain (e.g. your store address is
yourstorename.mycloveronline.com
) and you don't have your own website yet, you can set up Instant Site with Ecwid subdomain as your online storefront.
More details at:
Create your online storefront
Ensure that you have a legal business name, address and contact email for email notifications and invoices entered correctly: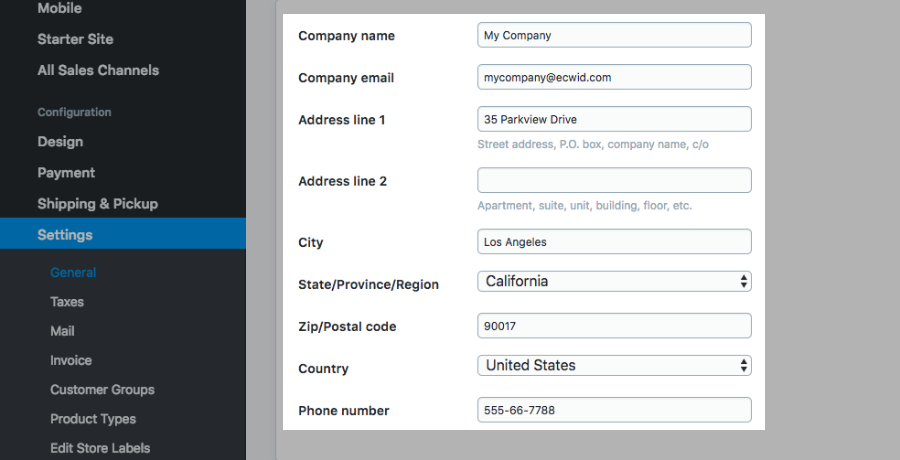 Switch to the Regional Settings tab to ensure that your currency, language, weight and size settings are intact.
Step 4: Arrange your product details
At the initial sync of products from Clover, Ecwid imports product names, prices, stock levels, variations and product categories. Other details like images and descriptions need to be added.
Ecwid imports the items in the Disabled state to give you time to add descriptions to products, upload their images and configure taxes, shipping rates and payment options before you publish your catalog online.
To manage your product details:
Go to your Ecwid admin → Catalog → Products.
Click Edit Product to access its details: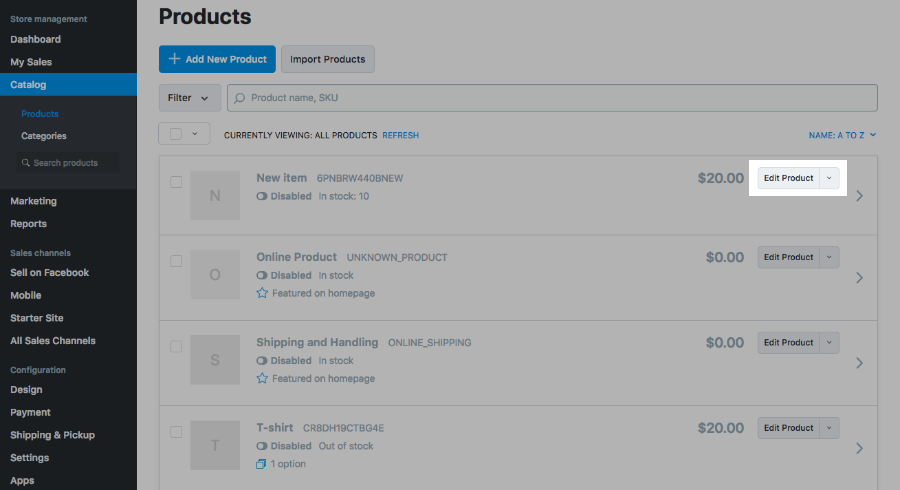 Upload images – a main product picture and additional photos for the gallery: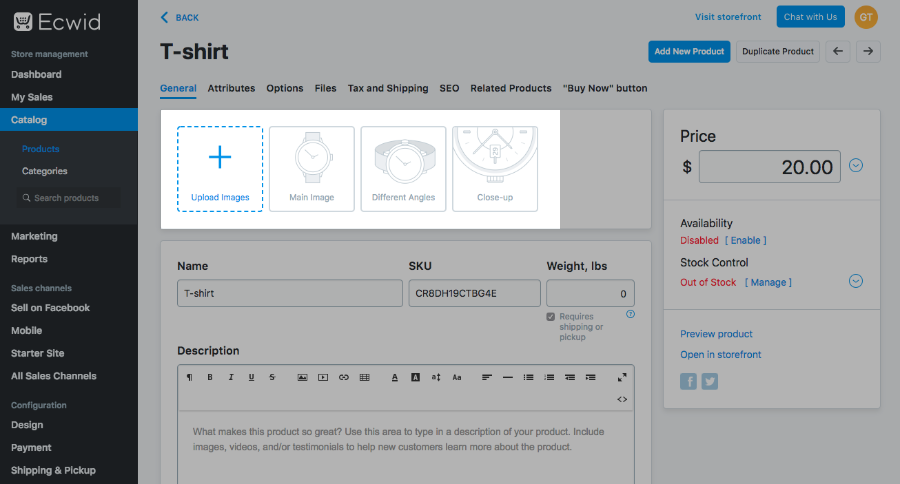 Add value to the Weight field, if this is a tangible product that requires shipping.
Use the rich text editor to add product description: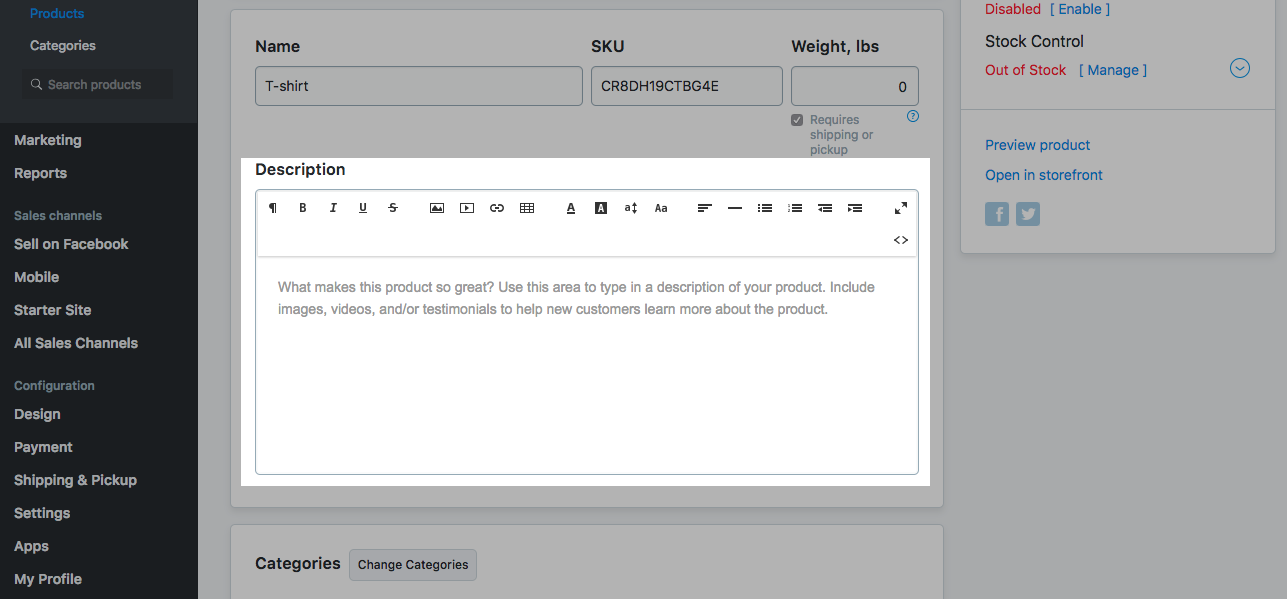 Check the Categories block to make sure that the product is assigned to the proper category and change it, if necessary.
Switch to the Options tab to check that product options like colors and sizes were imported correctly: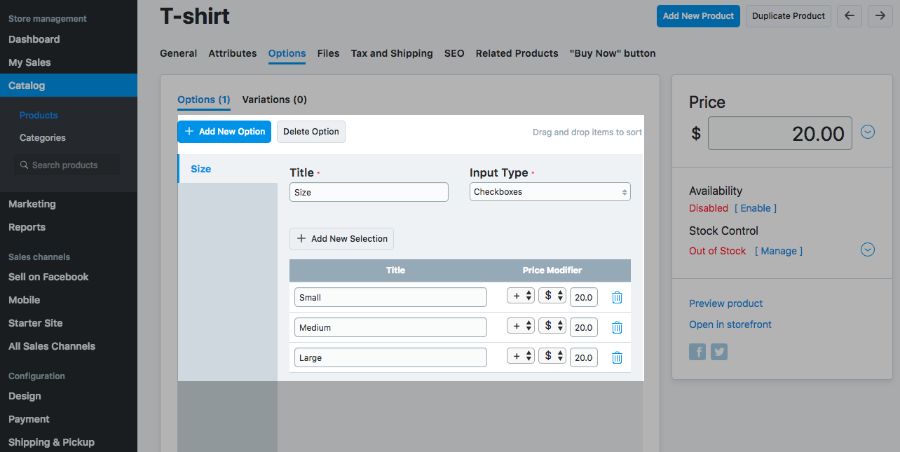 Go to SEO tab to manage the title and meta description fields for search engines.
Under the Related Products tab you can select items that should be featured together with the current product.
When you have arranged all details, remember to enable the product so that it is available online: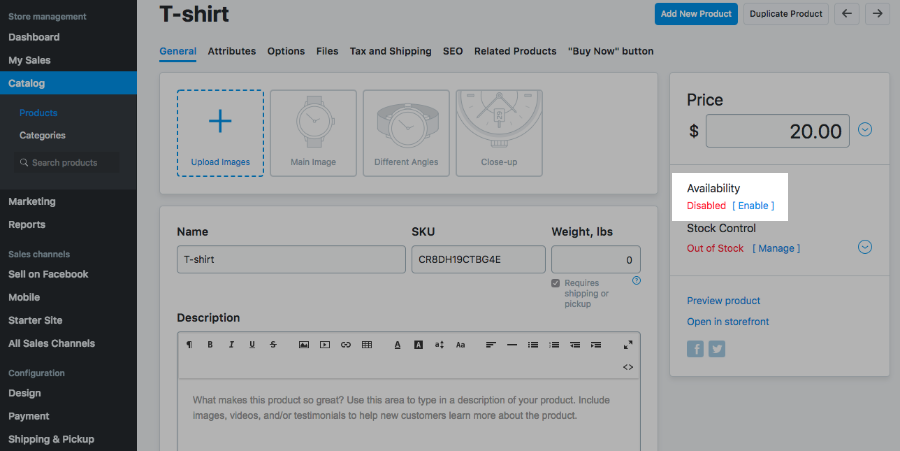 Step 5: Set up shipping rates
Before you start receiving orders in your Ecwid store, you need to decide how you will be delivering them to your customers. Ecwid offers flexible shipping options so that you can provide a great shopping experience to your customers at checkout.
You can set up to receive automatic shipping rates from delivery services or take total control over the shipping fees with custom calculation, enable free shipping or let buyers pick up their orders from your location.
To set up shipping:
Go to your Ecwid admin → Shipping & Pickup → Zones and create destination zones to set up shipping for different regions, countries and states.
Navigate to the Shipping & Pickup page to set up shipping rates for the destination zones that you have created.
Learn how to manage order shipping in Ecwid.
Step 6: Configure taxes
Collecting sales tax is a vital part of running any business and it is important to correctly configure your tax rates. You can manage tax settings in your Ecwid admin → Settings → Taxes.
Good news is that Ecwid supports automatic tax calculation for merchants from the USA, Canada, Australia and Europe, so you just need to visit the Taxes page to verify that it is enabled for you.
In case the automatic tax calculation is not yet available to you, you can manually configure tax rates for your store.
Step 7: Enable payment options
You need to set up at least one payment option to start accepting money in your Ecwid store. Ecwid supports 70+ payment providers that let you securely accept credit or debit cards online and a few manual payment options for receiving payments directly to your bank account or getting paid in person.
You can continue to accept credit and debit cards online using your existing Clover account. Click
Connect Clover
in your
Ecwid admin → Payment
to enable Clover Payments in your Ecwid store.
To set up a payment option:
When you create and fulfill orders in your store, you will see email notifications that your customers receive for each action. You can view and edit their templates in your Ecwid admin → Settings → Notifications.
Step 8: Create your online storefront
If you were using the online store on Clover subdomain, you can start selling with the Ecwid Instant Site as your online storefront.
To configure your Instant Site:
Go to your Ecwid admin → Website.
Upload your cover images and edit the site's design and content to make it a branded homepage of your business.
Adjust the design of catalog pages to give them a look that best reflects your brand.
Set up a custom domain for the site or use free Ecwid subdomain as your store address.
If your Clover online store was hosted on your own website, you can add your Ecwid store to your existing website or social page.
Visit our Help Center to view a collection of step-by-step guides on adding Ecwid to the most popular sitebuilders and CMS platforms (WordPress, Joomla, Wix, Squarespace, Webydo and others) and connecting the store to Facebook and Instagram.
10