Updates 2021
Check out Ecwid updates and see what new features you now have in your store.
December
Spanking new templates
With 2022 around the corner, we want to announce a new major improvement for Ecwid Instant Site. Yes, it's templates! We know you've been asking about this feature a lot, and we are ready to present first templates for top e-commerce verticals. For now, templates feature is in beta and it's available for a part of new Ecwid users. In the next year, we will be creating more templates for different businesses that will be available for everyone.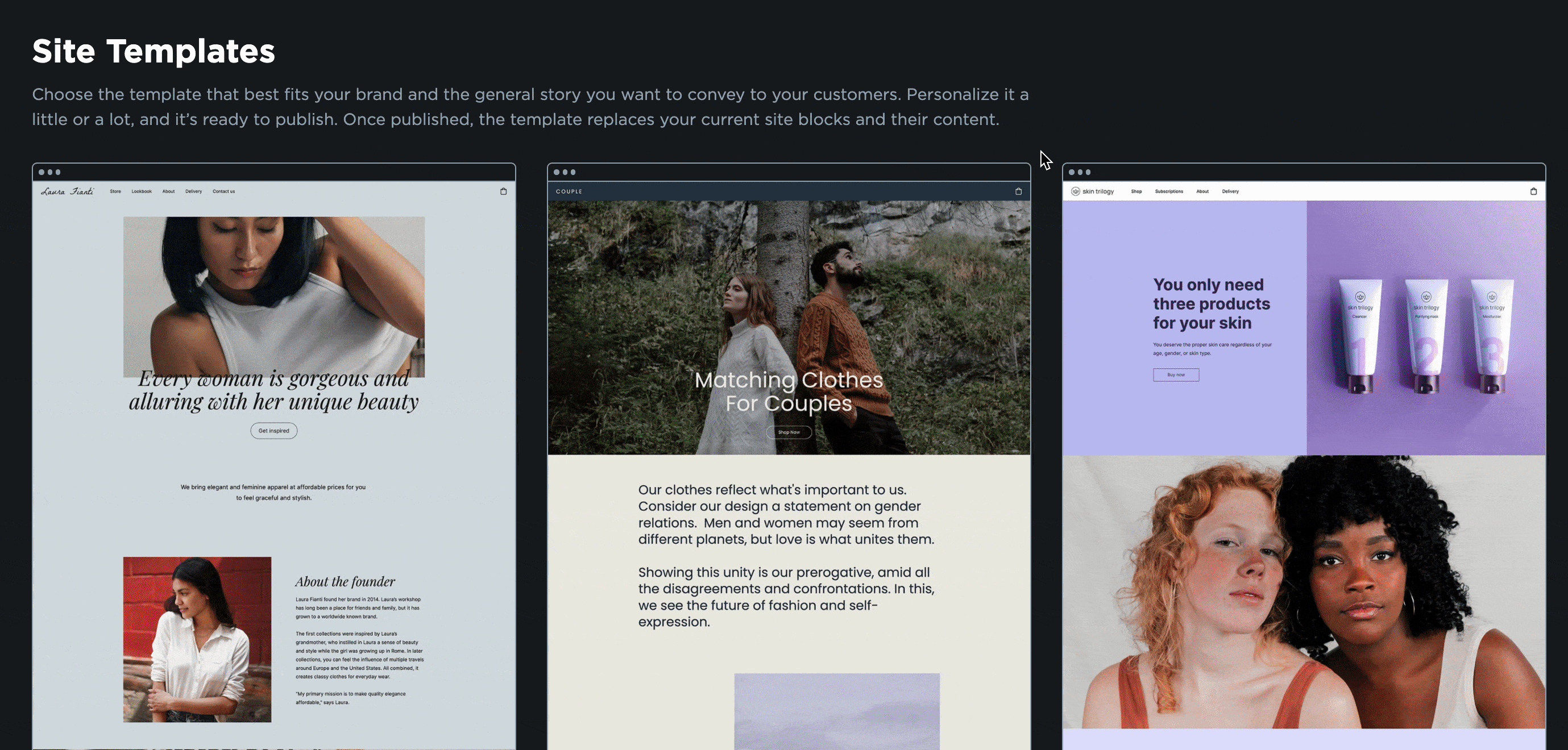 We will start a new year with even more new features to empower your business. Stay tuned!
November
Sell items from Aliexpress with NextChain
If you are not sure what to sell, try reselling products from Aliexpress in your store. You can do it with the NextsChain dropshipping supplier and fulfillment service that ships worldwide. The service allows you to add products both from NextsChain suppliers and from Aliexpress. All you have to do is connect your Ecwid store to NextsChain and then choose what products from Aliexpress you want to sell in your Ecwid store.
Find out how to connect your Ecwid store to NextsChain →
Set up subscriptions from your mobile device
Create subscription products on the go. It's possible to do this with the Ecwid mobile app both on Android and iOS. Simply open your Ecwid app, add a new subscription or edit an existing one.
Expand or shrink the list of orders
Adjust the Orders page the way it's more convenient to you. By default, all orders are shown in the expanded view so you can see all details. If you need to see only the main information, click the Expanded view on the right-hand side of the Orders page and select Compact view. Or vice versa.
October
Update prices in a few clicks
Save time and effort on changing prices in your store. No matter if you have 10 or 100 products, it will take only a few clicks to increase or reduce prices with the Bulk Product Editor. You can choose either a fixed value or a percentage to change the price. It comes in handy if you need to reduce prices for a storewide sale or raise prices a little to cover your expenses. Changing prices has never been easier.
Apply coupons to subscriptions
Good news for stores that use a subscription business model. Discount coupons used on subscriptions are now applied to the initial order only, meaning that all subsequent orders will be charged the full price. To avoid applying the discount to repeated orders, all you have to do is add usage restrictions to a coupon. For example, limit the discount usage to a single use or once per customer.
Haven't tried subscriptions yet? Learn more about the feature →
And if you prepare your store for the Holiday sales, don't forget about discounts →
Save time and money with Shiptimize
Connect your Ecwid store to Shiptimize to quickly create shipping labels and ship with pre-negotiated rates. Once connected, the orders' data will be uploaded to Shiptimize, so you don't have to manually fill in a customer's address on a shipping label. The service works in Brazil, the Netherlands, Portugal, and Spain and provides lower shipping rates for the most popular carriers in these countries.
Check if Shiptimize partners with your favorite carrier →
September
Sell on TikTok
Drumroll, please! Because now you can sell products on TikTok, the social media everyone is so hyped about. So bring your products right to the platform where your customers spend most of their time. You can advertise your products in native in-feed ads, creating a seamless shopping experience. Or you can start selling right from your TikTok profile with TikTok Shopping.
The TikTok Shopping is a very fresh feature, so it is currently available for the US and UK merchants only, but soon there will be more countries on this list. Stay tuned for updates!
Crave for details? Find out more about selling on TikTok →
Accept payments with Alipay
Alipay is a digital wallet hugely popular with China customers. If you are expanding your business to the eastern markets, you can add this payment method to your store. In Ecwid, Alipay works through the Stripe payment gateway. Once you add the Alipay payment method, customers will be able to pay you on the web or a mobile device using their login credentials or with the Alipay app.
More payment options in your store with Adyen
Adyen, a payment solution tailored to your business, is now available to connect to your Ecwid store. With Adyen, you can accept all popular credit and debit cards, including Visa, MasterCard, American Express, JCB, and more. Adyen supports most European countries, United Kingdom, the US, Canada, Brazil, Australia, Singapore, and many other countries.
More payment methods for Italy
Great news for Italian merchants! Nexi and Satispay are now available in Ecwid. Make customer's experiences better by offering them these popular payment solutions. Shoppers can pay you with credit cards or with their mobile phones. Want to learn more?
August
No limits on subscriptions
We continue to improve recurring subscriptions in Ecwid. Now your customers can create multiple subscriptions by placing a single order. That way, it's easier for customers to shop from you because they can add products with different subscription periods to cart and proceed to checkout right away. They can also combine the usual products with no subscription period and recurring products in one order.
Haven't tried recurring subscriptions yet? Take it for a spin →
Better sorting of USPS delivery methods
Did you know that the order of displaying delivery methods on checkout can affect conversion? It can! After running some research, we changed the sorting order of the USPS delivery methods that are shown to customers when they place the order. Now, on the first step of checkout, buyers will see the cheapest possible method. That way, they won't be intimidated by the price, meaning less abandoned carts in your store and more revenue. Of course, customers can change the shipping method later on.
Find out the way to connect your Ecwid store to USPS to receive their real-time shipping rates →
Static site generators plugins
Good news for developers or any tech-savvy person. We released two plugins for the popular static site generators — Next.js and Gatsby. Both frameworks can help you build a fast, attractive, and user-friendly site with a unique design. And with the plugins, you can easily add an Ecwid store, your whole storefront, or individual products in the form of Buy buttons to a site built with Next.js or Gatsby.
Check out how Ecwid works for Next.js and Gatsby →
July
Facebook, Instagram, and ad pixel — connect all at once
We updated the way you can connect your store to the Facebook ecosystem, so now there's no need to set up Facebook and Instagram connections separately. The new way of connection is easier, faster and gives you the option to link your online business to your Facebook page, Instagram and Facebook Pixel at once. That means you can start selling on Facebook, tag your products on Instagram, and run ads.
Add navigation menu on Instant Site
Great news for Instant Site users! Now you can add links to different blocks of your site to the top menu and create an outstanding navigation menu. Actually, items in the navigation menu can redirect your customers not only to different blocks of your Instant Site, but to any webpage. You can even set the action on a link to compose email or make a call.
Learn more about how to design a navigation menu for your business →
Show categories menu on Instant Site
No matter how many categories you have in your store, you can now place them in the dropdown in the top menu of your Instant Site. That way, customers can have a quick overview of products you sell and head to the category they were looking for.
Read about how to add categories menu on your Instant Site →
Add CSS codes to Instant Site
If you've been using the new version of Instant Site and really wanted to spice it up with some CSS, now's the time. You can also apply global font settings to save yourself time on setup.
Learn how to use the new Fonts & Styles section in the Instant Site Editor →
Assign categories in bulk
One more Ecwid perk for you, category lovers. You can now assign or remove categories for products in bulk — great way to cut corners and update your catalog literally in seconds.
Here's how you can manage categories in bulk →
June
Connect certain payments with specific shipping methods
Great news for all stores who use both delivery and shipping, sell internationally, or just want to be very specific about how customers can pay for their purchase! Now it is possible to connect a specific payment method with a particular shipping option. That way, your customers will see only the payment methods you choose for the particular shipping/delivery. Say, you can make Cash on delivery available only for those customers who chose a pickup or local delivery during checkout.
Offer customers Google Pay
Make the purchase process easier for mobile users by offering them Google Pay at checkout. The more payment methods you have, the more likely shoppers will complete the order in your store.
Empower your business with Alibaba
One of the largest marketplaces in the world is now ready to boost your sales. Connect your Ecwid store to Alibaba with the help of the Syncee app and import best-selling products to sell them as your own. You can set up your own price for every item you import from Alibaba to your store.
Buy shipping labels from your phone
The same good old international shipping labels but better! Because now you can buy them right from your phone if you sell from the US. Just open your Ecwid mobile app on iPhone or Android, buy shipping labels and print them right away. You can do it in your store, in your warehouse, on your way home, literally everywhere. Try it now!
Use more discount coupons to win customers over
Now you can add almost all types of promo codes to automated marketing emails, even the ones with limits. For instance, you can add the "15% off for all new customers" coupon in the automated marketing emails as an extra incentive to purchase from you. The only type of discount coupon you can't add to the email template is the single-use coupons since they can be used only once.
Edit your invoices
Welcome to the new invoice editor! Now it's easier to edit your invoices (printable orders) — and personalised invoices can help build your brand. Compared to the previous version, you get an improved interface plus, unlike before, you can add extra business details or a footer message (e.g., notes for your customers) without any coding.
May
Google analytics 4
Power up your business with stats and reports from Google Analytics 4. It's a new generation of Google Analytics and it's now available in Ecwid. So, if you've been waiting to try it out in your store, you can do it. And if you've registered in Google Analytics only recently, just go and enter that ID in your Ecwid admin, and you're all set!
International shipping labels
International sales are now easier than ever with the new feature of buying and printing international shipping labels. US-based stores can now buy shipping labels for USPS international shipments right from the Ecwid admin. Rates are lower than retail rates at the post office, and order details are inserted automatically. Plus, USPS includes insurance in some shipments, so no need to worry about that.
Status page
We updated the Ecwid status page, so it's shiny new. Status page shows how different parts of your Ecwid store operates, like storefront, checkout, billing, and so on. What is more, you can now subscribe to the current incident (if that ever happens) and get updates on email about the status of the incident. That way, you will always be aware of how Ecwid operates at the moment.
April
Recurring subscriptions
Drumroll, please. Because now you can sell products and services with recurring subscriptions, meaning your customers can pay you on a repeated schedule. New feature works for stores with the Stripe payment method. The billing cycle can be set to daily, weekly, biweekly, monthly, quarterly, or annually. Once you set up recurring subscriptions, your customers will see a price along with a period of the subscription in your storefront: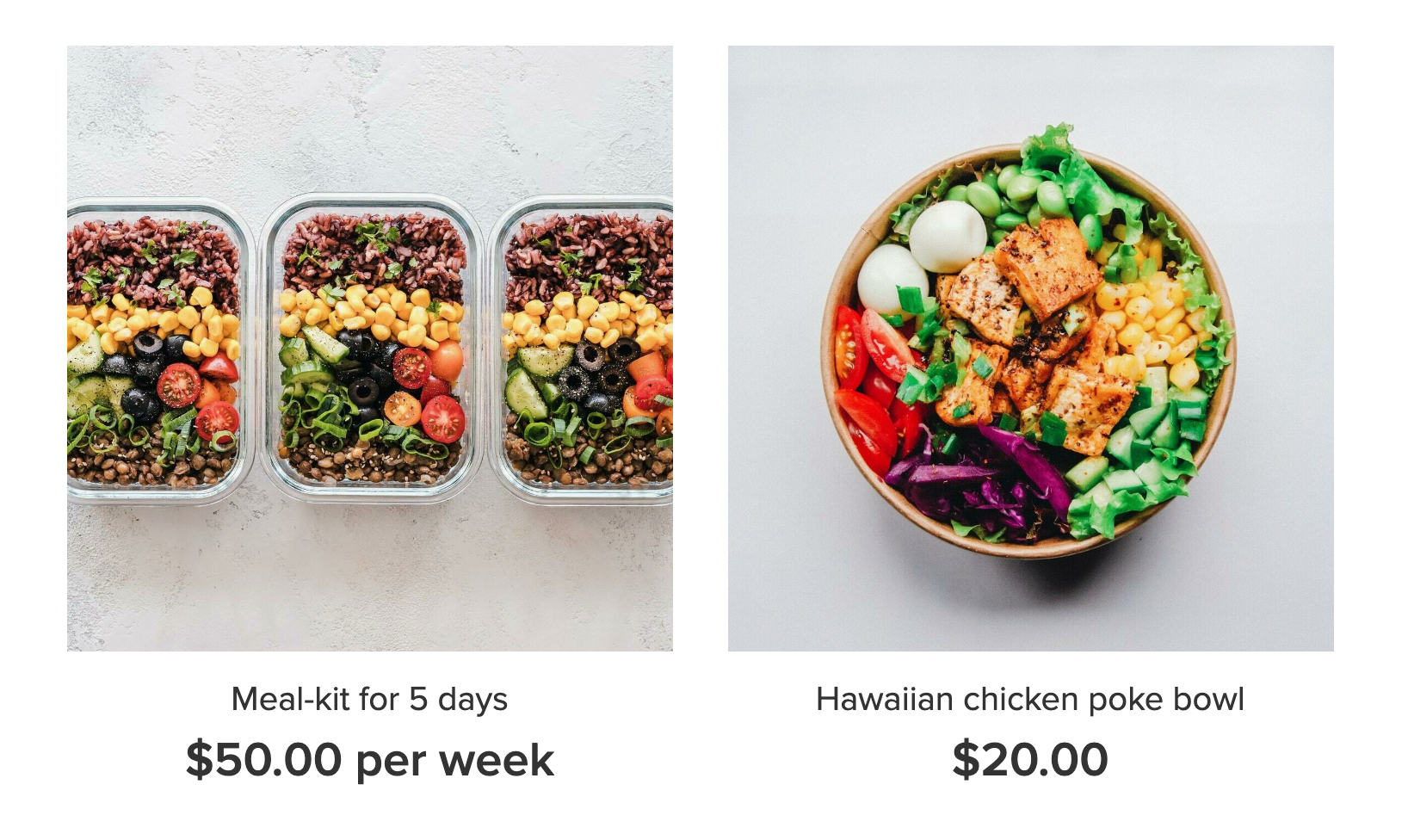 New Instant Site
Create a splendid website for your online store with the new Ecwid Instant Site. Add blocks to tell your brand's story, showcase your products and share customers' testimonials. You can organize the order of blocks the way you want, change content, and adjust design to match your brand look and feel in no time. Add links to your social media, action links to different sections of your site, store menu to create better customer experience.
Bulk product editor
Tired of updating catalog through CSV? Now you can mass update products right from your Ecwid admin. Bulk Product Editor allows you to edit name, SKU, price, stock, shipping settings, and more. You can also edit product variations with it. It's also possible to instantly enable, disable, or delete selected products and to assign/remove categories in bulk.
New payment methods for the UK
More payment solutions for the UK-based shops. Now you can add PaymentSense and Dojo payment methods to your online stores.
Selling on Walmart
Grow your business by adding your store to one of the largest marketplaces in the US, Walmart Marketplace. You can now list your products on Walmart right from Ecwid with the help of the Codisto app. When you sell on Walmart Marketplace with Ecwid, you can manage products and orders from your Ecwid admin. If you sync the stock between the two services, you may be safe that there won't be overselling.
March
Creating tax invoices
Now it's easier to manage your taxes if you sell in the EU, Australia, New Zealand, India, or any other country where invoices are required by law to calculate taxes. You can generate tax invoices automatically or manually and customize the template before sending the invoice to your customers. It is possible to create both regular invoices and negative ones. You can print or download individual tax invoices or download invoices in bulk from your Ecwid admin.
Adding tax-included prices
Great news for customers from Europe, India, Australia, and New Zealand! You can now enter tax-included prices for your products, e.g. the ones that already include VAT in the cost of an item. It's up to you to decide whether to use gross or net prices in your store. So if you get used to work with the tax-included prices, you can now do it with Ecwid.
Ecwid Help Center is available in Italian
Ciao! We've added Italian to the list of languages we write articles in. You can now read our knowledge base in Italian. Every week you can read new articles we translated.
Customizing product ribbons and categories in bulk
Need to quickly update product ribbons? You can now add, update or delete product ribbons in bulk in a snap of fingers right from your Ecwid admin. That comes in handy when you want to run a sale and need to highlight most of your products, or if you change the store design and want to adjust ribbon's colors to match the style. You can also assign and remove categories for products in bulk.
Dropshipping with Spocket and Syncee
You can now connect your store with two popular dropshipping services — Spocket and Syncee. Both methods are connected via the apps from Ecwid App Market. With dropshipping, a third-party company (usually, it's a manufacturer or a wholesaler or a fulfillment company) produces, stores, packs, and ships products, so all you have to do is to promote and sell products in your store.
February
Connecting with Katana
Are you manufacturing your own goods? Then it's great news for you. You can connect your store to Katana — an inventory management service for direct-to-consumer manufacturing brands. Katana helps you track raw materials and finished goods, calculate operations costs, and more. Once you connect your store to Katana, your orders will be transferred from Ecwid to Katana so you will know what goods need to be manufactured.
January
Pay What You Want pricing
Erase the maximum price ceiling in your store by offering customers to pay what they want. With Pay what you want pricing option you can let shoppers name their own price for your products and accept donations. Just limit the minimum price and indicate recommended prices if you want to. Customers will be able to pay any amount above the recommended minimum.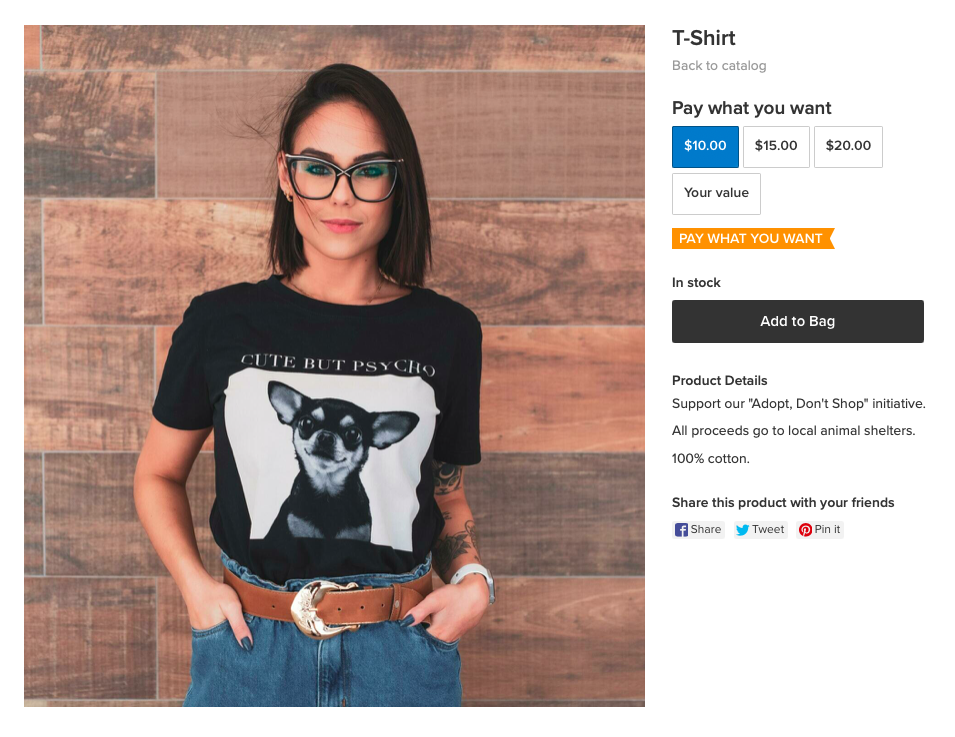 Delivery through service points in Europe
Now you can add popular carrier services from Germany, France, Spain, Italy, and the UK to your store and let customers choose to pick their orders from delivery service points. You can add pick point delivery through the SendCloud app.
Approximate delivery date at checkout
Your customers now can see the estimated delivery date during the checkout. The delivery date is calculated based on how long you prepare the order, your business days and hours, and estimate transit time. You can customize all these while setting up the delivery. A clearly stated delivery date creates a better customer experience making it easier for shoppers to choose the carrier.
10