Order pickup
In addition to regular shipping, you can set up a local in-store pickup through the Ecwid shipping settings. Your customers can stop by your location to pick up their orders instead of waiting for a courier service to ship them out. Plus, customers don't need to enter shipping information, so they can checkout faster.
Setting up order pickup
Watch this short video about setting up order pickup:
To add an order pickup option to your store:
From your Ecwid admin, go to Shipping & Pickup.
Click + Add Pickup.
Add the Order pickup label. It will be displayed to customers at checkout: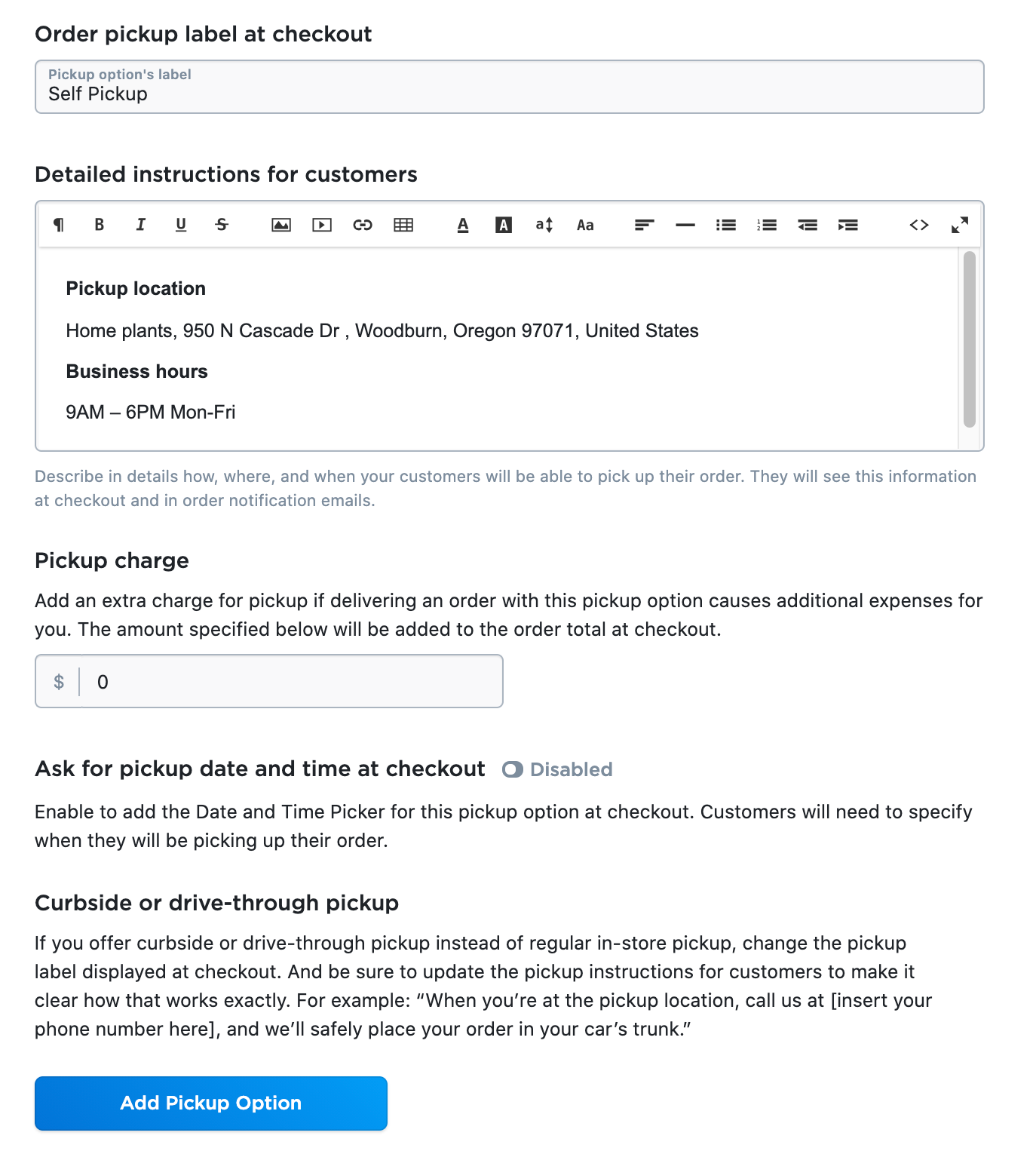 Add the Detailed instructions for customers. Specify the address where customers can pick up their orders, explain how and when customers can collect their purchases.
Add Pickup charge, if necessary (for example, if you need to cover your expenses for delivering goods to this pickup location).
Turn on the Ask for pickup date and time at checkout toggle. That way, customers will have to specify time for collecting their order. Set up your business hours and convenient order fulfillment time. Read more detailed description on the date and time picker below in this article.
Click Add Pickup Option.
Now your customers can choose the local pickup option for their orders at checkout.

In case you want to offer order pickup for specific products only, you can enable this shipping option for certain items and disable it for the rest in your store.
You can also limit payment methods for order pickup. For example, offer customers only cash payments and disable paying with credit cards. 
In case you have multiple locations available for pickup, simply add more pickup options following the same steps. Specifying each location address in the Pickup option label field lets your customers differentiate the pickup options easily.
Setting up pickup date and time
You can enable the date and time picker for your local pickup option. Pickup date and time picker takes into account your business hours, so customers won't be able to order a pickup when you are closed.
To set up the date and time picker:
From your Ecwid admin, go to Shipping & Pickup. On the Ecwid app, tap Store → Shipping & Pickup.
Choose a pickup option you want to edit or create a new one.
Enable the Ask for Pickup Date and Time at Checkout option.
Set your business hours.
Select the convenient Order Fulfillment Time.
(optional) In the Allow choosing delivery date within, specify the maximum possible delivery date that your customers can choose in the date picker. If you are not sure an item will be in stock in a month, you can set a restriction so that customers can make an order no later than a date you pick. You can choose to limit delivery with a month, 3 month, 6 month and a year.


In the Blackout dates section, click + Add Blackout Date or Date Range to set up specific dates when your store doesn't work, so customers won't be able to choose these dates for pikcup. To repeat blackout dates every year, mark the Repeat every year checkbox. 
Click Save.
Now when your customers choose to pick up their order at the checkout, they can select the preferable day and time according to your business hours and order fulfillment time.
You will know what day and time the customer has selected at checkout from the email notification for this order, and when you are viewing the Order Details in your Ecwid admin, go to My Sales → Orders.
Suppose you have several physical locations for in-store pickup. In that case, you can
create different pickup methods
in your Ecwid admin to represent multiple pickup locations.
Managing pickup orders
When a new pickup order is placed in your store, you can find it among other sales in the My Sales → Orders section of your Ecwid admin. The pickup order has the following icon: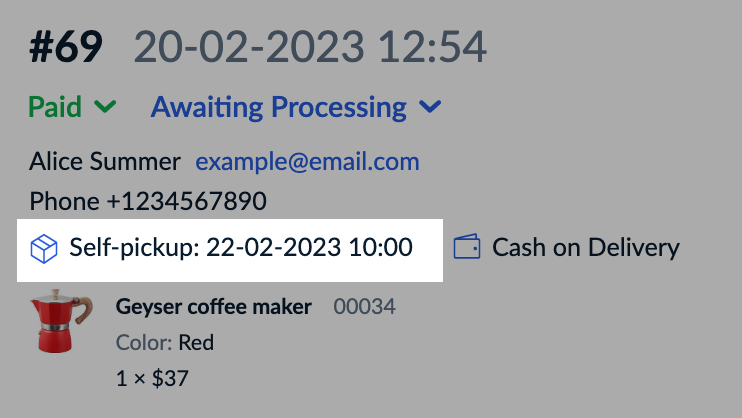 To learn more about processing your pickup orders, read the Managing local orders and pickup article.
To learn how to download the list of orders, read the Exporting orders article.
Modifying the "Ready for Pickup" email template (advanced)
You can customize your "Ready for Pickup" email notification by adding a logo or changing the color scheme, font, or adding additional details.
Ecwid sends out the notification Order is Ready for Pickup to the customers' email address when you change the order status to Ready for Pickup. The notification provides the details about purchased items and the pickup instructions.
To edit the template:
From your Ecwid admin, go to

Settings → Notifications.
Choose the Order is ready for pickup notification and click Edit: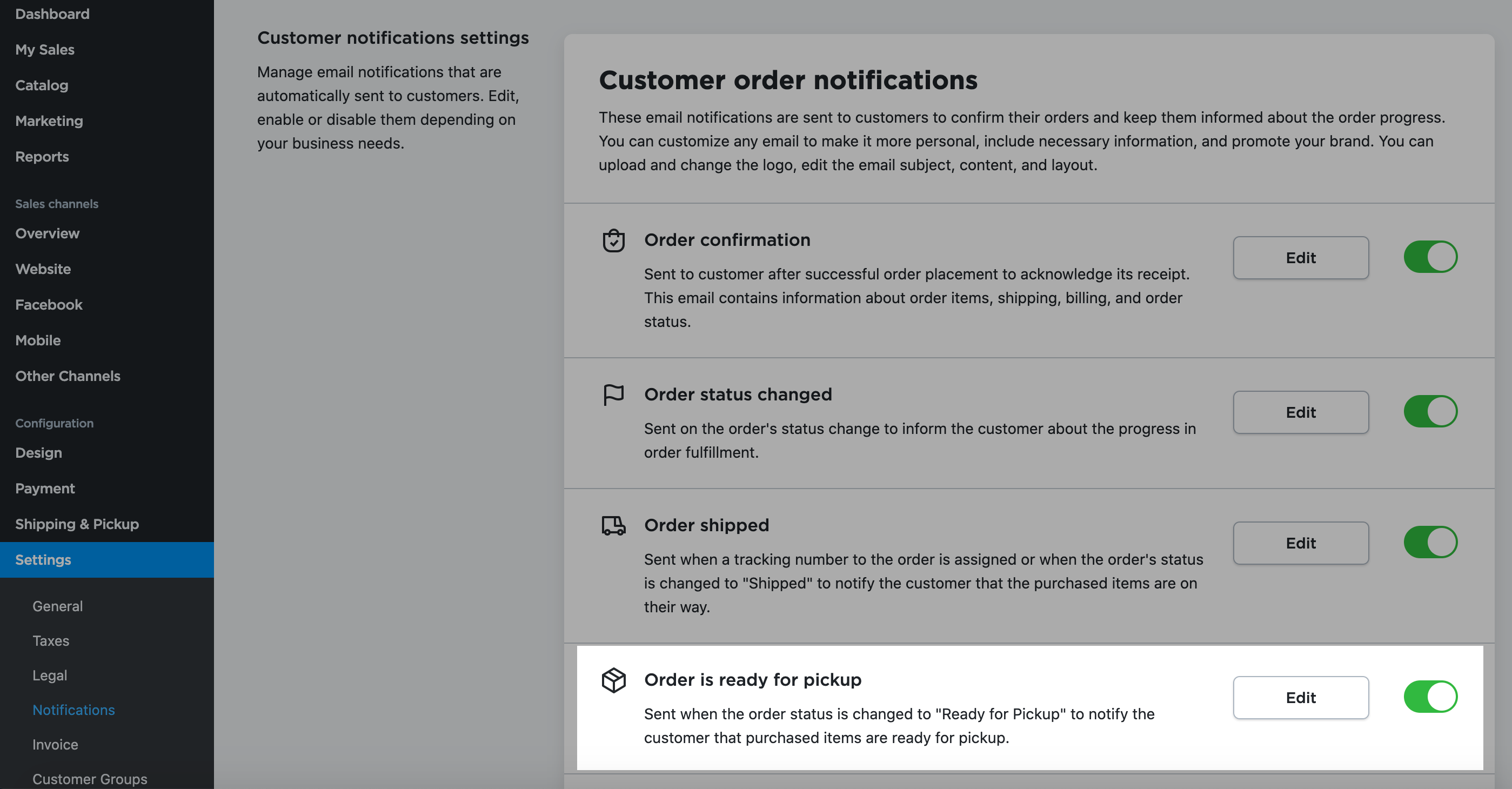 Modify the template as needed.
Click Preview email or Send a test email.
If you need to reset a template to its default, click Revert to default below the template editor.
Related articles
Choosing the right shipping for your store
Product specific rates
Sell on the Go: Create Orders on Mobile
10