You can point a custom domain to your Ecwid Instant Site. Having your own domain makes your business look more professional and helps your site gain higher ranking on Google and other search engines.
If you have a domain from Bluehost, you can link it with your Instant Site by specifying the domain name in Ecwid admin and adding two records to domain settings in your Bluehost account. It may sound complicated, but do not worry, we will guide you through the process. Once everything is set up, your Ecwid Instant Site will open at your domain name, via secure HTTPS connection (i.e. the web-address will begin with https://).
Setting up the domain in the Ecwid admin
To link your domain with your Ecwid Instant Site, you should first enter the custom domain name in your Ecwid admin:
From your Ecwid admin, go to Website.
In the Instant Site address block, click the Change URL button: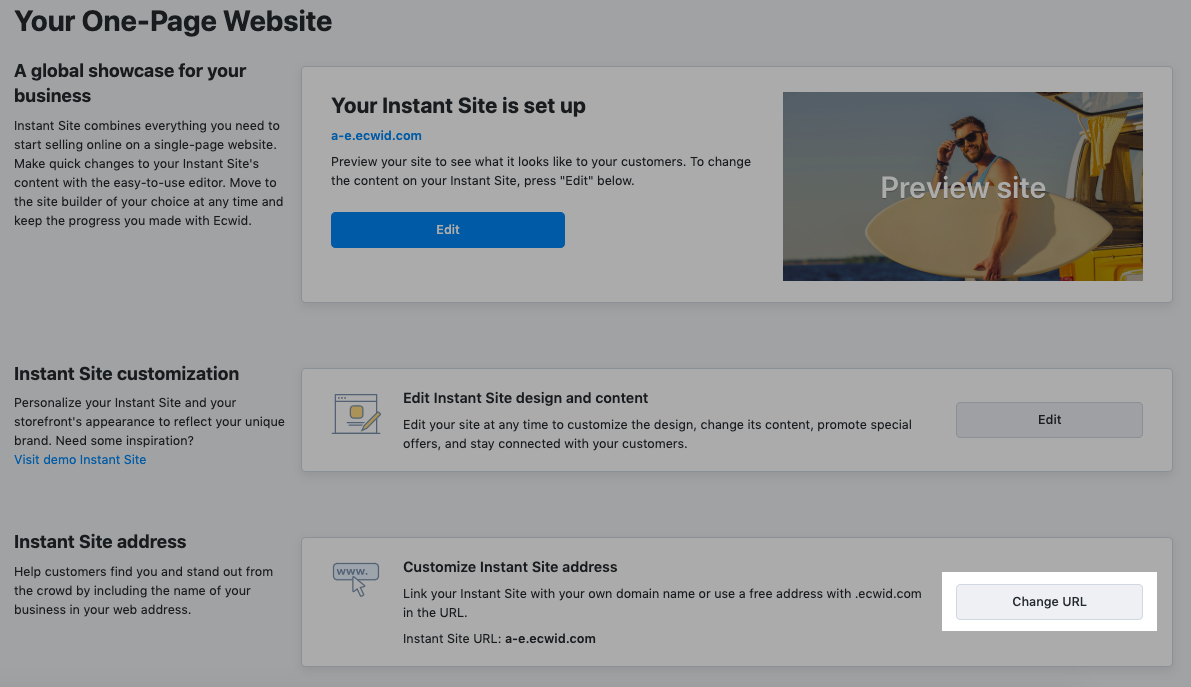 In the pop-up window that you'll see enter your custom domain in the Use your own domain name field (you should enter your root domain, i.e. without www part):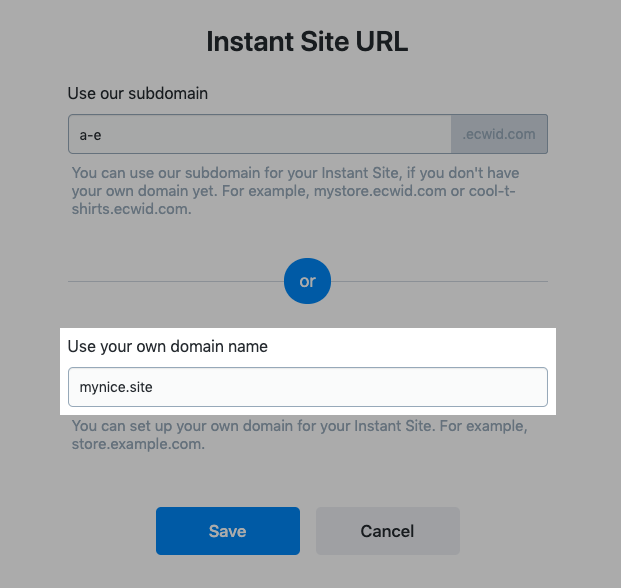 While you're entering the domain name, you can see the instruction for a further domain setup. Copy the Ecwid's IP-address that is offered to you there (3.211.60.235, or 23.23.44.201, or 34.193.83.23) as you will need it later: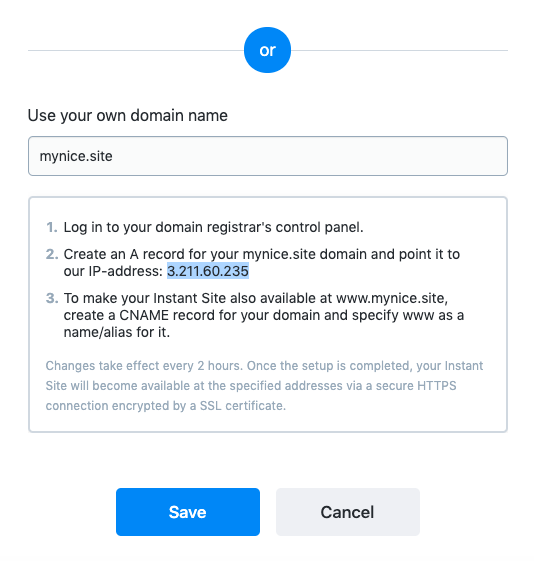 Click Save.
Setting up domain in Bluehost account
Sign into your Bluehost account.
Click Domains.
In the Manage dropdown, next to the domain that you're linking to your Ecwid site, select DNS: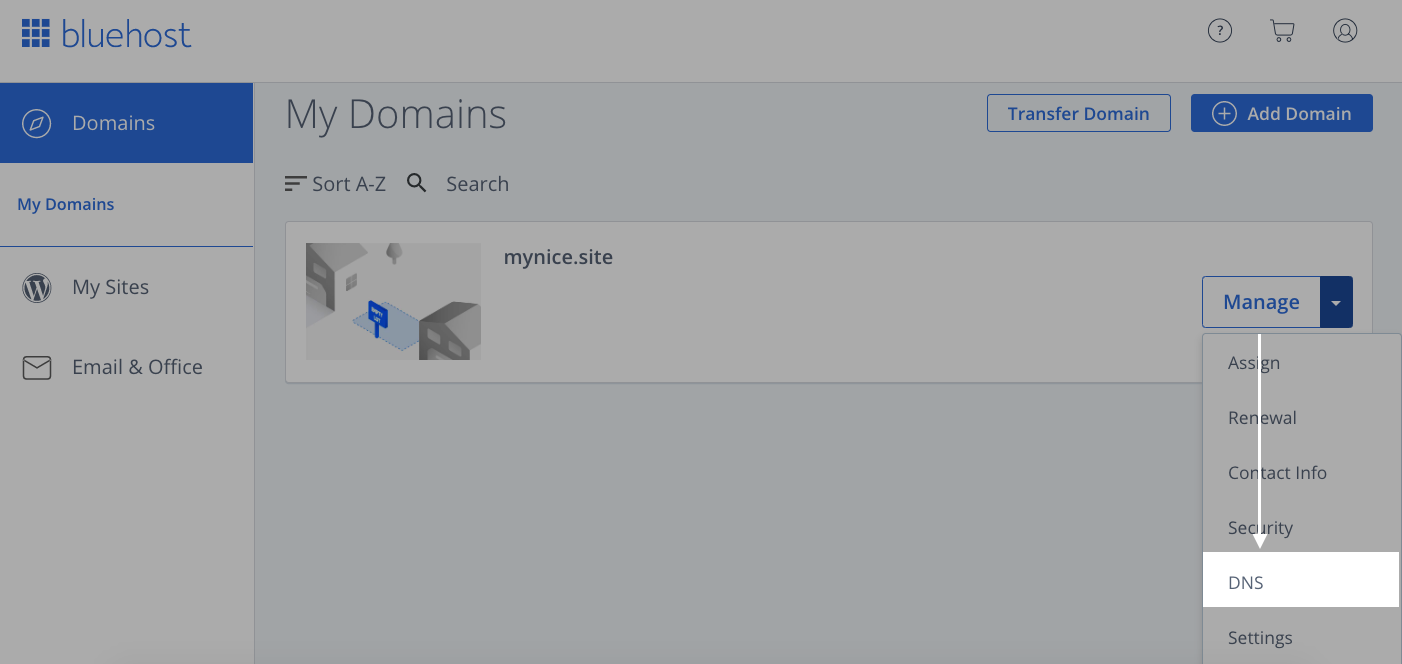 Scroll down to A (Host) and click Add record: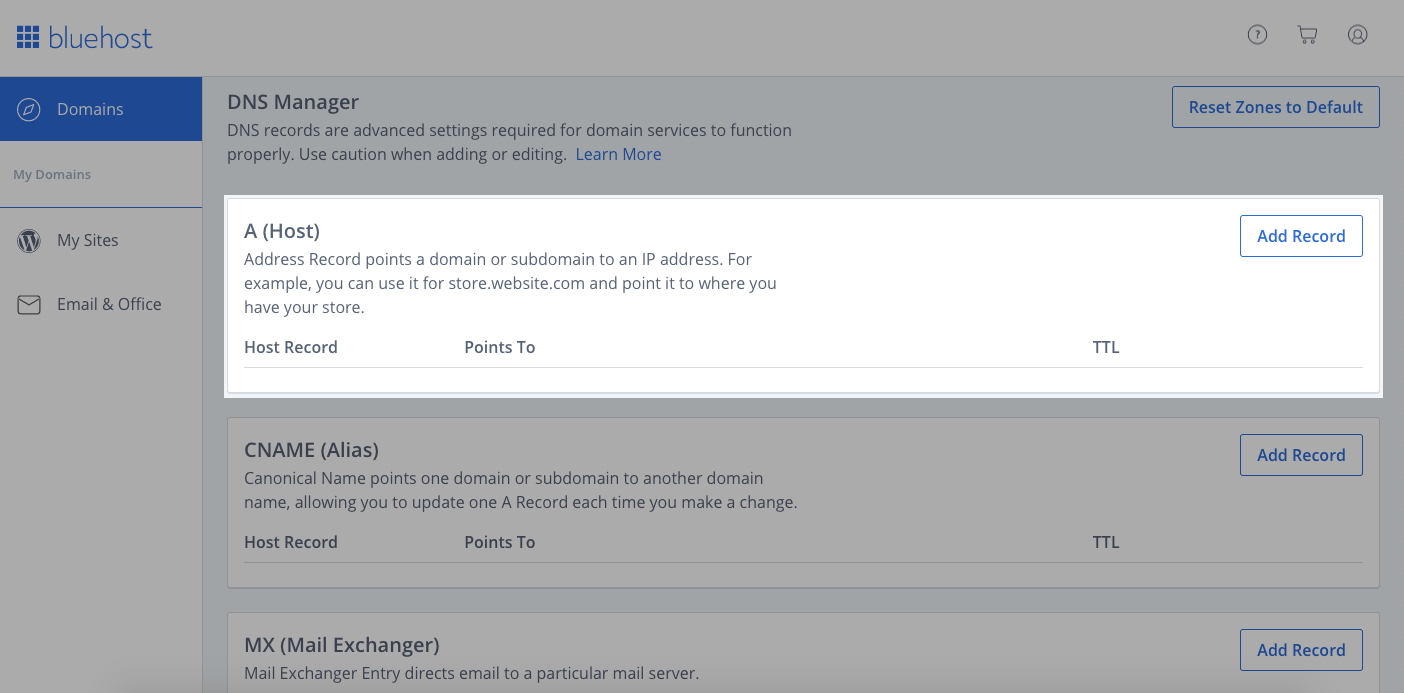 Add the data for this A record:

In Host Record, enter @.
In Points to, enter the IP address that you've copied earlier from your Ecwid admin.
Leave TTL as 4 hours.
Click Save.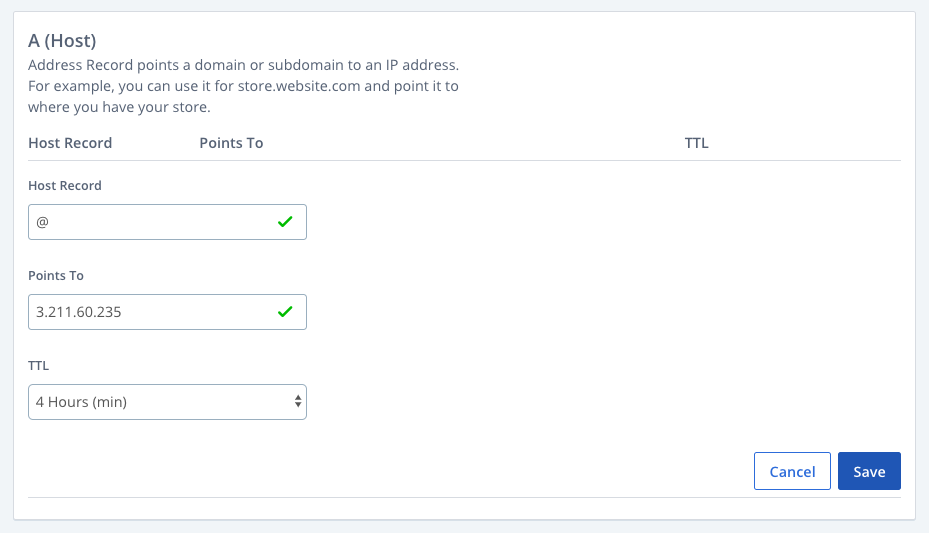 Make sure to delete other A or AAAA records from your domain settings as they might conflict with this new A record pointing to your Ecwid site.
Now scroll to CNAME and click Add record: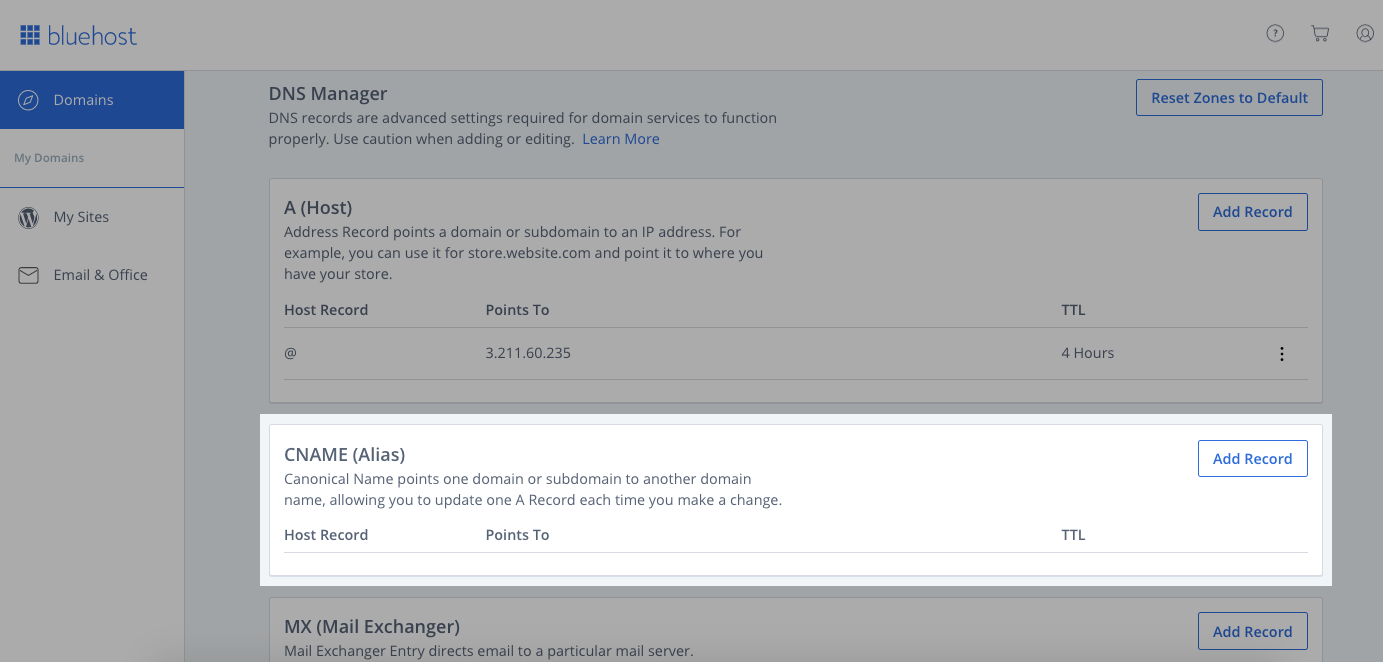 Add the data for this CNAME record:

In the Host Record field, enter the subdomain www.
In the Points To field, enter your root domain (it's mynice.site in our example).
Leave TTL as 4 hours.
Click Save.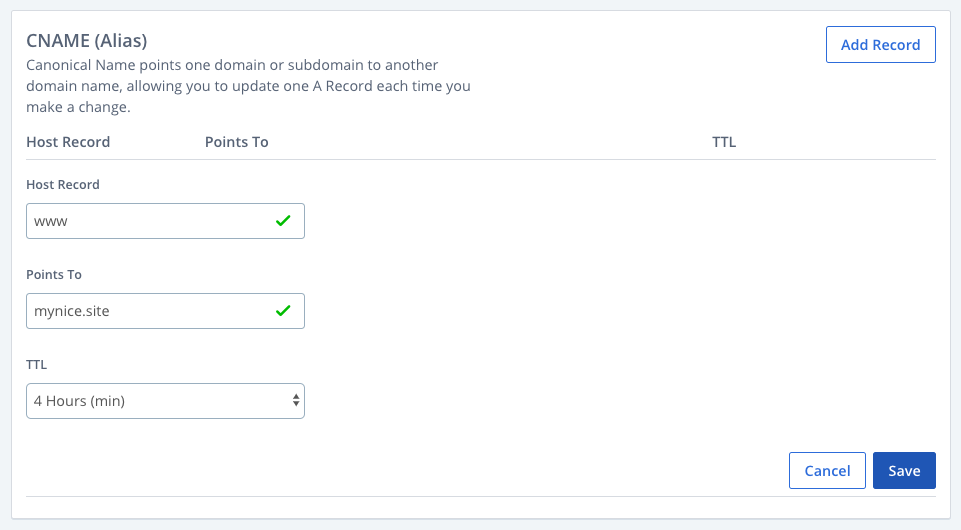 That's it! You've added both records for your domain: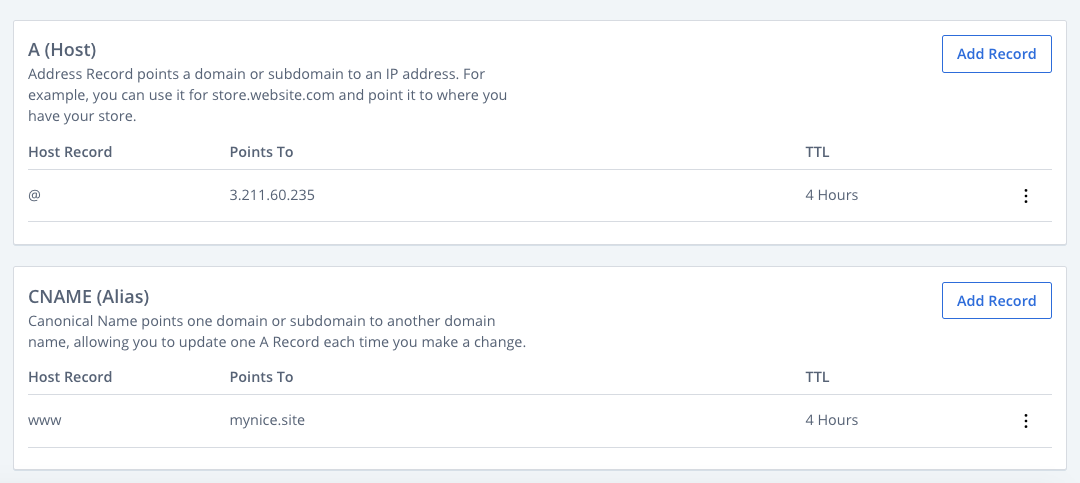 Now you should wait a bit till the DNS changes propagate. It may take up to 24-48 hours for the changes to take effect, but in most cases it takes no longer than two hours. After that your Instant Site will be available at your own domain via secure HTTPS connection (https://mynice.site, https://www.mynice.site).