Upgrading your Lightspeed eCom to E-Series (Ecwid)
Lightspeed E-Series, or Ecwid as it was called before joining the Lightspeed family, is a powerful e-commerce solution for you to sell online. Once you upgrade your store to E-Series, you need to make sure everything is performing well.
This guide will navigate you through the basic setup that needs to be done after the update since not all of your store data is migrated automatically. You will have 30 days to set up your store.
Once you complete the setup, you can explore the E-Series (Ecwid) Help Center to see what E-Series has to offer. Here are some examples of what you can do: expand your business to sell on social media and marketplaces, sell subscriptions, specify zones for worldwide or local delivery, add custom checkout fields, manage your store on the go with the mobile app, and more. See the features breakdown in the article. (All features in the list are available to you)
Data migration from C/R-Series to E-Series
During the upgrade, your store settings and catalog will be transferred automatically from C-Series or R+C-Series to E-Series. Lightspeed engineers try to make the upgrade as smooth as possible. Still, there are some technical limitations for what can be transferred so you may need to set up some things manually.
What data is migrated
Store settings: your store and company name, address, phone number, currency, weight and distance units.
Catalog: products and their titles, description, images, prices (including original, sale and wholesale prices), weight and dimensions, attributes, product options and variants, related products, inventory level (for R-Series stores stock level is automatically synced from R back office).
Product categories
PayPal and offline payment methods
In-store pickup, cash-on-delivery and weight-tier based shipping methods
Customer data: name, address, email, phone number, billing and shipping address, customer group (E-Series only allows customers to be in one group at a time. If your client were in several groups, they will only appear in the first group they were added in)
Google Analytics tag
Facebook Pixel
Cookies policy
Your customers' accounts. They will be able to login to their accounts by receiving a login link to their email
All active discount codes
Site theme (currently only available for the Ignite and Conform Plus themes)
Product SEO details
HS Codes
What data is not migrated
Order history
Service tickets and appointments
URL redirects
Apps
Site domain
URL structure (that is needed for SEO)
Taxes
Integrated shipping methods
Integrated payment providers
Employees permissions to login to the back office. You will need to create staff accounts.
You or your employees will have a 30-day setup period to prepare your store and site to go live. During that period, you will have access to your C-Series admin. Sections below will navigate you to the on-point instructions to overcome settings gaps. Steps are organized in a way to help you get your site and store fully ready before you connect a domain and go live, but you can start with any step.
Step 1. Connect payment methods in your E-Series store
To make sure that customers can pay you, you need to set up a payment provider. A payment provider lets you accept credit card payments securely. Your offline and PayPal payment methods are transferred, so you have to connect other providers.
On the Payment page of your E-Series admin, you can set up how to get paid. The most popular payment solutions are integrated with E-series:
Learn more about setting up payment options →
Step 2. Set up shipping methods in your E-Series store
Setting up shipping rates and shipping methods correctly before you launch your site is one of the most important things. Correct shipping rates help to avoid unexpected shipping costs or overcharging customers.
On the Shipping & Pickup page of your E-Series admin, you can set up your shipping methods. That includes getting live-time rates from the most popular carriers, setting up local delivery, customizing shipping zones and their rates. The in-store pickup and cash-on-delivery methods that you had in C-Series are already connected.
Here's an example of live-rate set up:
These articles will help you get your head around shipping:
Step 3. Configure taxes in your E-Series store
Depending on your location, there are different rules and regulations about sales tax that apply to your products. To make sure that your store meets those rules, take some time to set up taxes.
E-Series has more robust and accurate tax settings. For example, you can set up different tax rules per product type (food/alcohol/baby clothes); different city/county/state tax in the US per address.
You can enable automatic tax calculation. As a result, the up-to-date tax rates of your region will apply to all products. As an alternative, you can set up manual taxes to create a complex taxation scheme tailored to your business.
For a deeper country-specific tax setup overview, visit the Country-specific tax setup section of the Help Center →
Step 4. Design your site
When you upgrade your store, you have two options depending on what site theme you had in C-Series:
For Ignite and Conform Plus themes, your site is transferred as is and you don't need to set it up. Still, you can explore the new website editor and adjust the design to your liking.
For another theme, your site is not transferred, and you have to re-build it. Since you will retain full access to your C-Series during the setup period, you can open C and E-Series side by side and copy paste the information based on your liking, or copy text to documents and photos to your device, and then add them to the new site.
In E-Series, the site with an embedded online store is called Instant Site, and here's an example of how it may look: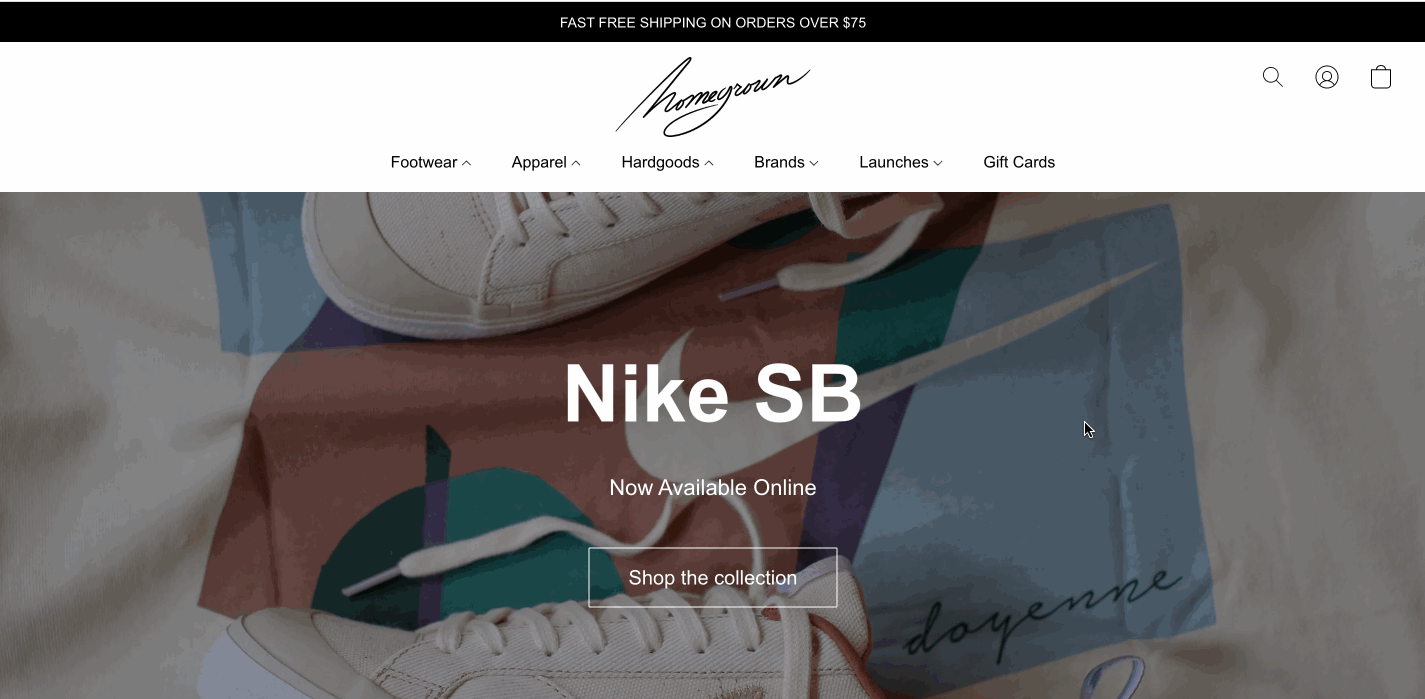 Your Instant Site is pretty flexible to customize. Here's what you can do:
Building your site or adjusting its design is pretty much straightforward:
Choose a template for your site if you set it up for the first time.
Add sections like customer review, promo, announcement bar, or others.
Replace pre-made content with your own texts and images and arrange sections to your liking.
Publish the changes.
That's it. Your site is ready.
Watch the quick video to get a quick overview of the Instant Site Editor, or read the detailed guide on configuring design of your Instant Site →
Step 5. Connect domain to your E-Series site
When you upgrade your Lightspeed eCom, your C-Series site remains connected to your domain. At the same time, you get a new E-Series Instant Site located on a new E-Series free domain that ends with ".company.site". For example, flowers-in-oregon.company.site.
You have 30 days to disconnect your domain from the C-Series site and connect it to your new site. Connecting the domain usually takes from several hours to two days.
To connect your domain to your E-Series site, you need to make manual changes in your E-Series admin and in your domain admin.
Learn how to connect domain to your Instant Site →
Step 6. Adjusting SEO for your site
When you upgrade your Lightspeed eCom, you get a new site. Your product SEO details are transferred automatically so you don't need to set that up.
However, the URL structure of your previous site is not transferred. Since your new site has a new URL structure, Google considers it as a new site, even if it was transferred automatically (that happens for Ignite and Conform Plus themes). That potentially can affect their SEO rankings. You can adjust SEO settings to avoid losing traffic. Your main move here is to ask Google to recrawl your URLs.
Learn more on how to improve SEO for your site →
Next steps
Once you set up your store and go live, take a further look at managing your online store. For better store management, you can try the Ecwid mobile app. It's basically your store admin that fits in your palm. When it comes to managing catalog, you can use barcodes to quickly find and update products, take product pictures and upload them right away.
Watch the video tutorials or read detailed instructions about products and orders:
Before adding products. If you use R-Series, you can add new products both from your E-Series admin or R-Series back office. The products will sync either way. However, if you need to create a product with variations, you need to do it from the R-Series back office since E-Series doesn't allow creating product variations.
10