How to sell art online
If you make art and are thinking about selling online, you've come to the right place. With Ecwid, you can both start your own online store to show your artwork to millions of people and provide customers with a convenient and fast way to buy your art.
Whether you are an artist, a designer, a DIY-er, or selling the works of other artists, Ecwid will work for you. It is easy to sell any type of art on Ecwid, for example:
Photos
Postcards
Illustrations
Paintings
Sculptures
and other works of art.
Apart from selling tangible goods, you can also sell masterclasses and services.
In this guide, you will learn how to set up and customize your Ecwid store to sell your artworks, products, or services.
Step 1. Sign up with Ecwid (for free)
Signing up with Ecwid is simple; you just need an email address to create your online store.
You can sign up for free on our website or download the Ecwid mobile app for iOS or Android to create your store right from a mobile device.
After signing up, you will get your own online store on the Free plan with a website that you can customize and use for free. At this point you can add up to 5 products to your catalog, set up shipping and payment methods, configure your store design, and start selling right away. You can upgrade anytime to enhance your store functionality.
Upgrading your account to a paid plan
Step 2. Create your catalog
For each service or artwork that you want to sell in your store, you will need to create a product in your store catalog. You can create products in the Ecwid admin panel or use the Ecwid mobile app.
On a desktop computer, create new products in your Ecwid admin panel in Catalog → Products.
In the mobile app, go to the "Products" tab.
Read more about adding, updating and deleting products
Think about letting your customers offer their own prices for your products. The Pay what you want pricing allows you to set a minimum price with no upper limit.
Depending on what type of products or services you are going to sell, you may need to make some adjustments to your product settings - check out the tips and advice below.
Ready-to-ship items
If you sell ready-to-ship items, it's important to keep track of the stock so you do not oversell.
Here are some ways you can keep track of your stock:
Set the stock for each product
Specify how many items of each product you have in stock, i.e. how many items customers can buy from you. Once a product is out of stock, customers can't buy it anymore (unless you enable pre-orders).
Learn more about product inventory tracking here.
Hide out of stock products
If you sell unique products that are one of a kind, i.e. paintings or sculptures that you never make copies of, you can automatically hide out of stock items from the storefront. Thus, once a painting or a sculpture is bought, customers won't see it anymore in your store.
Set up low stock notifications
To make sure that you resupply your stocks on time, set up low stock notifications. In each product's setting, specify the stock level at which you want to be notified about having low stock.
Learn more about Ecwid's "Low Stock" email notifications here.
Made-to-order items
When you create custom items, it's important to gather details from your customer to provide them with the exact result they want. Also, you will need to be clear about how long it takes you to make a customized product and when the customer should expect to receive it.
To help you sell made-to-order items with Ecwid:
Get the required info using product options and input fields
Use drop-downs, radio buttons, checkboxes, or text fields to let customers choose from existing options or type their own message. For example, if you sell postcards, add a drop-down option to let your customer choose the colors of a postcard, and use a text field to ask what message to write on the card: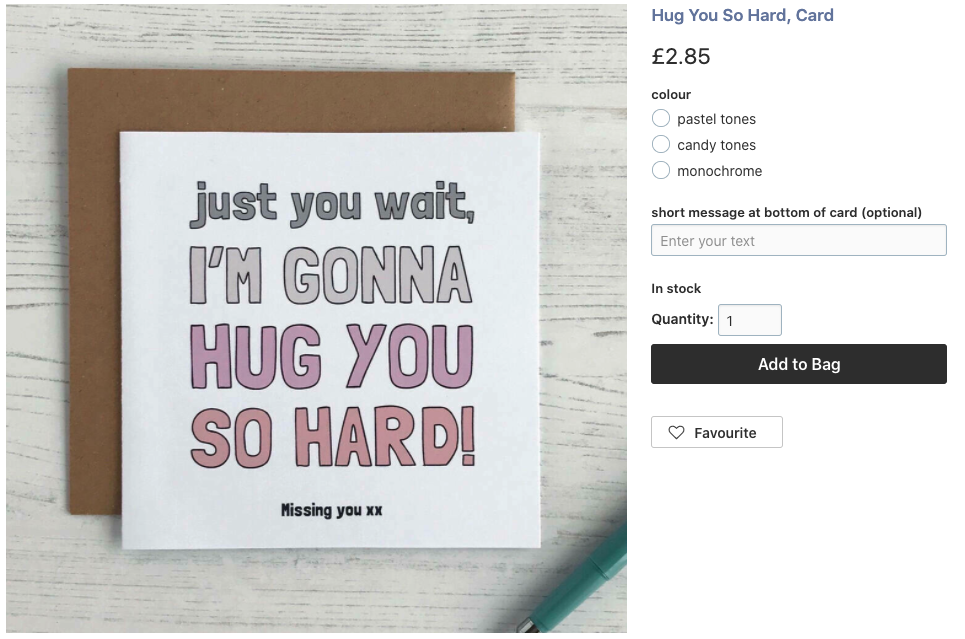 Learn more about product options and input fields.
Show images of a product with different options
If your products are available with different options such as colors or materials, create product variations to show what a product looks like with these different options. For example, if you sell posters, you can use variations to show what it looks like in different colors, with or without a frame, and so on.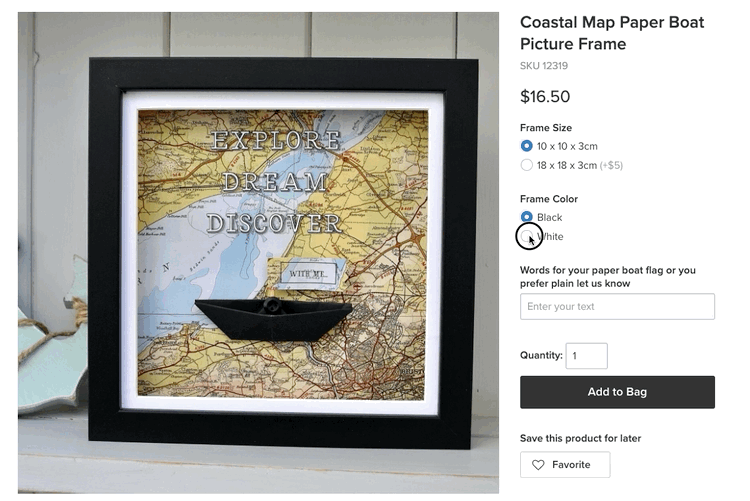 Learn more about product variations here.
Set clear expectations
Clearly state how long it takes you to produce and ship an order so customers know what they should expect in advance. This also gives customers an idea of when to order an item if they want it delivered by a specific date. You can specify your timeframe on your store home page, add a note at checkout using the Checkout Notice app, or write it in the product description.
Services
When offering services, make sure that customers understand what kind of service you offer, when they will receive that service, and how they can access it.
The following tips will help you set the right expectations with your clients:
Write detailed descriptions
To avoid any confusion, clearly state how you will provide the service and what exactly the customer will receive. For example, if you sell interior design services, specify the steps you take to provide the service, how long it takes, and what final results the client can expect (e.g. you will send recommendations by email or print a booklet).
Learn how you can divide detailed product descriptions into collapsible blocks.
Agree on a date to provide a service
There are various ways of how you can agree on dates for a service: add a date picker as a product's input field, show available dates in a drop-down, or add a Google calendar. Also, it's always a good idea to contact the customer after the order is placed and double-check with them that the selected date works for both of you.
Learn more about how to accept bookings here.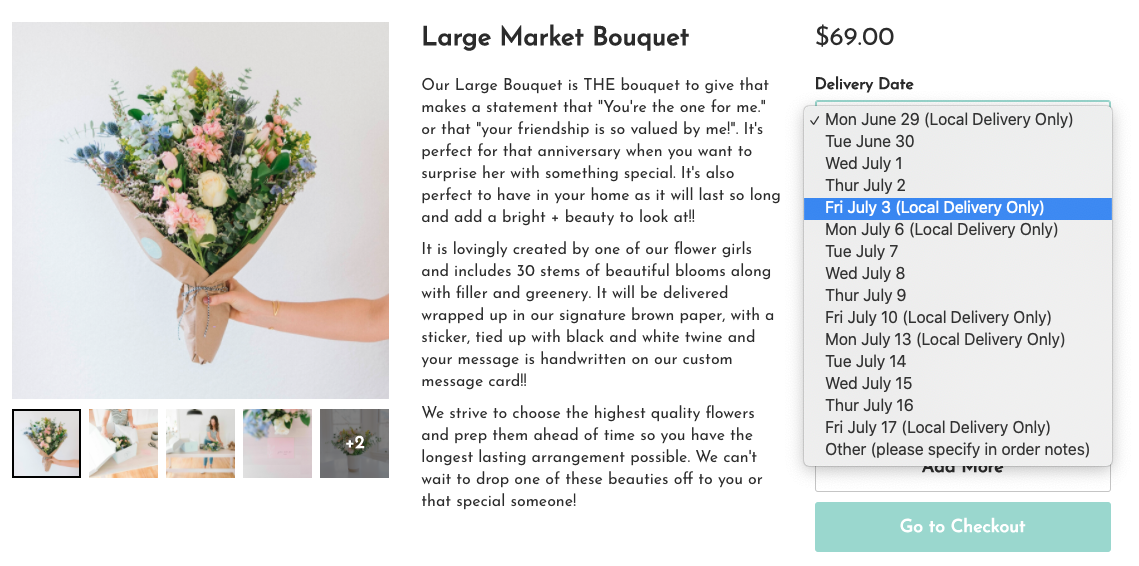 Masterclasses
There are two ways to sell masterclasses:
Sell video masterclasses
You can record your masterclasses and then sell these videos to customers. You will need to upload a video to your store only once, and then your work is done. When someone buys a masterclass from you, Ecwid will automatically send the download link to the customer.
Learn more about selling digital products here.
Sell spots in your offline masterclasses
If you give offline masterclasses, for instance where you teach people how to paint, you can use your online store to sell spaces in your masterclass. To limit the number of participants, use the stock feature in Catalog → Products → product details. Specify the maximum number of participants in the "Quantity in Stock" field:

Works by other artists
If your catalog contains works by different artists, consider the following options:
Create clear navigation
Organize the artworks into collections by artists, styles, or any other criteria. You can do this in Ecwid by adding products into different categories. The same product can belong to multiple categories. For example if you sell paintings, you can assign the same painting to the "Impressionism" category and the category for a particular artist.
To create categories and assign products to them from your Ecwid admin panel, go to Catalog → Categories.
Learn more about assigning products to categories here.
Use attributes to advertise more information about each work
You can display product attributes on the product details page. This is a good place to show such details as: the name of the artist, the date when the work was created, the style, etc. Such details will help the visitor learn everything they need to know about a piece they're interested in and will make your website more searchable through Google.
For more detailed information, you can see our post on how to create product attributes.
Step 3. Personalize your website
When you sell online, your website represents you and your art. Make sure that your website communicates your style and individuality and shows how you differ from other artists and stores.
After you sign up with Ecwid, you can use Instant site — a free website with a built-in storefront. You can customize your Instant site to match your brand and style: configure its design, add your content, set product page layouts, etc.
Here are some ideas for how you can personalize your Instant site:
Adjust your storefront design
With Ecwid's built-in settings, you can add website blocks to your liking, upload images, change fonts and colors, set up the layout of product pages, select how product images display, and a lot more.
Learn how to configure the design and content of your Instant site → 
Talk about yourself
People like stories. You can earn the trust of customers by describing how you started making art, including photos of your workshop, sharing details of the process, and telling everyone more about yourself. For example, you can add a photo of you working to the store's cover image or talk about yourself and your works in the "About Us" section of your storefront.
Share your contact information and social media links
Show your store's visitors how they can contact you if they have questions about your artworks. You can include your email and phone number, or also include your social media links so your store visitors can follow you on Facebook, Instagram, Pinterest, etc. Social media is one more channel where you can share news, explain more about your works, and talk to your potential customers.
To add contact information, go to your store admin panel → Website → Edit Site → Contact Us block.
Set up a custom domain name
When you sign up with Ecwid, your store address (i.e. the domain name) looks like this: https://store12345.company.site - you can change this domain to a custom domain name that customers can easily remember and recognise.
Learn more about how to connect your own domain to your Ecwid store →
Step 4. Set up payment methods
To start selling online, you should decide how you will accept payments, and then set up appropriate payment methods in your store.
You can set up several payment options and let customers choose to pay online or offline. For example, you can let customers pay online with PayPal or pay in cash when they pick up an order from your workshop.
Learn how to set up:
Online payment gateways
Manual (offline) payments
Step 5. Set up shipping methods
You will then have to decide how you will ship orders and set up the appropriate shipping methods. You can set fixed shipping rates, rates based on the weight or subtotal, or use carrier-calculated shipping method rates. See our video tutorial on how to choose and set up shipping methods:
If you have a workshop or physical store where your customers can pick up their order, set up order pickup. Learn more about order pickup here.
Think about how you will pack your orders. The packaging is also a part of the customer experience. Think about interesting packaging that will reflect your style and show customers that you care about them.
Learn more about packaging in our following blog posts:
Step 6. Explore other sales channels
With Ecwid, you can sell products on social media and other marketplaces in addition to your Instant site or your personal website. The best part is that any sales and product stock updates will be synced between the platforms. That means that you can keep managing the store from one place — your Ecwid admin, and still make sales from different sources.
Here is a list of platforms, with a link to a blog post with more information, where you can sell your products:
Step 7. Upsell and cross-sell
Upselling is when you offer a premium version of a product. Cross-selling is when you suggest related or complementary product options to customers based on items in their cart or purchases. Both these methods can help you increase your revenue.
Think about what products in your store go together and what premium options you can offer.
Here are some upselling and cross-selling ideas that you can use in your store:
Add complementary products
Think about what complimentary products you can offer in addition to what you already sell. For example, if you sell painting masterclasses, your customers may also want to buy watercolors and brushes from you.
Show related products
Ecwid has a built-in option that lets you show related products on the product details page and on the checkout page. Use this option to recommend to your customers what products work or look good together. For example, if you sell small art pieces, use the related products option to show pieces that go well in pairs or groups.
Offer customization options
If your products can be customized, give your customers the option to do so. You can give some free options like choosing a color or charge extra for something such as framing a painting.
Offer gift wrapping
If your customers often buy your products as a gift for someone else, offer a special gift wrap. You can offer it as a product option on a product page.
Sell gift cards
Let customers buy gift cards in your store that the receiver can use to buy products in your online store. It's a great option for those customers who are not sure what to give as a gift.
Learn more about gift cards here.
For more ideas on how to promote your store and increase revenue, check out these blog posts:
🗂️ Relevant Ecwid apps:
Adaptive Sales: Boost your sales per each customer!
Next steps
So, you've added products, set up your store, and configured the design. Congratulations!
Now you are ready to promote your store and receive orders. Here are your next steps:
Place a test order in your store.
This way you can check that the store works properly and your customers will have a good shopping experience. You can also ask your friends and family to browse the store and give you any feedback.
Promote your store.
Add your store's link to your social media profiles - Instagram, Facebook, Twitter, etc. Consider creating a separate Instagram account for your store and set up product tagging there. Advertise your store with Google Smart Shopping. See more ideas on the Marketing page in your Ecwid admin panel or check the Promote section in our Help Center.
Process orders on time. Set up notifications about new orders so you see them immediately after a new order is placed so you can start processing it. By default, notifications are sent by email, but you can also receive push notifications on the Ecwid mobile app. Learn how to manage orders here.
Creating a business from scratch is fascinating, but may also be challenging sometimes. We believe that your desire and talent will help you create and run a successful business. Wishing you good luck and high sales!
10