All things festive: selling gifts and flowers online
Imagine receiving a present with your name on it, accompanied by a hand-drawn postcard and a carefully arranged bouquet of flowers. Then imagine this present wrapped in beautifully designed, textured paper. The perfect gift, right?
Selling unique gifts for special occasions is an artform. When it comes to opening an online store devoted to these types of goods, there are a number of specialized features that might help you on your selling journey. And if you have ever wondered if you can set such personalized features up in Ecwid – the answer is yes! You most certainly can.
This guide will focus on useful settings in your Ecwid store for selling presents or flowers (or both).
Before you start
Step 1: Face-up – presenting yourself
Step 2: Creating your catalog
Step 3: Showing off your products
Step 4: Personalising the item
Step 5: Adding payment options
Step 6: Setting up delivery & pickup
Step 7: Setting up discounts
Step 8: Processing the orders
Step 9: Promoting your business
Over to You
Before you start
Let's say you've already studied your competition, and found suppliers for your goods (if you are selling presents it's very useful to take a look at what local craftsmen have to offer). You've also thought through the concept and the name of your store. Maybe you even already have a physical store and are now entering ecommerce. And now you're ready to start setting up an ecommerce site for your business.
There is a helpful list of things that every new Ecwid store owner needs to do: from signing up their shop to enabling payments. However, if you are selling handmade and/or personalised gifts, flowers, souvenirs, or party supplies, you'll want to pay additional attention to some additional details.
By the way, along with physical items, you can also sell services and/or digital products. Presents like personalised songs or an online master class are becoming very popular. Stumped for how to incorporate this kind of service into your business model? Ask florists/craftsmen from your shop to give master classes, or for some ideas. You can also sell gift cards, the ultimate fail-safe gift.
Step 1: Face-up – presenting yourself
For any etailer, the way your store looks is crucial. One of the first things to do to get your aesthetics in order is set up your online store's design. You can turn to professional designers for pictures, colors, and the overall concept – or you can create the design yourself.
If you are using an Ecwid Instant Site, you can easily configure its design according to your needs.
Generally speaking, you might want to use pastel colours (or, even better, a white background) for flower-oriented shops, as the overall goal is to draw attention to the natural beauty and colors of your plants.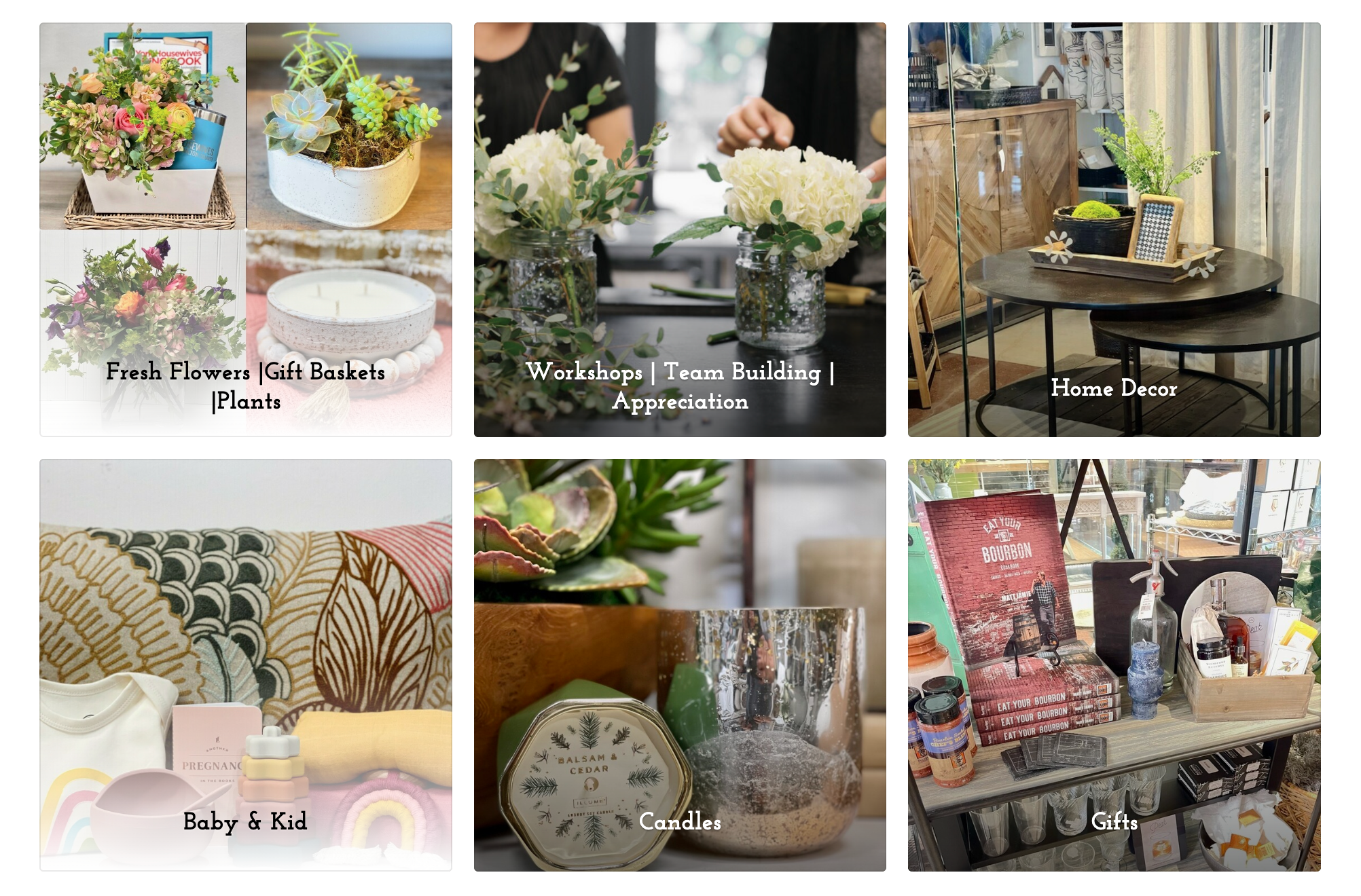 Catalog example from the Rusted Window website
When it comes to gift stores, though, you can use any colors/patterns that fit with your design concept. Mosaic tiles for a shop that sells vintage kitchen goods? Yes, please.
Where site design is how you tell your story visually, the About Us page is where you can tell your brand's story in a more traditional way. Tell customers your origin story, post photos of your employees, and add videos of your work space and design process. Describe why your business is important to you: share your inspiration! Tell your brand's story in a way that customers can share with their loved ones alongside the gift they open. With the Ecwid Instant Site, you can add this information to the special About Us site block.
Next, think about your logo. A well-crafted logo is powerful. It allows your shoppers to get a good sense of your brand within seconds. You may be thinking "I am not an illustrator, how can I go about making a cool logo"? In that case, we have a great solution already in play! Hop onto our app store to find an amazing logo maker app called Looka. Logo needs? Done.
Another way to tell people more about yourself is by writing posts for a brand blog or on your store's social media profiles. (And remember, with the Ecwid Instant Site, you can add links to your social media pages to the Contact Us block.)
📖 Further reading:
Once you feel confident that the design of your site reflects your aesthetic and aligns with what you're selling, it's time to build that product catalog.
Step 2: Creating your catalog
Even if you have a small shop that sells handmade gifts, you probably want to organize your product catalog in a way that will catch your customer's eye and help them find the right product.
The best way to organise your catalog is to create product categories to sort your items into. To do this, think through the most relevant groups for your items. You might, for example, group them by occasion, and sell presents or bouquets for:
Birthdays/Anniversaries
Weddings
New Year/Christmas
Valentine's Day
Mother's Day
Or, if you have a lot of different types of products, you can group them by physical type: e.g. figurines, notebooks, postcards, etc.
If you are selling both gifts and flowers, it might be a good idea to combine them into gift combinations. Flowers pair perfectly with toys on some occasions. On others, they might work well with candies. Once you've found some items that work well together, simply create a category named "Combinations" or "Sets". Learn how to sell product bundles with Ecwid →
You can create product categories (along with subcategories) in your Ecwid admin control panel, by going to Catalog → Categories. It's also possible to add an image and description for your categories. Then all you have to do is add your products. You can also add a product to several categories/subcategories if you want.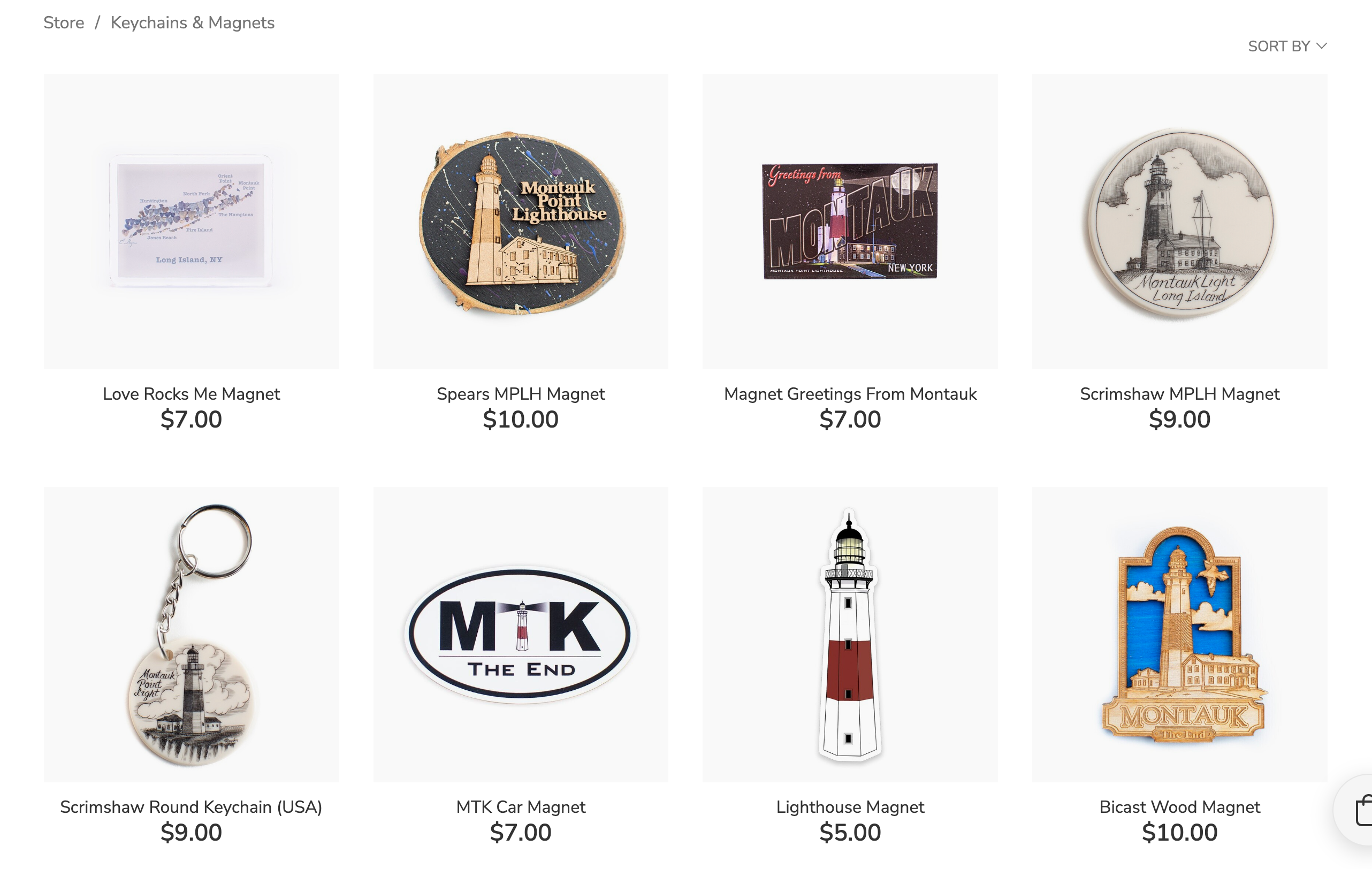 The "Keychains & Magnets" category from the Montauk Point Lighthouse store
To make navigation through a large catalog even easier, you can add in product filters for your customers.
The store's front page is a perfect place to feature some products from different categories in one place. For example, new arrivals, products for the forthcoming holidays, discounts, or a "daily special." By default this section is called Featured products, but you can rename it and sort the products any way you'd like.
The "Featured products" section from the Cloud 9 Design website
To add extra information about your product's materials (e.g. "100% organic cotton") use product subtitles. This information will then be visible both on your product list and on your product details page.
If you sell one of a kind products or have a limited amount of items, you can turn on inventory tracking for your products or product variations. Purchased products will be marked as Out of stock or hidden in your storefront to avoid orders you can't fill.
If you don't want to sell on the internet (e.g. you would like people to come to your physical store), you can use your Ecwid store as a catalog to showcase your products. This way customers will be able to choose what they want, make a call to discuss the details, and then come in person to pick up their items and pay.
Consider dividing detailed product descriptions into collapsible blocks so that customers can easily find the information they need.
📖 Further reading:
Step 3: Showing off your products
Before we continue with some not-so-obvious features that you can use for your product pages in Ecwid, let's pay some attention to our visuals. Product images are extremely important for your business — after all, people shop with their eyes.
If you were selling spare parts for cars, photos wouldn't matter so much. But for a gift store or a flower shop, pictures contribute to the overall perception of your products. Customers can't touch the presents to feel the material or check how fresh your flowers are, but at least they can scroll through some really good photos to tempt them into buying your wares.
Yes, images are not only about information. They are – in this niche market especially – about tempting your customers.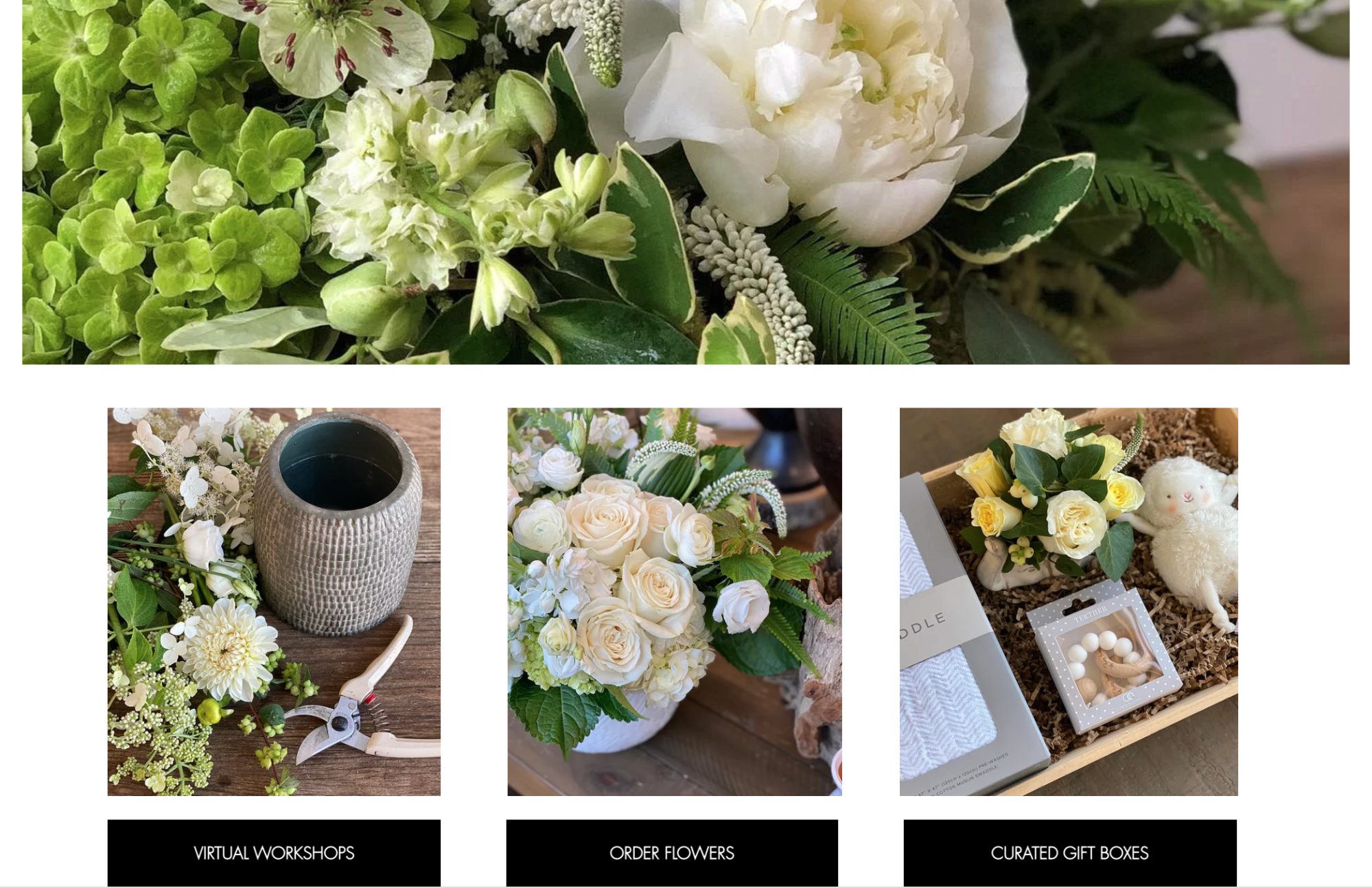 Store front page example from the Helen Olivia Flowers website
You can use photos both on your product pages and in your store design. The imagery in your store affects the vibe of your entire digital store. Take time and read up on how to take visually appealing product photos, or hire a professional photographer.
Along with static photos, you can use a 360° view or even embed videos into your product descriptions. And – to top it all off – you can take some "live action shots." Place a camera in your store so that customers can spot the presents from your catalog right on the shelves. Or, use this feature so they can watch your craftsmen manufacture new items in real time.
📖 Further reading:
🗂️ Relevant Ecwid apps:
Now let's move to the next step — creating your product pages.
Step 4: Personalising the item
If you are selling presents or flowers, it's extremely important that you convey all necessary information to your customers about their purchases. Luckily, in Ecwid you can add a variety of information on your products – much more than just name, description and images.
For your gift store/flower shop you will almost certainly need to add product options, input fields, and product variations (fyi: each possible set of options for a particular product makes a variation).
Let's take a closer look at the features that you can set up using product options and input fields in your Ecwid store:
Listing colors/materials and adding accessories or gift wrapping. If your product comes in different colors or has different available prints, but you still consider it to be a single product (albeit in many shapes and forms), you can list all this information right on the product page. You can also allow your customers to easily add gift wrapping or any other product accessories to their order.
To do this, enter the option name and choose Drop-down List, Radio Buttons, Checkboxes or Size (these are clickable square tabs with text on them) in the option type drop-down. In the Value selected automatically field, choose None. Require customers to select if your customers must make their choice before adding the product to the cart.



Product options example from the Buttonworks Australia website

If the price of your product changes depending on size/color/material or based on the accessory (e.g. gift wrapping costs extra $2), don't forget to add a price modifier for each of the option values.

Alternatively, you can allow customers to buy gift wrapping for the whole order at checkout. All you have to do is create a

custom checkout field

, name it "Gift wrapping", and add a fixed fee.

File upload for customers. If your product allows customization — e.g. if it is a cup or a T-shirt that's customizable with any print that your customer wants — you may need files from customers to fulfill their orders. And you can easily add the file upload field on the product page in your Ecwid store.
To do that, enter the corresponding text as the input field name and choose File Uploader in the input type drop-down. Tick the "Required field" box if your customers must upload a file before adding the product to the cart.


Product options and input fields example from the Soundwave Art™ website

Date picker. When ordering flowers or presents, customers often need their product by a specific date — whether that's through delivery or pick-up. For that reason, it's extra convenient for them to be able to choose their needed delivery date from the product page.
To add the ability to choose dates, enter the corresponding text (e.g. "When do you want your gift to be delivered?") as the input field name and choose Date Picker in the input type drop-down. Tick the "Required field" box if your customers must make their choice before adding the product to the cart.


If you want your customers to specify not only the date but also the time of delivery, you can add a text field/a drop-down for that on the product page. Another option is to add the

delivery time picker at checkout

so that your customers can choose the time of delivery for the whole order at once. In the latter case, you will also be able to set the order fulfillment time (it's the amount of time that you need to prepare an order for delivery plus your average delivery time). This way, you will be 100% sure that you don't get more orders than you can fulfill.

Custom text fields. In a gift store/flower shop customers will likely want to add a wide variety of text to "customise" their purchase. It can be the name of the person to whom they are addressing the order, the addressee's location and phone number (the buyer's address/phone number are usually entered at checkout), an engraving or piece of embroidery, a congratulation/a poem to write on a postcard or a message for your florist specifying other preferences.


Product options and input fields example from the Helen Olivia Flowers website

To give customers the chance to send you all this information, you can add text fields and text areas (unlike text fields, text areas can contain multiple lines — just what you need for a poem) to the product page in your Ecwid store.
To add this option, enter the corresponding text as the input field name and choose Text Field or Text Area in the input type drop-down. Tick the "Required field" box if your customers must fill the text field/area out before adding the product to the cart.


You can also add

a special text field at checkout

so that your customers can write down any last minute insights concerning their order, or mention something that you haven't created a special field for.
📖 Further reading:
Step 5: Adding payment options
Once you're done creating your products, feel free to add all the payment options you need.
You will most likely require the online credit card payment to let your customers order flowers and/or presents remotely. Depending on your country, choose any other online payment gateways you'd like.
As you are probably selling goods that will be delivered directly to the gift addressee (who is not your actual customer), think twice about whether or not you need a cash on delivery option or an offline credit card payment at all. This option might still be useful if some of your customers pick up their orders at a physical location or brick and mortar shop.
Set up several payment options to give your customers as many choices as possible. And add payment instructions as necessary.
📖 Further reading:
Step 6: Setting up delivery & pickup
If you are running a florist or a shopping destination for gifts, your goods must arrive on time, every time (or as close to every time as possible!). Depending on your catalog, though, you might need to enable different shipping, delivery, and pickup options in your Ecwid store.
A small flower shop will probably need only local delivery and maybe a pickup option – in case some of your customers want to come and collect their orders in person (especially if you have a physical store). In the end, you might only need a single courier. And yes, as they will represent your whole business, it's important to hire the right person (or at least a person who is punctual and really fits the atmosphere of your store).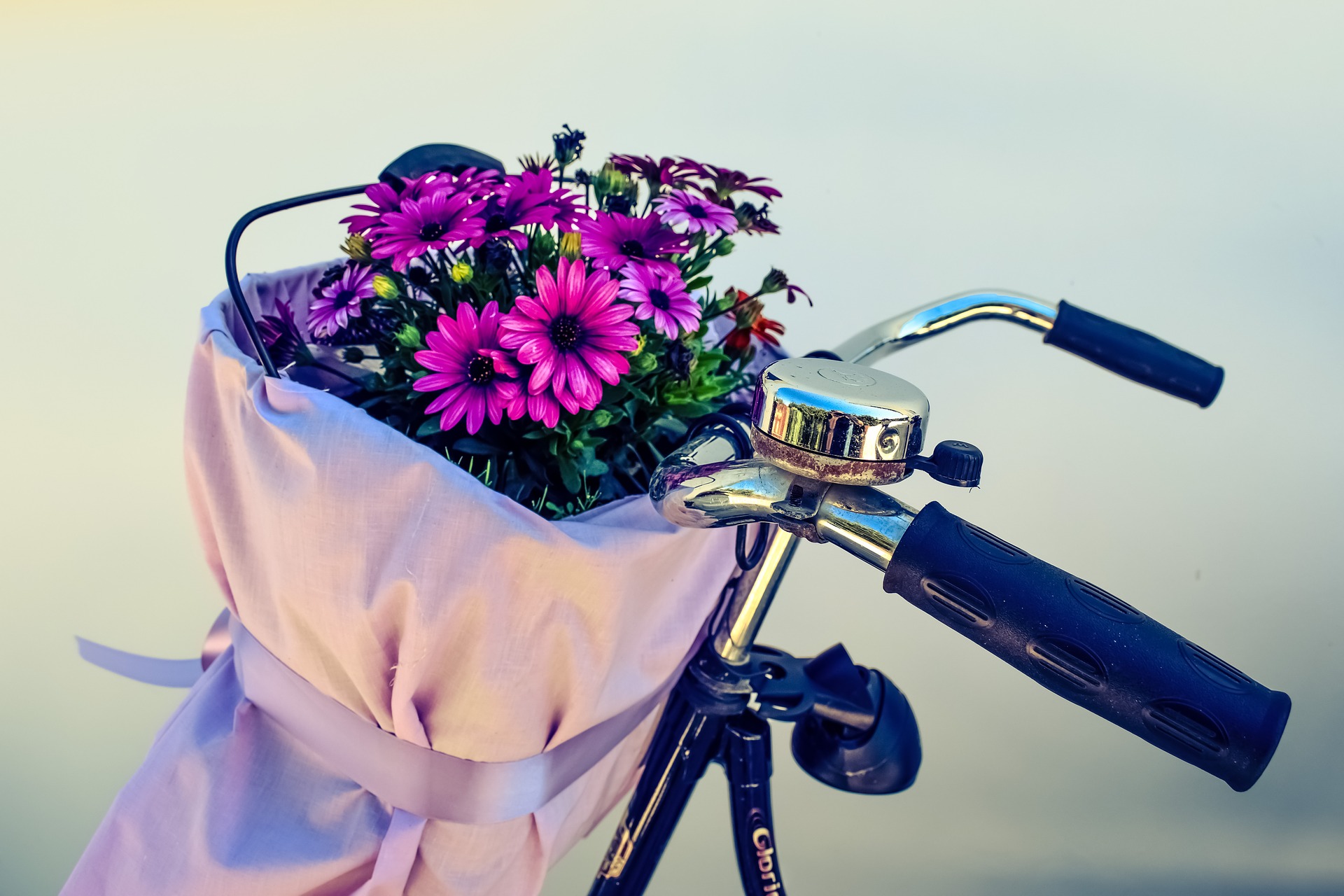 Image by Dimitris Vetsikas from Pixabay
Flowers don't live long – however sad that is – and once they are cut they won't survive a long trip. But if you have a bigger flower store you might deliver to nearby regions (e.g. when taking bulk orders). But that's probably your outer limit (literally!). For this purpose you have to find a good and trustworthy local carrier (best to find one who specializes in shipping flowers). Quality delivery will help build your reputation as flowers that arrive looking fresh will make your customers happy.
Presents, on the other hand, may travel far and wide (assuming they are non-perishable). If you are running a gift store, your shipping strategy will really depend on the personality traits of your business. You may be working 99% locally – or you may be manufacturing some unique goods that people might order from across the Atlantic (e.g. handmade card decks). Regular post is always an option, but with Ecwid you can also add private carriers.
You can set up the delivery options/rates in your Ecwid admin, on the Shipping & Pickup page. The price of delivery may vary based on distance, urgency and on the products you sell. You can offer free shipping as well, especially if you add these expenses into the price of your products.
Instead of setting up prices for delivery, on paid plans you can add a handling fee at checkout that will cover delivery, wrapping and service fees. Or just add a tipping option so loyal customers can compensate your business for excellent service.
📖 Further reading:
🗂️ Relevant Ecwid apps:
Step 7: Setting up discounts
Customers love discounts and, fortunately, you can set up a variety of discounts with Ecwid. Bulk discounts, sale prices, discount coupons, special prices for groups of customers and "Buy One Get One Free" promotions are all possible. You can even add discount coupons to your automated marketing emails!
Use these ideas to lay out a discount strategy that suits your store best. Another benefit? Increased customer loyalty. Loyalty not only creates return customers, but it's also one of the most effective forms of marketing and brand awareness in and of itself. What do we mean? Promoters! That is, customers who tell their friends and family all about your business and encourage them to take a look at your store.
To inform customers about ongoing promotions and highlight products with special prices you can use a variety of options: special notes in your store, product ribbons, newsletters, and even notices at checkout.
🗂️ Relevant Ecwid apps:
Step 8: Processing the orders
By now, you might be wondering about the most exciting part of the selling equation: order processing. What happens when that first order comes? What are the next steps to ensure prompt delivery and payment?
In Ecwid, it is quite difficult to miss a new order: you will immediately receive an order notification by email and — if you are using the Ecwid mobile app — a push notification. Your customers will also remain informed: they will get an order confirmation email.
Alternatively, you can always find your orders, both old and brand-new, on the Orders page in your Ecwid admin. Go check out this section right now: maybe you've already made your first sale! To access all relevant information about the order, just click on it in your order list. On the opened page you will find the shipping method your customer chose, their payment status, customer comments, the date and time of delivery, and much more. Product options and input fields are included as well – for example, if your customer chose silver gift wrapping for their present, in the order details you will see a line that reads Gift wrapping: Silver.
After you receive an order you might want to print it. Because you are selling personalised goods, you'll probably need to check with the details while building the bouquet or customizing the present at hand. You can always print a copy of order details by clicking Print on the order list:
When you are done preparing (packing, packaging and labelling) your order, it's time to hand it over to a carrier/courier. Do not forget to mark the order as Shipped by changing its fulfillment status. Once you do that, your customers will get an email notification telling that the order is on its way. To give your customers more information about the state of their orders you can add tracking numbers or, if you are delivering locally, just give them a call (or send an email manually) once the present/bouquet has reached its recipient.
Note: the Delivered order status is internal, so email notifications are not auto-sent to customers once you mark their order as Delivered. If you sell only locally, you may want to use the Shipped order status instead and edit the template for the Order Shipped email notification to inform your customers that their package has been delivered to their gift addressee.
📖 Further reading:
🗂️ Relevant Ecwid apps:
Step 9: Promoting your business
Once you've set up your Ecwid store, it's time to let your customers know about it. If your company already has a physical store before — perfect! Then you already have some loyal customers.
It's always a good idea to write about your new online store on social media – and if you don't have social media accounts, now is just the time to create them (it's best to concentrate on one or two if you're not a pro in this area). Make sure you have links to your social media accounts in your store and that they are easily visible.

"Follow me on Instagram" section from the Cloud 9 Design website
You can also add your product catalog to Facebook or use shoppable posts on Instagram. Instagram can be a perfect marketing channel for a highly visual business like yours. You will also be able to answer questions there: your customers may have a lot to ask, from questions on pricing to advice on what gift to choose for their mom's anniversary. And don'r forget, you can also run visually driven ads on TikTok.
You might find providing pre-sales customer support extremely useful. Unless your customers are florists or expert gifters themselves, they are likely not as proficient in your product area as you are — especially if you are selling "out of the ordinary" goods. Give them the possibility to talk directly to your employees. And if you have a lot of customers during holiday sales rush periods, make sure that you have enough employees on hand to answer their questions (on the internet and also by phone).
For a small business social proof can also be very important. Would you buy from someone that you've read no reviews/feedback about? Enable feedback collecting emails (and then post this feedback on your Instant Site) or, to collect feedback automatically, use one of the apps from Ecwid App Market. These apps allow customers to rate your products and leave reviews that will then be visible on your store website.
It is also important to be a part of the community and participate in art shows and craft fairs. You can sell goods right there using Ecwid mobile app or a POS system connected to your store. Attending these events is also a great chance to attract new customers and network with other sellers in your niche.
Last, but surely not least – don't forget about advertising. You can read more on how to handle it in our intro to advertising for beginners.
📖 Further reading:
🗂️ Relevant Ecwid apps:
Over to You
Now, all that's left to do is to start selling. You can read more about making your first sale to get yourself ready ahead of time. But, if you've set up everything according to this guide, you're likely to have your first sale in a flash.
Selling presents and flowers is a niche business (especially if your store is a small one), but one that allows you to bring joy to people, and to create a shop that has its own style, values, and special products. And we bet that you wouldn't want it any other way.
10