Selling food online: how to start your business
You run a cafe or restaurant and want to go online to expand your business? Or you bake blueberry cakes no one can resist? Whatever the reason is, you can grow your passion for food by opening your own online store. Ecwid can help you with that.
You can create your online store from scratch or start taking orders online if you already have a brick-and-mortar store. It's up to you how to run your business — you can take online or offline payments, deliver to the nearest blocks or all over the city, take orders through your site or start selling on Facebook and Instagram. In Ecwid, you can customize every part of your business. And also — you can take tips for each order, just like in the actual restaurant.
From this guide, you will learn the essentials of selling food online:
What features Ecwid provides for your business
How to create a site without coding skills
How to create a menu
Basics about store design
What payment options to provide
How to process orders
Best practices in food delivery
How to promote your business
How your business benefits from Ecwid features
To start selling online, you'll need to set up a store and publish it, whether you run a cafe, or sell from home.
With Ecwid, all you need is to sign up, and then you can create and add a store to your existing site or create a new e-commerce site with Ecwid's Instant Site.
Next step is to set up your store to fit your goals. You can use different Ecwid features depending on what business you run:
📖 Further reading:
E-commerce for restaurants 2021: a recipe for online ordering success
Create a website
So, you've learned about Ecwid features and legal requirements for food products. Now comes the fun part — creating your site where people can order food. With Ecwid, you can build a site from scratch or add an online store to an existing website.
Add your store to the existing site
If you already have a restaurant website, you can easily add your Ecwid store to the existing site. For example, you could add an Online Orders page to your website and embed your Ecwid online store to it. All you have to do is create a menu by adding products to your store, set prices, set up payment methods and delivery.
You can add Ecwid literally to any site:
Start selling on Instant site
You can build your own site with zero coding skills. Actually, you don't even have to "build" anything since once you registered in Ecwid, you will get a forever-free Ecwid Instant Site, which comes with built-in online ordering. Adjust it to match your brand by changing design, creating a menu, setting up payment and delivery methods.
You can use an Instant site on a free subdomain like alexcafe.company.site (you can change the "alexcafe" part to any name you want), or you can connect your own domain like alexcafe.com to your Instant Site.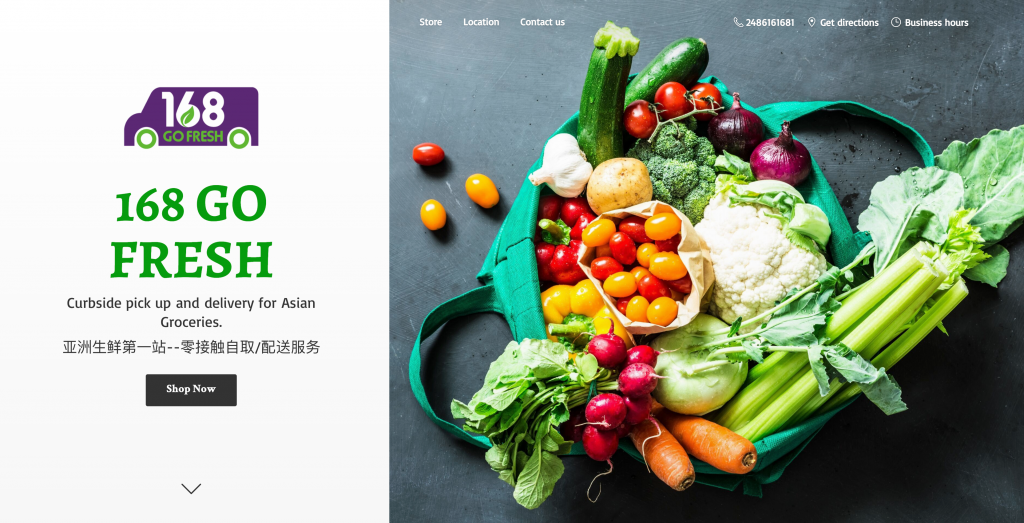 168 Go Fresh created their store on Instant Site and added their domain
Sell on Facebook and Instagram
You can add your Ecwid store to Facebook and Instagram to sell on two most popular social networks in the world.
You can add your menu to your Facebook Shop so customers can check your assortment and order without leaving Facebook: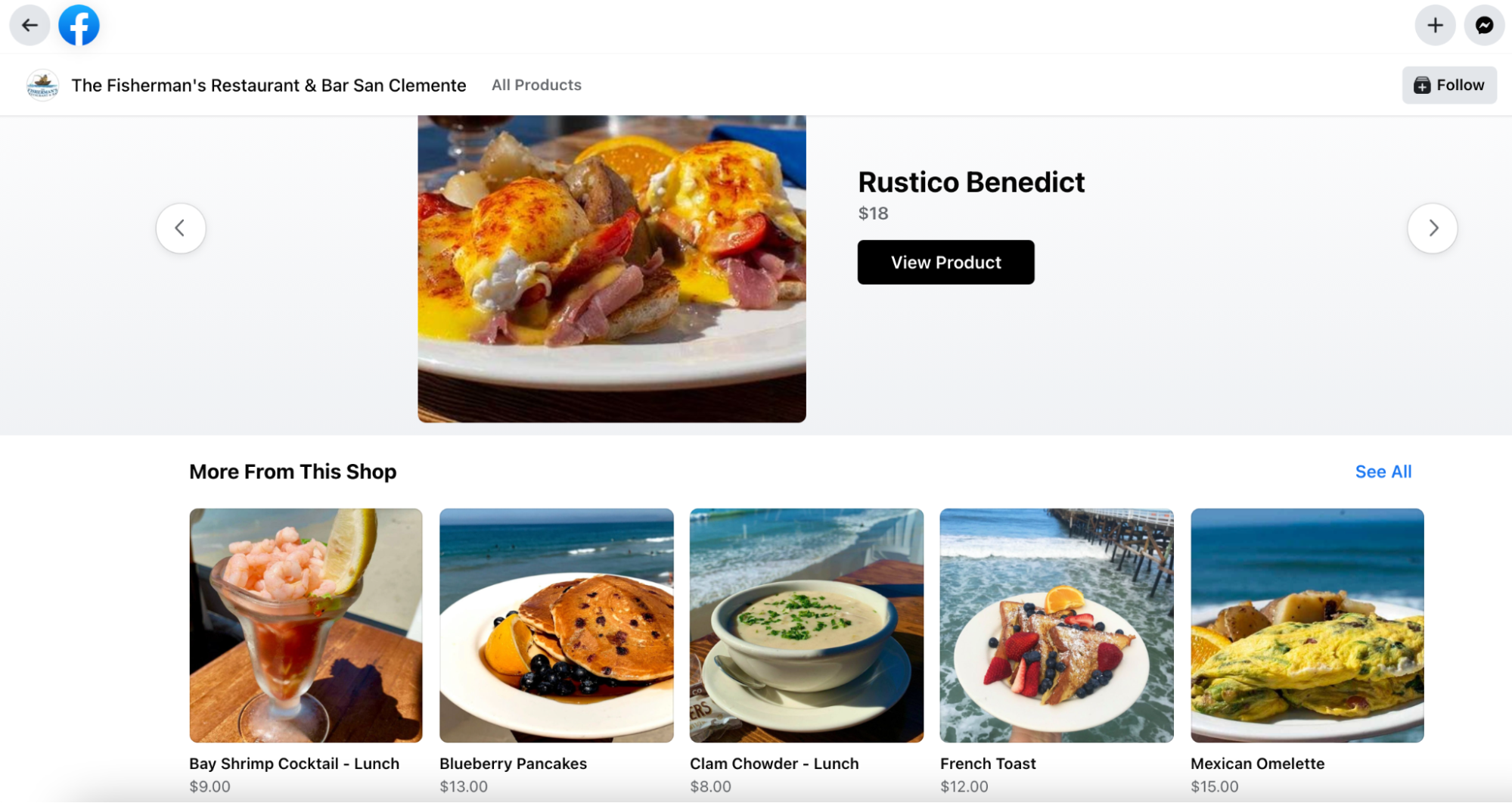 The Fisherman's Restaurant & Oyster bar sell food on Facebook shop
You can also tag your products on Instagram so customers can purchase your courses and beverages without leaving the social platform. Note that your business must be located in one of the supported countries to sell on Instagram.
You will see the orders in My sales → Orders in your Ecwid admin and in Orders tab in your Ecwid mobile app for iOS or Android.
Create your online menu
Before thinking of the design of your site, set up your catalog so customers can choose from your online menu. Showcasing your food is really important in e-commerce since customers can't try your food but only eat with their eyes. To achieve your goal and tempt a customer into buying from you, combine a detailed description of an item with high-quality photographs.
Each item in your menu is a product that you can add from Catalog → Products in your Ecwid admin or from the Products tab in your Ecwid mobile app.
Add food and beverages
Start off by removing sample products and adding your own from the Catalog → Products in your Ecwid admin. You can add up to 5 products on the Free plan, up to 100 on Venture, up to 2500 on Business, and unlimited on Unlimited plan.
You can specify stock quantity for every menu item, and Ecwid will automatically reduce it once it's bought. That way, your customers will see how many salads or wine bottles are available now so that you prevent overselling. When all items are sold out, they can't be ordered until you increase their in-stock quantity (unless you enable pre-orders for them). You can also hide out-of-stock items from your storefront so customers will see only what's available.
Upload photos
Product images for food are important since they tempt your customers to order from you. Avoid using stock photos — real photos build trust and match customers' expectations when they receive an order.
It's hard to shoot food so that it looks tasty because you have to keep in mind lighting, frame angles, food textures, and so on. Consider hiring a food photographer who has experience with properly styling and lighting food. You can use the photos both on your product pages and in your store design.
You can also invest your time in understanding the basics of photography to make DIY photos. If you sell sweets and desserts, take close-ups to show beautiful details of confectionery products. Experiment with lifestyle photography that suggests serving ideas.
📖 Further reading:
How to take great e-commerce product photos with your phone
Write tempting copy
Describe each menu item in detail. List the ingredients, add weight of the course, what it best paired with (for instance, if you describe white wine, add fish, poultry, or Cheddar as a good pair).
You can write a mouth-watering copy in the description field on your product page. Customers will read this description on a product page before proceeding to checkout. Consider dividing the information into attractive collapsible blocks that are easy to navigate.
If you sell ramen, poke, or other types of food with different variations, you can show the ingredients right away in the storefront using product subtitles. That way, customers can read the ingredients while scrolling your menu. The short meal description can be displayed either under the meal image or above the image on hover, depending on how you choose to show the subtitles. So customers can decide what to add to the cart without opening their individual pages for details:

Empower Nutrition describes ingredients of their grills
📖 Learn more about how to write product descriptions that sell
Create product options and variations
When it comes to food, it's always important to provide shoppers with options to choose from. Say, someone would like to add extra cheese to their pizza, someone wants no onions in their shawarma. And if you make cakes for special occasions, your clients probably want different cake decorations.
In Ecwid, you can add product options and variations so your customers can personalize their choice at the checkout. With options, you can ask buyers about adding toppings, extra ingredients, and so on.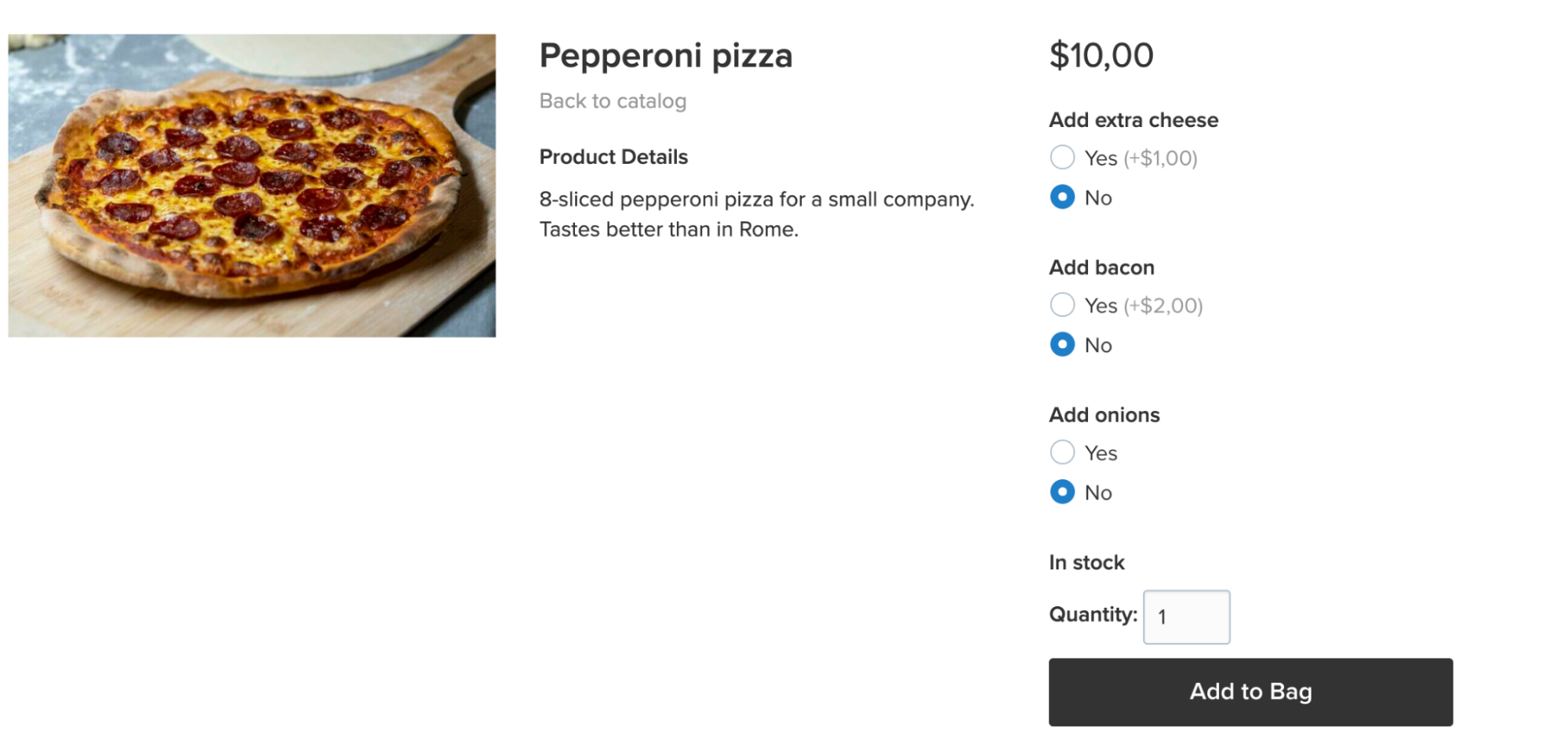 Here are three options — extra cheese, bacon, and onions. Customers can add them to the pizza.
Each possible set of options for a particular product makes a variation. You can change the price for each variation. For instance, pepperoni pizza with extra cheese will cost $11, and with extra cheese and bacon — $13.
You can also add an input field that customers can fill in with a cake message. Go to the Catalog → Products, choose the product and go to the Options tab. Choose the Text field as the input field type and enter its name. Now your customers will be able to enter the message: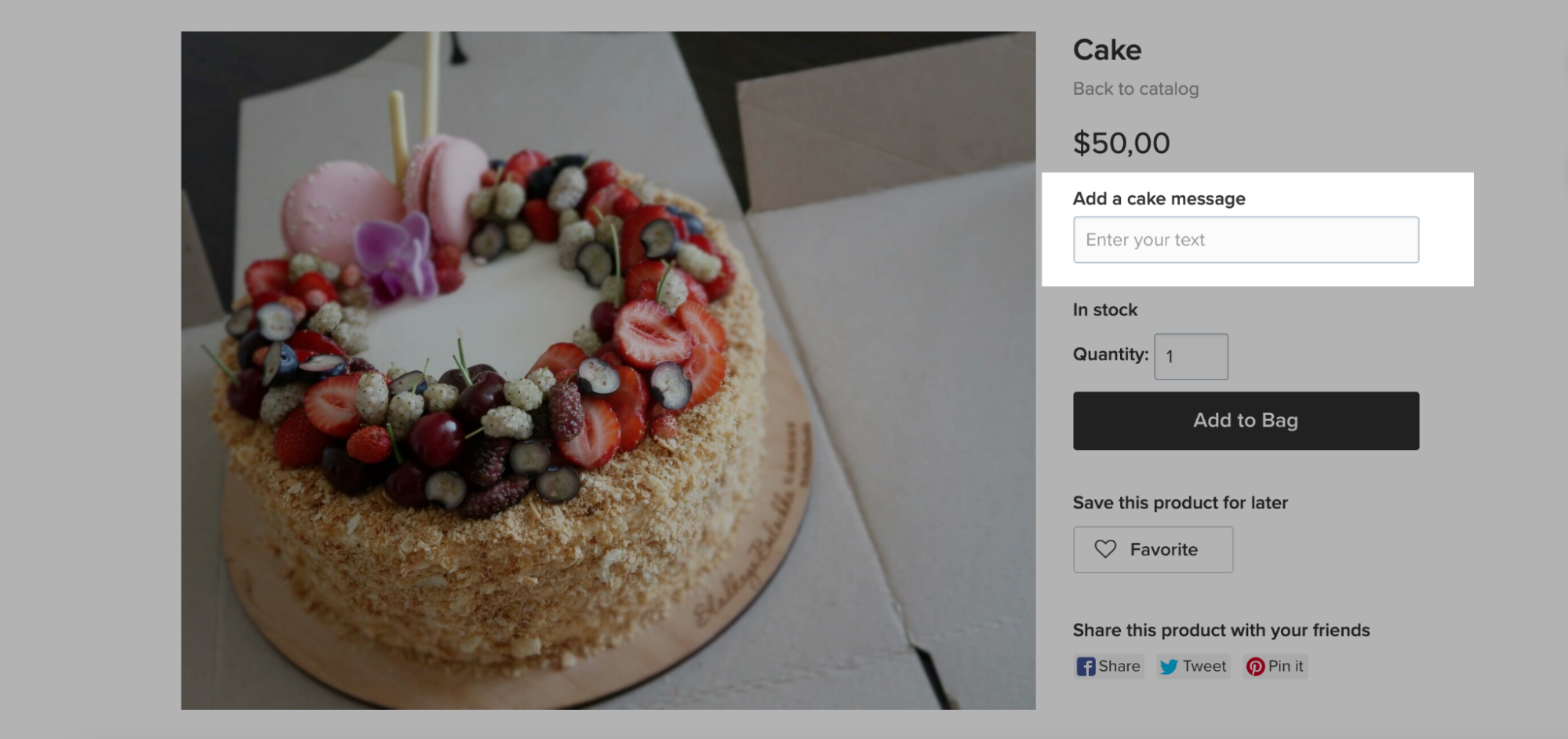 Bundle food in categories
It's better to group food and drinks into categories so customers can quickly find what they are looking for.
Say, you can create Kid's menu, Vegetarian, Breakfast, Top Sellers categories, and more. You can also create subcategories like Hot drinks and Lemonade subcategories in the Drinks category. You can create as many categories as you want and add more than one item to each category.
If you do not assign an item from the menu to its own category, it will be automatically added right to the Store front page.
Design your store
Now when you have your menu, it's time to think of design and user experience. Adjust colors and images on your site the way you like. Add contacts and FAQ to make it easier for customers to navigate through your website.
Store appearance
Depending on how deep you want to dig into design, you can go with an easy, medium, or advanced level of changing your store appearance.
In case you have your store running on Ecwid Instant Site, you can decide how your store looks and feels via the Website → Design section in your Ecwid admin. Just move the blocks to change your site look. You can easily change the content, fonts, colors, and cover images to match your needs and reflect your brand. The website you create with Instant Site will have a responsive design that looks great on desktop, tablet, and mobile.
If you use a sitebuilder, you can play around with the design settings of the third-party service. Look up design tutorials on YouTube for your sitebuilder to achieve better results. You can also create your own CSS theme — a set of CSS rules that determines the look of every visual element in the store (the size, shape, color, and place on a page).
📖 Further reading:
Learn more about design basics to create a unique store design.
Navigation in your store
Make it easier for your customers to order the main course + drink set. Here's a checklist of what you can add to improve your online store navigation:
Receive payments
In Ecwid, you can accept payments with credit or debit cards, cash, PayPal, Apple Pay. You can also accept tips and offer subscriptions. And remember — the more payment methods you provide, the better customer experience is.
Get paid online
Enabling online credit card payments allow customers to pay for their order as soon as it is placed online. In Ecwid, you can choose from over 70 credit card payment providers, including:
You can activate or change a payment provider from the Payment page of your Ecwid admin. You will see the most suitable payment provider available in your region, based on your preferences and location.
Get paid offline
You can take cash or accept credit cards in-person with card-readers for mobile. You can use Square reader or PayPal Here mobile Point of sale. This is a great solution for delivery. A courier can connect the card reader with the Sell on the Go app (for iOS) and accept payments once they have delivered an order. Or a customer can pay you with a credit card when picking up the order.
Set up a manual offline payment method and name it Cash or Pay with your card to a courier so that your customers can place the order and pay you when receiving the order. To make it more clear for customers, add an instruction to the payment method that will be displayed at the checkout.
Orders purchased with a manual payment option are marked as Awaiting Payment. If a customer pays you in cash, or your couriers use a third-party service to connect a card-reader, you should change the order status to Paid manually after you receive a payment. If you use Sell on the Go app to connect a card reader, the order status will change automatically after the payment.
Tips
Selling online doesn't mean you can't accept tips. In Ecwid, you can set up tips in your store so customers can leave gratuity during checkout. It can be a percentage of the order or the fixed amount you choose yourself.
Process orders
Every time someone's ordering from you, you get an email with order details. You also get a push notification on your phone if you use the Ecwid mobile app (you can set up your app to make a "cha-ching" sound every time a new order is made). Push notifications can be a real life-saver since you can get updates on orders on the go and while being busy in the kitchen.
You can also print orders with a kitchen printer. Go to My Sales → Orders and click the Print Order button to print a particular order. Or select orders you need to print, click Mass Update → Print selected. You can also filter the orders before printing. Say, you need to print all paid orders made today. Just click Paid. Needs to be shipped and then click the Today button — you will see all paid orders made today that you can print in bulk.
You can also print an order from your Ecwid mobile app — tap Orders, select the order that needs to print, tap on the printer icon, select printer, and tap Print.
If you prepare meals or cakes in advance, you can check what orders to process first. All placed orders are listed chronologically in My Sales → Orders. On the Orders page, you can also check contacts provided by a customer in case you need to specify order details.
Set up delivery and self-pickup
When it comes to food, delivery can be the key to success. Your food should be delivered on time, at the right temperature, and without spilling or losing shape. Otherwise, hungry customers would think twice before ordering from you in the future.
Be smart about choosing the shipping strategy to provide your customers with a high-quality service without burning a hole in your pocket. Decide on the delivery method based on what you sell. For instance, frozen foods require specialized shipping, and it's best for local delivery, whereas something like cookies or food from farms can travel farther distances.
You can choose to deliver yourself, set up a self-pickup option, hire a courier or outsource delivery to a delivery service.
Local delivery
You can set up local delivery to any area you want. Say, limit delivery to the local community and nearby blocks for a new business to make it on time. Set up delivery to the whole city if you're sure you're gonna make it. Or create zones on the map where you want to deliver to.
When delivering in your local area, you can choose to:
Handle your deliveries. Make sure your car has enough room for orders. You may also want to brand your package and maybe even a car to improve your store awareness.
Outsource delivery. It can be a money-saving solution.
No matter which option you choose, it's better to start with setting up a smaller delivery area and fewer delivery operating hours. It'll help to find the optimal delivery radius and hours. Over time, you'll be able to commit to longer delivery hours and a larger delivery area.
In Ecwid, you can draw a delivery zone right on the map: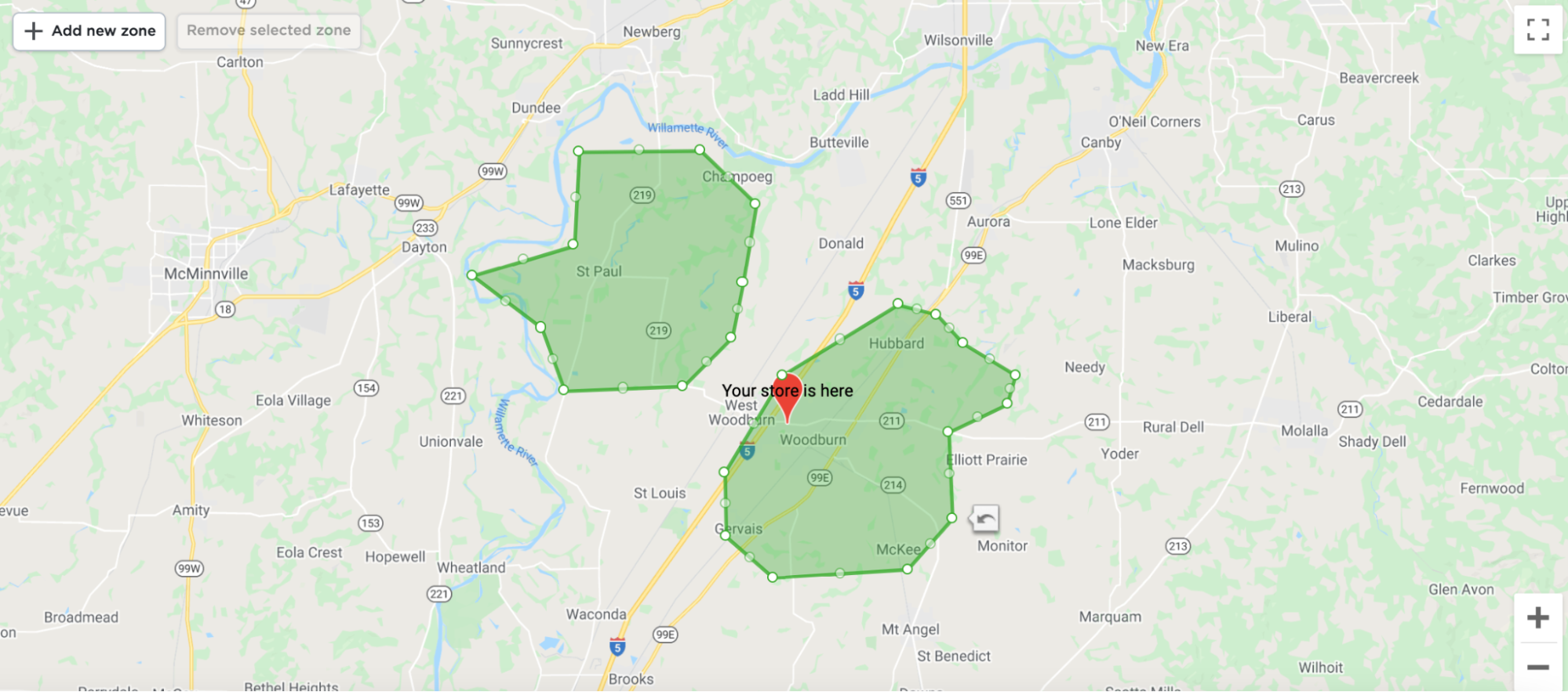 Customers outside the zones you draw won't be able to place an order.
What is more, you can charge your customers depending on how far away they live from your store. You can assign different rates to different areas.
You can also add a time and date picker for customers. When you know what and when to deliver in advance, it makes the process of managing and delivering orders much easier for you. Let your customers know of your operating hours to prevent a hungry customer from placing the order when your kitchen is closed.
You may want to set a minimum order amount for online orders to qualify for free delivery. For example, offer free delivery only for orders over $100. During the checkout, your customers will see that they have to order over $100 to get free delivery.
Self-pickup
Self-pickup is convenient even if you sell from home, and it also helps you trim delivery costs. 
Think through your pickup options:
Provide customers with instructions — where can they park or when it's available. You can add any necessary information during the setup in the Detailed instructions for customers field.
You can add a date and time picker at checkout so that customers will be able to select a certain time for pickup. The pickup time appears in your order details, so you will know when to start preparing the order.
Promote your store
Promoting your store is always a good idea, especially if you opened recently. To spread the word about your business and gain more visitors, you can run ads, regularly update your social media, contact customers directly through email and take part in your local festivals, fairs, and outdoor events.
Run ads
Probably the best solution to increase sales for beginners in e-commerce is to let local communities discover your store by running ads.
Ecwid is integrated with the most popular platforms, so it's easier for you to create ad campaigns. Here are the top 3 platform choices for restaurants:
Google. Pretty obvious choice since a hungry person probably will google "Poke bowl order" or "Healthy lunch" to find places to order food from. Make it easy to find your place with Google Shopping ads that allow you to list products in search or run a paid campaign.
Instagram. If you sell desserts and visually stunning food, Instagram is a great solution for you. Showcase your best-looking dishes, write short but strong copy, and include relevant hashtags to attract more people. You can run Instagram ads with your Facebook Ads Manager.
TikTok. Any business can benefit from promoting on TikTok. With over a billion users, TikTok is the most fast growing social media today. TikTok has very accurate recommendation system both for regular videos and ads. That means, your products will be shown to the most relevant target audience.
Run social media
Ah, the #foodporn section on Instagram. Don't we all love to scroll down the beautifully depicted pictures of meals, desserts, and drinks? Your customers probably do, so entertain your followers with attractive food photos. You can post it on Instagram, Facebook, or Pinterest. Sharing content not necessarily leads to ordering from you, but it definitely helps you build trust with your core customers and create brand awareness.
Apart from posting attractive photos, add some educational content. For example, share your tips for cooking, stream cooking master class on IGTV, or share your grandmother's recipe.
Anna Cake Couture offers not only cakes but classes
Note how many hashtags Anna Cake Couture store uses on their Instagram. Adding relevant hashtags is essential since it helps people find your account.
Reposting customer's photos of your food or restaurant is important, too. It helps you build trust with followers.
You can also showcase your meals on Facebook. Consider posting different content to Facebook and Instagram. Save stunning photos for Instagram and on Facebook post more news and recipes.
📖 Learn more about marketing on Instagram to pump up your skills.
Send emails
Email is the cheapest way to promote your restaurant online, so consider collecting customer emails while they are visiting your site.
Since your customers have to enter their email to make a purchase, you can use it to start your mailing list. Add a checkbox for customers they can tick to receive newsletters from you.
After you form your email list, you can start sending out newsletters. You can use them to promote offers, announce new or seasonal menu options, or give advice on cooking at home.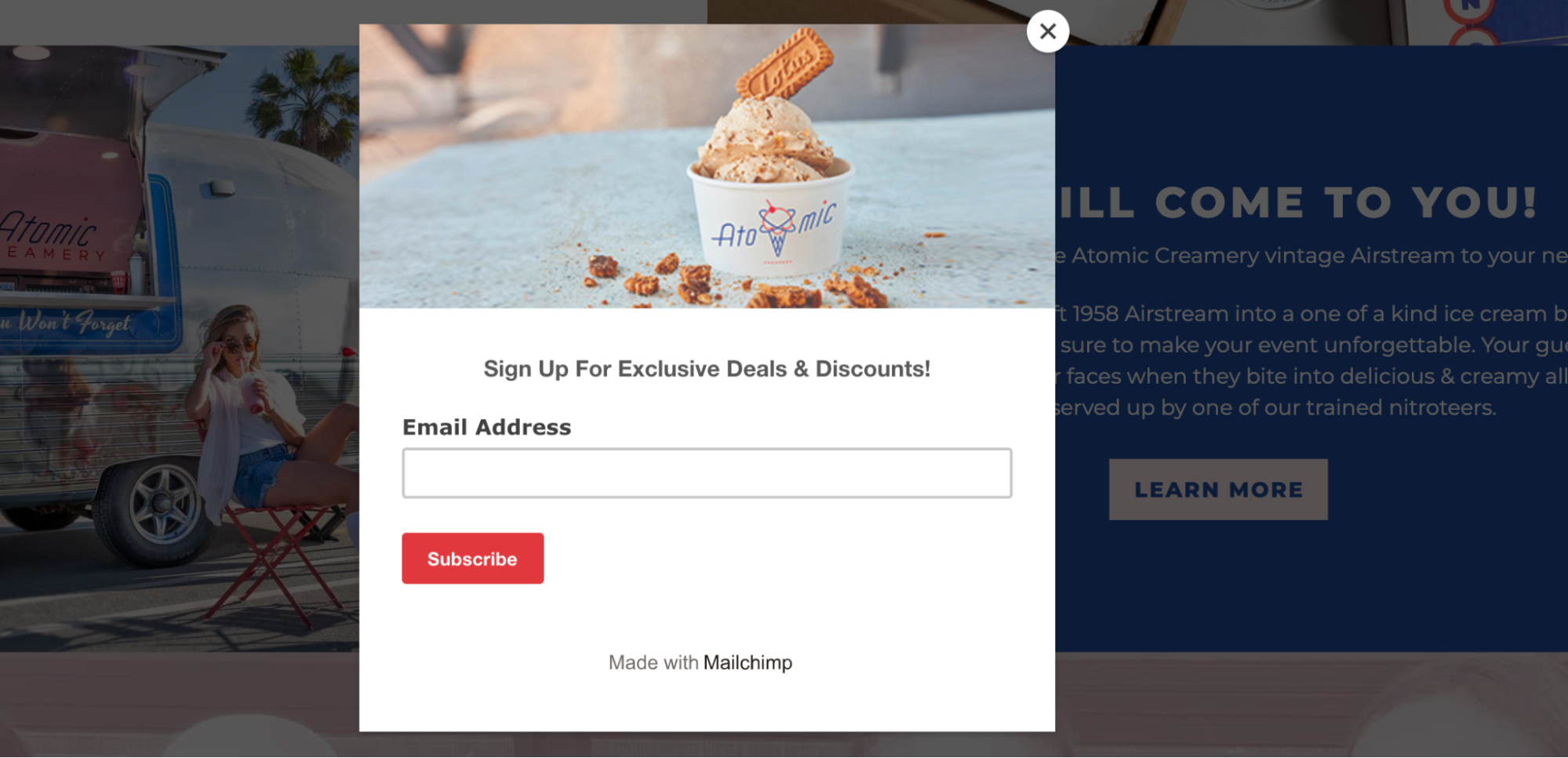 Here's how Atomic Creamery collect emails with a popup
Over to you
Now you know how to create your site, add a menu, accept offline and online payments, deliver fresh meals and promote your store. With this knowledge, you can start your business or turn your current brick and mortar restaurant into an e-commerce business.
10